Singapore Translators provide certified and officially approved academic certificate translation services in Singapore that complete ICA needs. Our esteemed translation of certificate covers more than 200 languages like Malay, Chinese, Japanese, Spanish, Thai, Korean, etc. We are leading translation services in Singapore which serves quality degree & certificate translation services at low translation service costs.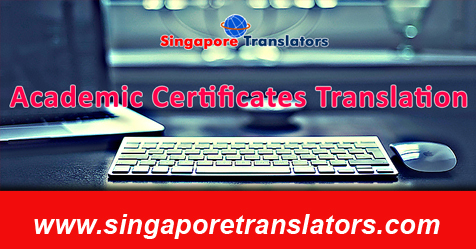 You can  easily get education certificate translation services from Singapore translators
Associate degree
Foundation degree
Higher National Diploma
Certificate of higher education
Honors degree
Master's degree
Higher doctorate
Specialist Degree/ Diploma
Graduate Degree/Diploma, etc.
Academic Certificates Translation Services from Native Professional Translators
If you are a global scholar, academic or researcher, and have to submit English translations of your degree, diploma, certificate, essays, academic papers, dissertations, and more to get a visa, Singapore Translators is here to assist!
Our Singapore Translators have expert, highly-skilled native translators in dozens of languages like Spanish, Japanese, Chinese, mandarin language and covering different fields of area, including legal, medical, & scientific, humanities, and more. Our experts provide you with Academic Certificates Translation services in Singapore like translate degrees to English along with editing and proofreading services.
We work with only expert human translators for all language translation services, and all document translations are done by Singapore Translators go through our comprehensive, multi-step quality control procedure, which comprises Translation of certificates, international origination translation service.
Who Need Academic Certificates Translation Services?
Students who are not local English speakers have to use extra hours wiring manuscripts in a language that is not their primary language, at the cost of value-generating tasks such as applying for grants and designing and performing research.
Singapore Translators lets customers conserve their time and power by degree translation service. Also, translating manuscripts written in the author's local language into publication-ready English.
Get Fast & Accurate official notarization for ICA, MOM, MFA.
Academic Certificates Translation services by Singapore Translators work to translate educational documents; transcripts, training courses, degree certificates, masters, etc.
We have wide-ranging knowledge in this field and translate certificates to English in a huge number of languages. All main European and global languages are covered, and we have notable proficiency relating to French, Italian, Spanish, German, Chinese, and Russian & Polish.
We simply work with native Singapore translators to make sure natural, fluent and expert results. All completed translations pass through an exact quality checking procedure, whereby a local proofreader ensures that all details correspond 100% to the original content, terminology, and style.
The translations are then submitted for customer approval so that the client can approve some queries regarding terminology or mark equivalents for Singapore. Singapore Translators is  the leading name among language translation services providers in Singapore
Translation of degree certificate from expert Singapore translators
Are you going on a university exchange program or moving to a different nation and need a migration visa? You might require certified translation services for your academic degree and other legal papers.
Certified translation is sought by numerous institutions, Govt. organizations or courts of law. As they need all official documents to be expertly done by the translator(s).
Basically, certificate translation is generally done by an expert translator. The certified translator also issues a sign of Accuracy which states that the unique document was totally translated with due precision, and therefore it can be considered fit to be used as an authorized document in the objective language.
Hire a Language translator for converting your legal & Other Documents.
Singapore Translators offers premium certified Document translation services in all the famous languages. Each Degree Certificate translation of precision is issued on our official letterhead with the certification, signature of the translator & date, besides the company's stamp & seal.
A certified translation must be done by the most capable language professionals due to its worth for official. At Singapore Translators, you get precise translations, faster turnaround times and outstanding customer service under one umbrella.
For expert Academic Certificates Translation Services, it is not about just translating on a word-to-word basis, but it is necessary to include the nuance of the target language, and the unique message communicated faultlessly.
Our Academic Translation Services Comprise:
Our academic translation service provides translations for –
Subject Papers Translation
Discussion Papers Translation
Question Papers & Model Answers Translation
Text Books and Guides Translation
Thesis papers Translation
Project Papers Translation
Presentations Translations (Hard copies / PPT / Voice files)
Academic Research Papers Translation
Certified academic translation in Singapore for serving the best quality
With a need to help the customers with smoother, clear and effective communication, Our experts of academic translation services majorly focus on these parameters –
 Streamlined work process: For the last 15 years, we providing genuinely translated files to our global customers. The credit for this goes to our sleek work procedure, which helps in keeping up with the time deadline and the excellence level.
 Highest quality level: We believe that excellence is the main factor that decides whether or not a translated text or file will assist the customer in accomplishing his objective. Thus, we ensure that the quality quotient in the translated output is constantly higher. For this to happen, our group of quality supervisors involve severe checks at every step of translation and ensure that final translated productivity is error-free.
 Faster Delivery: Time is extremely precious, particularly for business owners. Delay in the implementation of any plan can really cost them a lot. Consequently, keeping this in mind, we present the translated papers within the best turnaround time. In urgent situations, we even bring the translation output within 24 to 48 hours.
Get online Services for Academic Certificates Before The Deadline:
We perform certified Academic translation services of your educational Certificates in several global languages. Further, the stamp and name that our certified translation document bears would take huge legal worth all across the world.
No 1 Online Translation Services for Document & Legal Translations in Singapore.
The group is well-known across the globe, particularly in countries like Canada, the US, and Australia and numerous of the students who have been to these countries, have got their specialized translation done through us.
What We Assure You!
For every manuscript submitted for translation, the translation agency Singapore will choose three editors to complete the duty. The first editor will be a bilingual professional in the field of study, who will translate your document into English online. To express your planned meaning precisely, this editor may ask for clarifications when needed.
The second editor is a native-English-speaking professional with extensive knowledge in scientific writing. The third edition is a managing editor, who is responsible for the ultimate quality control check.
FAQs
Q1. Does your academic translation services use any software?
No, we do not use any translation software or similar tools to perform academic translations at this point or in the future. However, our highly skilled translators are capable of delivering high-quality translations.
Q2. Is your degree translation service provide any refund if I found any error?
No, we do not offer you any sort of refund for the degree translation service offered by our translators after you have paid the translation money. Even so, if you find any mistake in the translation that we provided, you needn't worry as our translators are more than willing to help with further alterations in the document for no additional charge.
Q3. Education certificate translation services of yours are different from another service?
In our agency, we provide an education certificate translation service that is distinct from several other translation services. This is because every translation service serves a unique purpose and is offered differently.
Q4. Can I get a hard copy of the certificate translation?
Yes, our Singapore translators are able to provide the hard copy of the certificate translated document if you require it. You must let our translators know if you need additional hard copies. There may be an extra charge for a hard copy.
Q5. Which format does education certificate translation services follow?
We have found that client-specific formats can vary greatly, and that's why we do not follow any specific format to deliver certificate translation services. We allow the client to choose the format that is proper for them. We offer translation in PDFs, Word documents, Excel spreadsheets, PowerPoint presentations, HTML documents, etc.
Q6. Is there any particular deadline for education certificate translation?
In reality, it is nearly impossible to predict when an education certificate translation will be completed since the total word count, which language it is being translated into, and the amount of effort involved will all decide how long it will take to complete. Additionally, we have experienced translators who can complete the translation within the time frame specified in the submission form.
Q7. How accurate is your degree certificate translation?
Our team of professional translators ensures that your degree certificate translations are done properly by our team of expert translators. Our company provides the best assignment translation service with a high level of accuracy.
Q8. Is there any extra cost for urgent orders?
Yes, we charge extra for urgent orders. The cost will be decided depending on the urgency of the order. Also, we provide amazing discounts on bulk orders.
Q9. How do you ensure high quality in translate educational documents?
When it comes to a high-quality educational certificate translation service, we ensure that the client's translation requirements are clarified before work is started. Upon clear understanding of the requirements, we will assign the rest to our team of experienced translators. Our translators always deliver high-quality translations despite the size of the document.
Q10. Will my degree certificate translation be kept confidential?
Yes, being a one-stop solution for your degree certificate translation service, Singapore translators ensure that the documents' confidentiality is maintained. We understand the importance of the privacy of our clients, which is why we ask all of our prospective clients to sign a confidentiality agreement. By doing this, we ensure that their information is protected from unauthorized access.