Get your academic transcript translated by 500+ native professional translators in just 24 hours at low translation service rates.  Singapore translators provide high-quality Academic Transcript Translation Services in Singapore whose main objective is customer satisfaction. We are working over 200+ languages like Malay, Chinese, Korean, Thai, Spanish, etc.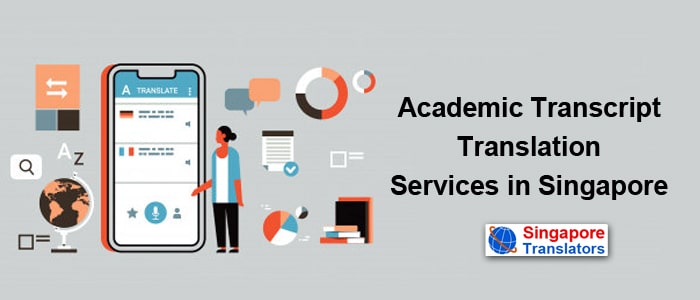 Hire Finest Academic Transcript Translation Services in Singapore
Academic transcripts are important for gaining admission to high school and universities across Singapore. Most of the top-rated educational institutes prefer to have translated academic transcripts from the outstation students. They prefer that all the academic transcript documents to be accurately translated into the language which is followed by the Singapore colleges and universities.
There are many schools, colleges, and universities in Singapore that prefer to have academic transcript translation to be done by professional academic translators. These educational institutes, as well as most of the customers, recommended translation services from various language translation companies like SingaporeTranslators.Com.
Here, professional academic translators, for years have successfully delivered high quality translated academic transcripts. These translators offer accurate translation of all the academic transcripts which clearly reflects student's academic history and experiences.
How Translation Professionals Offers Translated Academic Transcript Services?
Translated academic transcripts are a huge requirement for those students who came to study in Singapore from other countries. The prospective students must get translation help from the professional translators at various Singapore translation agencies. The best among them, SingaporeTranslators.Com is the most preferred one. This translation agency offers the best quality translation services which are discussed below. The best services offered are:
Get Fast & Accurate official notarization for ICA, MOM, MFA.
Accurate Translation: All the Singapore transcript translation for school, college and university enrollment is translated with great attention. All information is translated with great accuracy. The way in which the translators at Singapore Translators translate the academic transcripts, it is hard to find flaws and errors.
Multi-Lingual Translation: Singapore translator provides translation support to over 60+ global languages. Their translation of academic transcripts is accepted widely at renowned colleges and universities in Singapore. Moreover, native professionals of the target language are hired for your academic transcript translation.
Biggest & Fastest Customer Service:  If you have any urgent requirement for translation, they also provide fast translation services and delivers at your mail within as fast as 12 hours. These translators are known to translate over 60 million words, managing translation requirements of over 65,000 clients.
Certified Translation of Academic Transcripts:  The professional translators at SingaporeTranslators.Com offer certified translation on the translation company's letter pad with authorized signature and stamp. This is to prove that their translation is filled with accuracy and authenticity. Moreover, it can also be used for official purposes like Immigration offices, educational institutes, courts, state and private organizations. The translators also provide academic transcript translation for the Ministry of Manpower in Singapore.
Added & Optional Translation Services: Singapore translators are also known to offer various options and added services like notary services. It authenticates the translated academic transcript document. Moreover, this is also valid in all the places in Singapore and even abroad. Other added services offered are editing, proofreading and revising.
How to Get Online Academic Transcript Translation Services?
It is easy to get translation services for all types of academic documents like your high school certificates, diplomas, and degrees. Even academic transcripts are also translated online by the professional translators at SingaporeTranslators.Com.
Hire a Language translator for converting your legal & Other Documents.
So, to begin with, academic transcript translation at SingaporeTranslators.Com, you can follow the below steps, which are:
Upload scanned copies of your academic transcripts at the SingaporeTranslators.Com translation order page.
You can upload it directly also to get a free price quote.
After the evaluation of your scanned documents by the translators, you will be asked to pay for the translation cost via net banking, credit/debit card or PayPal.
Once the payment is cleared from your side, the translation will be done immediately.
Finally, on or before the day of the deadline, you will a digital copy of your academic transcripts at your email address digitally. Moreover, a hard copy of academic transcripts is also available on demand.
Why Choose Academic Transcript Translation Services From Singapore Translators?
If you have decided to get academic transcript translation services from the professional Singapore translators at SingaporeTranslators.Com, then you must know that this is the best decision you have ever taken. This is because all the translated documents like academic transcripts are fully accepted globally by the ICA, MOM, government & statutory bodies, etc for various reasons. The translated documents are valid for the purpose of official works like immigration, work permit, long- term visa, PR application, etc.
Conclusion
Academic transcripts are the most important educational documents which can fetch you a seat at Singapore's premium educational institutes. So, if you are not a local Singapore student or scholar, you must have an accurate translation of your academic transcripts. You can get perfect & cheap translation services by hiring professional translators from SingaporeTranslators.Com.