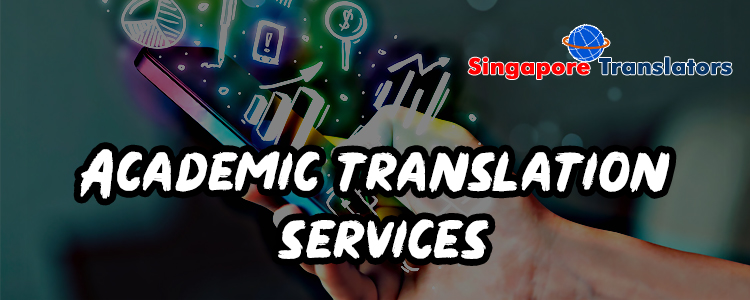 Get Quality Academic translation services Online in Singapore
Getting your academic work efficiently translated is a necessary deal in making sure that your work will be precisely signified in your preferred language. Automatic 'translation' software that is not made to understand particular language terms will not generate precise results and could risk deliberate meaning being wrongly submitted. Our Academic translation services Singapore merge proficiency from our subject-qualified translators and great technologies to ease stability.
Singapore Translators offers eminent translation services to academic researchers in Singapore and also across the globe. Through our words, we allow professionals around the world to converse their work across limitations & civilizing barriers.
Academic translations need an incredibly comprehensive, specific knowledge of the field being discussed, frequently at a professional level. Hence, we only work with professional native translators who present subject-matter proficiency beside with a mastery of languages.
Our group of translators and Singaporean copywriters all holds degrees in a dedicated field of learning from remarkable well-known universities in the globe, & more than 45% hold PhDs or Master's degrees in their area of expertise.
They are good authors in their own right, and they recognize what it takes to get published in high-impact technical journals. They can assist get your ideas across with simplicity and accuracy. We also provide Documentation translation services for people looking for translation services at a very affordable cost.
Academic translation services Helping Universities reach potential global Scholars
More intercontinental scholars are looking to the U.S. for advanced education prospect.  The most effectual way to join with these scholars is for colleges & universities to have advertising translations of documents counting brochures, & Websites.
Singapore Translators competently works in translation for learning to assist schools in reaching global students.  Our academic translation help corporation provide translations in numerous language pairs including translations from English to Chinese, English to Korean & English to Arabic.
We value all the learning that familiarity brings along with it. Consequently, we only invite knowledgeable translators to our network. Our group members hold at least 5 years' practice in translations; the average is 10.4 years.
They sustained by in-house local language editors who polish your translated text to make sure the utmost degree of accuracy. We provide editing and proofreading services for those who are looking to polish their translated work. We have professional proofreader and editor who make your work shine.
Academic translation services provided by leading Translation Service provider in Singapore
Certified translation is a translation that is licensed to be right and is present with an evidence stamp and signature. Different industries need certified translation as well as Legal, Medical, Technical, Websites & Immigration. Many government authorities do not consider non-certified translations to be valid; this is where Singapore Translator steps in.
With our years of knowledge in every business sector, we offer high quality certified translation services along with Academic translation services, across the world. Beside providing translation services we also provide editing and proofreading.
Characteristics of Top Documentation translation services
Localization of substance, in terms of translation services, needs considerable familiarity on the part of the translation professionals. Top translations companies are capable of offering their patrons with all way of translation services for the timely, trustworthy, accurate and contextually right translation of business documents.
Many times this kind of service will be accessible via software programs. One more consideration to bear in brain is that of the charge of the translation services package. A corporation must typically not be selected on cost alone as this may offer a tilted representation of its quality or lack thereof.
It is clever practice to do a little study into the costs-per-translation by the top online translations services companies. The rates significant, and most of the times the software will be capable of translating related phrases, concepts and papers automatically – provided the context is obviously understood. The charge of translation is one more consideration.
Among the top service professionals, fast translation of material is the standard. But pace must not take the place of excellence. The latter attribute must never give up. The world's premium translations companies do considerable work in numerous areas including the likes of the following: voice-over services, desktop publishing language translation services, and academic translation & document translations. Numerous of the top translations services provide additional value in the form of Standard English writing services.
Our Focus on Providing Quality Academic Translation Services
Whether you aim to publish your study in an international technical journal or to share your thoughts and ideas with collaborator a globe away, our main objective is to help you converse clearly and effectively.
With every translation, we make sure that your project is guided by The Highest Standards of Quality
Our Singapore translators have established clear proficiencies in both the source & objective languages, as well as dedicated familiarity in your academic discipline. Your words will flow sensibly and read as though they're coming from you.
Well-organized and effectual Processes
Singapore Translators has established ISO-certified standards and actions that offer our customers with simplicity, accuracy, and clarity. Our goal is to bring fast, trustworthy translation service, on time, every time. We have professional to provide you with Ghostwriting services as well as editing and proofreading services.
Being a leading translation corporation, we offer academic translations in over 100+ languages approximately the world counting Arabic, Spanish, Dutch, French, Japanese, Vietnamese and several more. Our translators are flowing and familiar in their individual languages; consequently, we can fulfil to our client's particular language needs. Just choose from our language collection bar, and we will have your project decode in your selected language.