Adoption Application Translation Services Provided By Native Singaporean Translators
The procedure of international adoption can be a complex one. Depending upon what nation one decides to adopt from, there can be diverse standards and needs. However, most rules stay the same from one nation to the other. After selecting the nation one would like to adopt a kid from, it is significant to gather significant documents.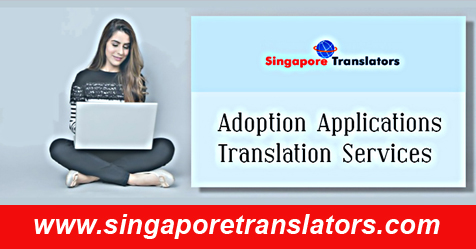 Numerous documents are necessary for international adoption, && couples must obtain Adoption Applications Translation services of these documents. A certified translation of every document accepted by government organizations, legal bodies, etc., worldwide. In a global adoption, one of the prospective parents should prove citizenship and must show verification of age.
It is frequently the case that copies of adoption papers are kept not only by a child's birth parents & adopted parents but also by the domestic or global organization that arranges the adoption. More highly, in most countries, communal welfare and immigration authorized to monitor the adoption process in order to keep away from abuse and abandon human rights.
As a result, it is suggested that adoption documents are only managed by certified, language translation services. This is to make sure precise and clear translation over a problem such as protection of the children recognize details, transfer of everyday jobs and rights from birth parents to adoptive parents, and respect for the child's rights and requirements by the civilization in which he or she is to live.
Why Is It Significant to select Professional Translation Corporation for Adoption Documents Translation Services?
When legal actions extend across borders and time zones, an already-complex circumstance becomes almost unmanageable, and the pace with which you can organize documents and analysis data can be the variation between being ready for court appearances, and other circumstances – or losing your case.
That's where expert Legal Translation Services come into play. With Singapore Translators as your partner, you can have significant pieces of evidence or background data translated from about any language at almost amazing speeds.
Get Fast & Accurate official notarization for ICA, MOM, MFA.
Our document translation services extraordinary One page of content, or about 200 words, get just one hour to explain – and we promise the precision and completeness of the Adoption Applications Translation Services. We draw on our group of more than 15,000 expert translators around the globe. And we assign natives in your languages and the wording and arrangement of even the most challenging legal papers.
Certified Translation of Your Adoption papers
From birth certificates to overseas adoption decrees, medicinal records to police certificates, adopting a child abroad can need the translation of numerous documents to authorize the adoption in your home nation. Accurate Adoption Applications Translation of these documents is critical to ensuring the adoption procedure is smooth for your relatives.
Our Certified Translators have effectively translated lots of adoption papers. No matter which of the 60 languages we sustain you require your adoption documents translated to or from. Singapore translators' most excellent bet for a precise translation delivered rapidly and affordable.
Benefits of Adoption Applications Translation Services
The Internet has been a grand leveler in connecting people from across the world. It has also enabled businesses to go worldwide by connecting with client groups in different countries.
Despite all the benefits that the Internet has brought regarding, language remains confronts for businesses to reach a better audience. Though English perceived as a worldwide language of business communication, numerous countries still prefer to converse in their limited tongue. Translation has helped bridge this divide to a big extent by bringing different groups of linguistically. Also, ethnically diverse people together, enabling them to communicate efficiently.
Why Is Adoption Applications Translation Services So Significant?
Only about 10% of people around the globe speak English. There is a vast opportunity to reach out to markets other than the English-speaking, with the support of translation services.
Internet adoption around the globe is growing; people are transacting over the net much extra than they did before. Therefore, it is significant to translate your web content into added languages.
Hire a Language translator for converting your legal & Other Documents.
Numerous developing markets such as China, Mexico Brazil, etc., have little business communication in English. The public in such countries continues to communicate in their personal language. Translation helps in cutting across word barriers and interacting with people in such nations.
Literary texts, books & novels have to be translated into different languages so that they can be read by natives in other nations.
Certified Adoption Applications Translation Services
Legal translation services are a precise type of translation necessary by U.S. Immigration (USCIS acceptance), high school & university application and staffing, passport office usage, and numerous other local, state, and Federal governments authorized uses.
Certified Adoption Applications Translation Services are delivered on Singapore Translators letterhead and comprise a signed & stamped Certificate of Translation precision, which attests to the thoroughness and exactness of the translation and the experience of the translator. If the guarantee not necessary, we also offer Ghostwriting services, provided in an editable format and are usually used for business or personal purposes.