Singapore Translators provide you certified affidavit translation in Singapore as per ICA with accuracy, anonymity & affordability. Our 500+ native professionals already translated thousands of affidavits. No matter in which language you need your affidavit to translate in, we are working over 200+ languages and assure you to translate your legal document with 100% human translation.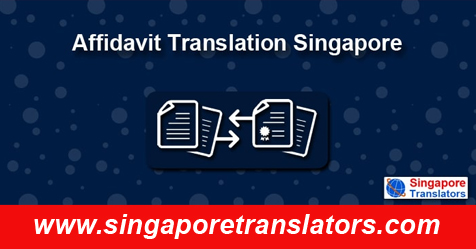 Affidavits are offered after doing the certified translation in the following documents, which are:
Court Settlement Documents (witness statements and exhibits)
Driving licenses
Education certificates & academic documents
Medical reports & prescriptions
Financial reports & bank statement
Patent applications
Audit reports
Court verdicts
And many more documents of legal and personal use
Singapore Affidavit Translation Service by certified legal translators
There has been always in need of affidavits which ensures acceptance of certain documents or paper proofs by the officials of the immigration department, government, or any private organizations. Thus, there is a requirement of having a certified translation of affidavits arises especially for various kinds of official purposes. In Singapore, you can have certified translation services of your affidavits statement online at various translation companies where professional translators will translate your documents.
You can have translation affidavit documents in Singapore at an affordable price then you should choose the most reliable court-certified translation services in Singapore from the top most translation companies such as SingaporeTranslators.Com. Here, you will get professional translators who have good experience in handling the translation of documents like affidavits. If you seek affidavit translation services online, then you can get the services fairly at good prices.
What Affidavit Translation Actually Is?
Affidavit translation is a translation of documents that is just an accurate and identical version of the original document in a different language. The translation is done by the professional translator who swears to provide an authentic and correct translated representation of the entire content from the original document. The translated copy of the affidavit is to be presented in front of the immigration officials and government officials of the department of immigration and other government organizations.
Get Fast & Accurate official notarization for ICA, MOM, MFA.
If you want to get the best translation of your affidavits for any legal purpose or immigration purpose then you must get online document translators to translate your affidavits. In Singapore, the translation company – SingaporeTranslators.Com is one such translation company that provides good services of document translation from professional translators.
Tips Before Hiring A Translator For Affidavits Translation 
Various things need to be followed and kept in mind while getting the accurate certified translation of affidavits. You must keep in mind the following things which are:
The hired translator must have prior experience in doing legal document translations.
After the translated affidavit document is completed, it should receive a signed statement by the translator or the designated professionals of that particular translation company.
Moreover, the signed statement must be notarized and certified by the notary public or any legal professionals.
But most importantly, the translator must translate all the content of the affidavit document in an accurate manner. It should also maintain the tone of the text of the original text document.
An Example of Affidavit Translation
When the Singapore translators at SingaporeTranslators.Com provide affidavit translation then it is done in the following manner, which is:
Hire a Language translator for converting your legal & Other Documents.
"I, (translators full name), hereby declare that I am fluent in these (name of the languages) languages. This translated text is authentic, accurate, and is a complete version of the original text. This translation is done to the best of my knowledge".
Translate affidavit statement in Singapore with 100% accuracy
When you desire to get Singapore affidavit translation services online then  SingaporeTranslators.Com is the best option for you. Here, you will be pleased with its translation services.
All in One Translation of Legal statement: You will be even pleased to know that our team of professional translators specializes in offering all kinds of translation in different types of languages. They are experts in translating education documents, court verdicts,s and other legal papers along with various document translations of personal identity.
Cheap & Accurate Translation of Texts in Varied Languages:  At SingaporeTranslators.Com, you will get professional translation help in translating certified documents in Chinese, Vietnamese, Thai, Korean, Japanese, etc into English or any preferred language of your choice. Moreover, you will get high-quality translations at a cheap price along with the signed statement by the translator or the translation company indicating the accuracy and authenticity of the translated document.
Total Responsibility for Translation: The most impressive translation services of affidavit statements offered at SingaporeTranslators.Com are that the translator itself gives an affidavit asserting the responsibility of the translation done by them. This is one of the most important services offered by the affidavit translator at SingaporeTranslators.Com because only the translator has the right and responsibility of the translation work which they have done.
Great Affidavit Translation Services In Singapore by Singapore Translators
SingaporeTranslators.Com is the most reliable language translation company in Singapore. It is the top-rated translation company to offer accurate and flawless translation of all the legal and official documents. It also specializes in offering affidavits and its translation of the same.
No 1 Online Translation Services for Document & Legal Translations in Singapore.
Following are the affidavit making an affidavit translation services offered by the professional translators at SingaporeTranslators.Com:
Accuracy & Authenticity: The level of accurateness and genuineness provided by the translators is always trusted by the customers.  In this trusted language translation service company, you will get translations in more than 80 languages into the English language in an accurate manner.
Translation by Native Translators With The Right Use of Tone: You will get only the native translators to translate affidavits documents along with other translated legal and official documents. Moreover, the professional translators at SingaporeTranslators.Com have accurate knowledge of world languages. Moreover, you will also be assured of the translation of affidavits keeping in mind the use of tone in both the languages of the source document and the translated documents.
Fault-Free & Plagiarism Free Translation: All translation tasks of your affidavits by the Singapore translators are carried out based on your requirements and needs. Our team of professional translators pledges to offer fault-free, plagiarism-free and authentic affidavit translation.
Editing & Proofreading Services: The services of extra benefits such as editing, proofreading, and revisions is also offered to deliver a good quality translation of your affidavits
Online affidavit translation services for any type of Affidavit
Thus, now you know that it is better to hire online affidavit translation services that can adequately translate all types of affidavits. At SingaporeTranslators.Com, you will get the online affidavit translation from the best professional translation experts who are best in offering fast, flawless translation.