Get all your documents & website translated into Arabic in just 24 hours. certified Singapore Translators for ICA officials will help you to ensure that your documents translated swiftly and systematically. Scan your document or send us audio or video files, fill up the order form. Our professional translator will convert it according to your needs and send it by email. In case, you want to translate your website into Arabic then send us a URL, fill up the order form and get your website translated on the same day.
You can translate any of your document into Arabic with Singapore Translators like – 
 Birth Certificate
Driving License
Court Orders
Divorce Certificate
Academic Papers
Marriage Certificate
Death Certificate
Academic Degrees & Certificates
Employment Pass, etc.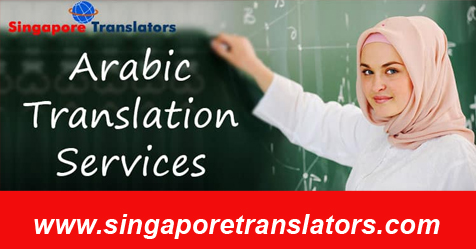 Arabic Translation Services in Singapore by 500+ Pro Translators
Arabic is a name useful to the ancestry of the Classical Arabic language of the 6th century AD. This comprises both the literary language and variety of Arabic spoken in a broad arc of territory stretch across the Middle East and North Africa.
Arabic is the 4th most verbal language with about 280 million native speakers across the globe.  These days many organizations and individuals looking for Arabic translation services in Singapore to get better their familiarity with this language. It also helps them to boost their business.
Fastest expert Arabic translation services by 500+ certified native Arabic translators who offer precise translation services in the Arabic language for communal, private and government sectors.
It has been several months when you launch a novel product for Arabic clientele, still not generating the usual leads? Do you recognize where you are missing? No? It's okay! Just ensure whether you have given your Arabic speaking clients with necessary product data in their local language.
Authentic translation of your wellbeing guidelines, product labeling, and all content applicable to your goodwill make possible consumers familiar about it.
This means you will be capable of noticing the significant rise in your sales volume and customer base. More close & friendly your spectators will find your brand, more they'll like to appoint with it. So, Language translation services are a must.
Need Of Arabic Translation Services 
The translation is considered significant in the corporate globe, particularly those companies that work internationally. Numbers of customers, customers, investors, and other individuals involved can understand numerous foreign languages.
Get Fast & Accurate official notarization for ICA, MOM, MFA.
The translation is necessary when the target audience speaks a diverse language. It not only assists in avoiding miscommunication and mistakes but also assists in more aspects. Some reasons why you require translating solutions are as follows –
 Identify Market Potential:-precisely translating marketing content, credentials, and other material will boost the market potential. This is because they let you speak to the target market in the local language. You will be capable of preparing a study of market research reports such as customer segment, product demand, rivalry level, and lots more.
 Reach Target Audience:- It is now much simpler to reach wider viewers through translation. Businesses can get better their customer database by effectively communicate with foreign customers in the language they can clearly recognize. Translating and localizing a website also improves client support by offering all information in the objective lingo. Thus, creating impressive brand visibility.
 Boost Sales:- Providing applicable and understandable content to the target spectators helps in achieve the marketing goals and getting better sales volume. More applicable and meaningful is your content with overseas customers, more tending they are to purchase your goods or services. If the information is accessible in multiple languages, it will support non-English speakers to shop you're dealing offerings.
Our Professional Arabic Translators Are Well Versed In Translating Your Documents
You can utilize individually Arabic translators to assist you in keeping your language requirements under control. As the sixth-most spoken language in the globe, Arabic has to turn out to be a significant language in recent years and is particularly valuable in oil-rich nations in the Middle East.
Our professional translators will help you to get all the papers that you have taken care of with the Arabic language in mind. They also provide academic translation services in Arabic languages.
A gigantic part of the Arabic language is usually written from right to left and read in that similar format. Consequently, there will be a need to ensure that the translation procedure is made with this particular consideration in mind. You can be certain that your Arabic translators will ensure the whole thing is written out and read the precise way.
Hire a Language translator for converting your legal & Other Documents.
Also, our Singapore translation services are effectual as they work well with formal and standard forms of the Arabic language. The proper style is used in the Qur'an and skilled in schools in Arabic-speaking countries while the contemporary form is used in more places. It's simple for you to get in touch with translators that will take care of both of these forms of the language.
Benefits Of Outsourcing Arabic Translation Services To Singapore Translators
We are very well known in the business of translation for the timely completion of coursework with the core of the unique text in the translated file.
We retain the style, meaning, tone, and material of the source content even after conversion so that the target audience can recognize the intended message. Serving agreeably for more than 15 years, we promise our customers the following benefits
 Data Privacy: We make sure the confidentiality of all kinds of data. You can rest certain that your translation assignments are in the secure hands that protect your information.
Quality Control Systems: All associates in our team such as project managers, translators, proofreaders, etc. intended at providing an error-free translation. Consequently, we use severe QC procedures.
 Quicker TAT: We offer urgent document translation services that account for delivering the precise and quality whole translation within 24-48 business hours.
 Culturally Relevant: All kinds of content translated from our end grammatically, linguistically, and ethnically acceptable no matter what the words pair is.
No 1 Online Translation Services for Document & Legal Translations in Singapore.
Summarizing these points, we offer high-quality translated files with cultural relevancy and 100% privacy within a stipulated time-frame. Our pro translators have the skills and proficiency necessary to translate the files, no matter how complex it is. When you encounter the need for some text or content to translated at short notice, you may contact us.
FAQs
Q 1. How much accuracy do your Arabic translation services have?
With Singapore translators, the accuracy of the translated documents will be 100%. We give assurance that your documents will be translated in the right manner.
Q 2. What will be the estimated price of Arabic document translations?
The estimated price for Arabic document translations is varied from document to document. Each document translation consists of various processes and different approaches. If you take just the translation services then the price will be slightly lower. But if you need the extra services such as editing, proofreading, revision, certification, notarizing along with other requirements then your translator rate will go up.
For an urgent order, there are some extra charges you have to pay.
We also provide discounts on bulk orders for that you can email us at Info@singaporetranslators.com
Q 3. What is the format of Arabic document translations? 
The translated document will be delivered in PDF format and .docx, .dotx, .xlsx, .xltx, .pptx, .potx, .xliff, .html, .htm, .xhtml, .xht, etc.
Q 4. What will be the deadline according to you for translating an Arabic document?
We used to provide Arabic translated documents according to the delivery date given in the submission form.
Q 5. Will I get a hard copy of the Arabic translated document?
Yes, of course, you will get a hard copy of the translated documents, that too in the same format as a softcopy, but you have to mention that when filling a form that you are in a need of the hardcopy and there are some extra charges you have to pay for the same.
Q 6. What type of quality do you provide in Arabic translations? 
The quality we provide is exceptional, our certified translators have translated the same content as in their original language. Our professional translator never adds new ideas, delete any of them or change their meaning at all when translating.
And with Singapore translators, all your confidential documents will be secured and never be disclosed.
Q 7. What is the refund policy of your Arabic translation service? 
Sorry, there is no such refund policy from our side, once the transaction is done there will be no refund provided.
However, if any sort of mistake occurs then we will provide some amendments.
Q 8. Where I can use these Arabic translated documents?
It depends there are various types of documents that need to translate like immigration documents, Medical documents, driving license translation, academic document translations, death certification translation and marriage certificate translation.
So, immigration documents can be used whenever you travel abroad not in Singapore but also in other countries as a record of travel history. So, there are different purposes for different documents.
Q 9. Can you do a notarization of the Arabic translated documents?
Yes, we do notarisation of translated documents, but it depends on a customer if she/he is in a need of notarization or SAL.
Q 10. For how long your Arabic-translated documents are valid?
Generally translated documents never expired unless the original document has changed or has expired.  If the signature of a certified translator or notary has expired, it does not invalidate the translation.
Q 11. Can I collect a hard copy of Arabic translated documents from your Office?
Yes, you can definitely collect a hard copy from our office.