Singapore Translators has a team of professional academic editors and proofreaders that already helped countless students with their work will ensure you error-free writing Our experts are the ideal choice for polishing your assignments at very low editing & proofreading rates.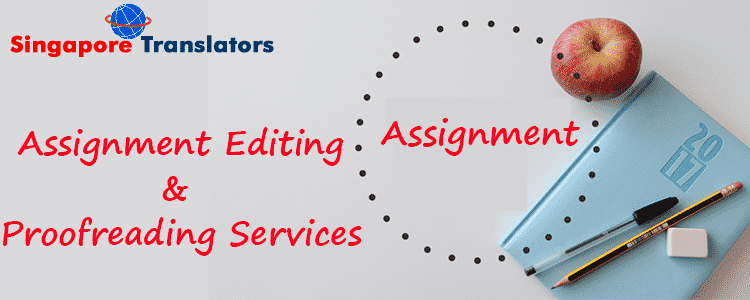 Assignment editing & proofreading services in Singapore By Expert Proofreaders and Editors
If you cannot finish an assignment due to private problems & other scheduling conflicts in the way. Possibly, you have numerous classes and too much research lined up. Possibly you are just not interested in the topic and cannot be provoked to get started! Whatever the motive, the Assignment editing & proofreading services by translation services Singapore is here to offer the easy, fast and trustworthy service you require.
Singapore Translators has a team of professional translators, editors, and proofreaders to edit your assignments and other educational work very efficiently. Our assignment editors are accessible around the clock to respond to you. Our Document Translation services are open for all undergraduates, postgraduates, PhD or other expert trainers.
Singapore Translators provides language translation services with the help of knowledgeable multilingual local translators that means the ultimate translation will read flawlessly to a local speaker of that particular language translator.
We have an extensive database of translators; therefore, we can do a document translation to and from 200+ languages of the globe. We concentrate on European and Asian language translations.
Our professional team of diverse languages geeks can handle any kind of translation project. Whether one needs a legal translation or professional medical translators; we are a thing to reckon with. We present cost-effective medical translation services and can manage projects of small paper translation to big multi-language projects. Singapore Translators is defined by the outstanding services it offers to its client's globe over.
Multilingual Proofreading and Translation Services in Singapore
Organizations and industries of all types rely on our high-quality Assignment editing & proofreading services and translation services. Our Singaporean translators have the skills, familiarity, and knowledge to offer a range of outstanding services including Academic Translation services and proofreading.
Get Fast & Accurate official notarization for ICA, MOM, MFA.
Although proofreading is frequently one step in a multi-step procedure for paper translation, we also present proofreading as a split service. Proofreading and editing services are both accessible, but are distinguished: proofreading is the review of one language (monolingual) for precision, spelling, grammar, and style.
Editing is the bilingual assessment of both source & target languages to check for similar issues, as well as checking for mistranslations or oversight from the foundation text.
We allow all of our Assignment editing & proofreading projects to human proofreaders. Some customers might assume this is standard practice, but there are several foreign language translation companies that utilize translation software.
Our years of knowledge in the translation industry have taught us the significance of utilizing human translators to finish projects. Translation software can't consider whether a piece of a letter may be misunderstood by a reader, & it won't know jargon used in a particular industry. Our group of human translators offers thorough proofreading services that a customer can depend on.
Why is Online Academic Editing and Proofreading Services required?
Not everybody is capable enough in grammar to do his/her own proofreading, and even those who usually don't have trouble with using the right words and checking the precise rules occasionally make mistakes – and it is hard to see fault in your own text.
Occasionally you simply have to find an excellent proofreader and say "Please edit this assignment for my project". Though there are hundreds of companies offering this kind of help in Singapore. But, finding the one that will suit all your necessities may be a hard task.
Hire a Language translator for converting your legal & Other Documents.
Our professional editors and proofreader will cross-check your academic assignment; fix grammar, spelling, punctuation, & formatting errors.
We offer online assignment editing & proofreading service to check any kind of educational assignment. Academic proofreading has never been more reasonable. Our squad uses advanced grammar checking technologies in addition to individual expertise to ensure a scholar did not miss even the smallest typo. We also offer free formatting services to assist students in keeping away from mistakes with structure and organization to make the flow of the paper rational.
Our proofreaders don't exclusively rely on their acquaintance and skills while checking your work; their work is also backed up by luxurious professional editing software. No free document proofreading services will ever offer such exceptional quality.
As well as thorough proofreading, an in-house squad of professional writers will make all essential corrections, and they will do it for cheap! It is unfeasible to find a more reasonable company online. Our expert also provides you with dissertation editing & proofreading services in Singapore.
Reasons to Hire Singapore Translators
There are numerous reasons to choose our editing service to proofread your assignment from across the copious alternative variants. What are these motives? Let us tell you!
We recognize that students hardly can afford to spend a lot of cash on proofreading and editing and cost our help accordingly. You won't have to dump half your month's funds on our translation and editing services. We are an affordable option for your language translation services needs.
No 1 Online Translation Services for Document & Legal Translations in Singapore.
You constantly get the best Language translation services – our system involuntarily checks what type of assignment you have and assigns the most suitable worker to your task
A single, comprehensive fee will get you all the editing, proofreading, and format services your dissertation requirements. To assist you in meeting all deadlines in your dissertation, our educational editing and proofreading services are presented to you 24/ 7.
You will get full credit for your delicately edited dissertation, with our severe privacy policy. Also, our servers use 256-bit SSL encryption expertise so that all your information and dealings are totally secure.