Are you in urgent need of bank statements and banking document translation services for official and immigration purposes? Do you need to translate, notarize and certify your bank account statements and other related bank documents? If yes then you must take translation services from Singapore Translators in Singapore.
Our 75+ professional translators offer accurate and safe translation of all your bank and finance documents in more than 200 languages like Malay, Chinese, Thai, Korean, Spanish, etc.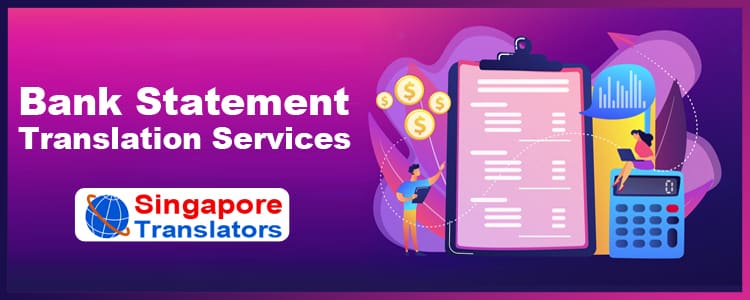 Why Do You Need Bank Statement Translation Services?
A bank statement is a very important financial document, which comes in handy for applying for bank loans abroad. Moreover, it also an important official document to apply for visas or migrating to other countries. If your bank statement is not in the language of the target country, you must get it translated by the professional Singapore translators.
Translated and certified bank statement is also accepted as a valid document and evidence by the officials of the immigration department. These are some of the valid and official reasons which compel you to get bank statement translation services from the Singapore Translators at efficient translation companies like SingaporeTranslators.Com.
We Offer Perfect, Accurate & Safe Bank Statement Translation Services
Online Singapore translation experts at SingaporeTranslators.Com, offers translation services of bank statements with extreme care and with perfect professionalism approach. The following are the various ways described, which will inform you about bank statement translation services offered by Singapore certified financial translators at SingaporeTranslators.Com. The various ways of translation services are:
Safe & Accurate Translation of Bank Data & Transaction Information:  Our team of Singapore translators is extremely cautious while translating crucial and confidential documents like bank statements and other financial statements. They translate all the details of your bank account and its transactions very carefully, paying rapt attention to even minute details. The translation services the Singapore translators provide is exactly the mirror image or identical image of your original document of a bank statement.
Get Fast & Accurate official notarization for ICA, MOM, MFA.
Bi-lingual / Multilingual Financial Translation Services:  Financial documents like bank statements are also treated a legal document as well as a valid document for immigration purposes. Moreover, the translated bank statement is also useful for taking financial services like loans, opening new bank accounts, etc in foreign countries. So, if you are using your bank statement for the above purposes, you need to translate your bank statement in multiple languages. This is possible only at SingaporeTranslators.Com where the native translators offer bi-lingual/ multilingual translation services of all types of documents.
Certified Translation With Strict Deadline:  SingaporeTranslators.Com offers all types of certified translation in Singapore for all types of financial and bank documents and statements. The native expert translators translating those documents are experts in finances and accounts. They provide all the completed translated documents within the deadline.
Translation Services For All Types of Files For Multiple Uses:  For the last 10 years, the professional Singapore financial translators have accomplished the high-quality translation of thousands of bank statements. All the translation is done accurately and is widely recognized by the immigration department of its respective country. All types of bank statements in the form of DOC, PDF, DOCX and JPEG files are accepted for translation by the Singapore translators. These translated documents of bank statements can be used for job permits, higher education in foreign countries, marriage settlement, bank statement submission for immigration, etc.
Conclusion
At SingaporeTranslators.Com, you will get the best services from the experienced translators who work very hard to deliver top-quality bank statement translation services. If you are not satisfied with the translated documents, they are even ready to offer extra and free services of editing proofreading, and revision.
All these services are very cheap and best suited to your budget. Thus, hire professional translators from SingaporeTranslators.Com for accurate bank and cheap bank statement translation because it is the best and the cheapest translation company in Singapore.