Get your birth certificate translated in just 24 hours with finest Birth Certificate Translation Services in Singapore. Singapore Translators is the largest language translation agency in Singapore with several years of experience. Our 500+ professional translators are well versed in converting your birth certificate in more than 200 international languages like Malay, Japanese, Chinese, Thai, Korean, Indonesian etc with the most degree of proficiency.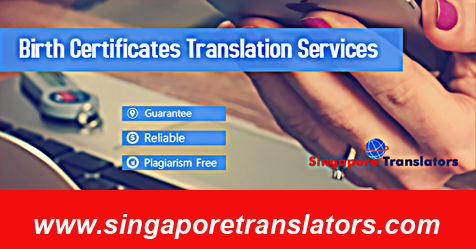 Features for Online Birth Certificate Translation from Singapore translators –
USCIS Accepted
ATA Certified Translators
Notarization provided on request
Instant Quotes
Leading Birth Certificate Translation Services in Singapore
When it comes to Birth Certificates Translation services, you are possibly in a rush, right? You just informed me that you have to present the paper at an institute, and it has to be certified. Well, you have come to the precise place to buy birth certificate certified translation help by Singapore experts.
At Singapore Translators we have already translated lots of birth certificates and recognize precisely what and how quick you need to have it. No worries as we do not have any urgent charges or additional charges or higher rates when you are in a rush. In several cases (and ensure that you got the right information) you can also need to have your translation notarized. If that is the case, no trouble, we can do that too.
Please get in touch with us here in live chat to inquire us any question you have regarding the birth certificate translation to English that you require and we can provide you with a live quote and deadline. Let us recognize if you are in a rush.
We will generate a quote, and of course, you are free to accept the quote and carry on with us. You can also avail our Academic translation services and other certified translations at a budget-friendly cost.
Get help to translate birth certificate in Singapore into one of over 30 language preferences. We've translated thousands of papers, including birth certificates and promise approval by U.S. authorities.
Steps to Get Your Birth Certificate Translated
Over the years, we've developed a precise system to make sure the most precise Document Translation Services possible. Our birth certificate translation online procedure exacting a series of steps intended to deliver cost-effective letter-perfect translations.
From the time you submit your source birth certificate, our group of brilliant subject matter experts assigned to your project is on the work. The method we see it, our work is much more than translating a certificate.
We check and double-check each step of the procedure, safeguarding your message and meaning, ensuring the absolute reliability of your content. We're in the industry of doing it accurately the first time; producing consistent, cost-effective results you can count on each time.
The primary thing that you notice regarding our translation of birth certificate is the expert manner in which we do our work. There are numerous cases where we help customers over and above their requirements if they have to translate birth certificates and it is because of this reason that our services extremely regarded in the business.
Birth Certificate Translation Services With a Variation
With our services for birth certificate translation Singapore, we consider that it is never business as usual. As such, we treat all new customers and projects with transformed energy and psych. We make you part of our society so that we can deliver the most excellent results ever.
In fact, we provide our solutions with a friendly touch which makes it possible for us to know the underlying issue that drove you to place the order with us. Whatever it takes to give you the utmost level of precision and best turnaround, our group constantly prepared to get you precisely that.
Certified Birth Certificate Translations in Singapore
Certified translations of birth certificate are a particular type of translation necessary by U.S. Immigration (USCIS acceptance), high school and university application and employment, ID office usage and numerous other local, state, and Federal government administrator uses.
Certified translations delivered by Singapore Translators include a signed and stamped credential of Translation Accuracy, which attests to the diligence and accuracy of the translation and the experience of the translator. If a guarantee not necessary, we also present Language Translation Services We also deliver an editable format and normally used for industry or individual purposes.
Extremely Trusted Certificate Translation Services In Singapore
We believe the role of a certified translation is very important, particularly for documents associated with migration purposes, visa application and even for learning use. We offer online birth certificate translation to offer you more ease in processing major significant documents such as this.
This is one of the most imperative personal documents that must be understood and interpret officially, and precisely. Because it is essential evidence that represents the totality of your subsistence and personal identity.
Why Hire Singapore Translators For Quality Translation of Birth Certificate?
Language translation and understanding extremely specialized services that need good training to obtain the expert quality expected in the business.   With 54,000+ customers and millions of words translated, we are one of the most trusted sources for translation services in Singapore.
Our staff of certified expert Translators knows to finish your project on time. They also provide a high degree of correctness while our support staff is accessible to you every step of the way. Read through our customer reviews to hear how we always live up to our promise of fast turnaround times.  Also, we ensure the grand quality of delivering you the most excellent value in the translation business.
We pride ourselves on the fact that we use extremely trained translators and interpreters, and we work solely with Certified Translators (except in languages where there are no expert translators) and expert Interpreters. ALL of our Birth Certificates Translation experts licensed by a local or national certifying body in Singapore. This means that papers translated by us accepted without the need for notarization.