Posted By Singapore Translators | Publised At 08/22/2019
Last Modified: 31
st
Dec 2019
378
Are you looking for hassle-free legal document translation in Singapore? Do you want to translate your legal document in a different language? If yes then you must opt for the right medium to successful and hassle-free legal translation services. When you are translating your important documents for legal use then you must not take it lightly.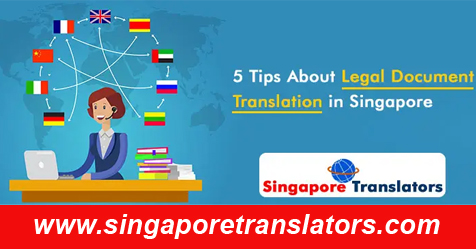 Moreover, translating from one language to another is a difficult task which you must take it seriously. It is easy to translate the language of the document by yourself or through Google Translate. But, the result will not be pleasing at all. Moreover, since these documents are meant for legal and court use, it is best not to mess up with it. A small- error or mistake will prove to be detrimental to you.
Since it is a legal issue, it will be best if you avoid any kind of wrong translation, mistakes or any kind of errors. You must avoid taking risks of any kind while you work on translating your legal document. Moreover, you must be thinking that how to avoid mistakes and errors while translating your legal documents. So, it is possible only if you hire a legal document translator.
These translators are available in various document translation agencies. In Singapore, there are many language translation service providers who provide good legal document translation. The most reliable ones are SingaporeTranslators.Com who offers the best quality translation services all over Singapore.
These translators from translation agencies are will cost you a few bucks or more than that. It will be quite expensive but it is recommended that you must choose a good translator online who can translate your legal documents. You can also fully trust the legal document translation services provided by them for every type of legal purposes and court uses.
You Must Choose the Right Legal Translator for Translating Your Documents
Most of you who aspire to translate their legal documents must be thinking where to head for getting legal document translation. You must be also thinking about who will be the best one to translate your legal documents. Now you are going to get well informed about how to select the appropriate legal translator for translating your legal documents.
A particular section of people in Singapore who belongs to the groups of legal professionals, business personalities, the law enforcers, medical institutions, business organizations regularly use legal translation services. They are quite comfortable in getting the legal translation with their hired company translators or from professional language translation service provider.
There is also another section of Singapore people known as the common people who also require legal document translation on some occasions. They rarely use legal document translation services, and also have very little knowledge regarding hiring the right person to translate their documents.
So, they must look for the right translator who can translate their documents. The best way to get the right translator is to look online where many good translation companies and agencies offer all types of document translation for various uses. If they want to translate a real estate based settlement document then they will get the services from only that translator who has past experiences in translating land deals or property deals.
If they also want translation in a different language such as Mandarin Chinese to the English language then the translation agencies recruit the right and qualified translator to provide Professional Singapore Translation Services of legal documents from Mandarin Chinese to English and vice versa as per your needs and requirements.
What Is Legal Document Translation?
Legal Document Translation is a translation of documents that will be used for court or legal purposes. The list of documents need to translate in Singapore can be contracts, government and private proposals, court transcripts, confidential court or legal agreement paper, witness statement, rules, and regulations, will, birth certificate, marriage certificate, divorce notices, bank documents, power of attorney papers, immigration documents and notary documents.
Importance of Taking Professional Assistance to Translate Legal Documents
Translation of legal documents is very important for legal purposes, it is also important in commercial sectors. The legal documents include complex case subject matter with tough terminology. It is also important to translate the legal documents if you are using it for legal purposes in a different country since the officials belonging to the other country cannot understand the language of your original document.
So, if you are immigrating to another country such as the USA from your native Singapore and none of your documents are in the English language then it will create a misunderstanding and your visa might get canceled. Thus, it is important to translate the original non-English document into a translated English document for legal purposes.
5 Easy To Use Tips About Legal Translation Service in Singapore
Here are the 5 easy tips to translate legal documents in Singapore, which are:
The original legal document must be well- scripted and organized. So, when you are translating you must ensure that the translated document follows the same outline and style as in the original document.
It is better to seek advice and support from legal professionals and lawyers regarding the translation of government-related legal documents. If you go for the translation services at a 200 + Language Translation Service SG company then you must also check if the translators offer both editing and proofreading services apart from translating your documents. It will be best if you go with that translator who offers translation, editing, and proofreading.
When you are translating your legal document it is important to a little research in order to find out the purpose of using the translated document. You must know where the document will be used. This will let you translate the document keeping in mind the real needs and requirements.
When you have hired the professional translators to do the legal document translation for you, ensure that the translator has the proper reference material with them. If the documents are meant to be used for court cases, testimonies or for legal opinions then it is very vital to have the necessary reference materials in a translated form such as law codes, regulations, law bills, amendments, tax codes, etc.
No 1 Online Translation Services for Document & Legal Translations in Singapore
While translating any kind of legal document, you must follow the target country's writing style. This is important because it helps to avoid any kind of confusion or error for the readers of the target country or target language. Since it is a legal document, you must never take risks since it will cost you a lot of money and time.
Conclusion
It is reliable to get human assistance to get your legal documents translated. In simple language, it is best to get professional language translators who are very experienced in offering all kinds of Singapore translation services for legal purposes. You can also take help from machine-based translation or Google Translate to translate all your legal documents.
But, it will also result in producing various errors, mistakes, and confusion with words and language in the legal document. Therefore, only the professional and experienced translator can neatly do the legal document translation for you in Singapore. Thus, why take risks when you can hire the best legal translators from reliable service providers such as SingaporeTranslators.Com.
---
---