Posted By Singapore Translators | Publised At 24/07/2021
Last Modified: 18
th
Dec 2021
Everything About Proof of Address (POA) in Singapore
Immigrating to Singapore is no doubt a dream for every individual, but it involves lots of formalities. Even after successfully immigrating to Singapore, you will need address proof to open a bank account or work in any Singapore based company.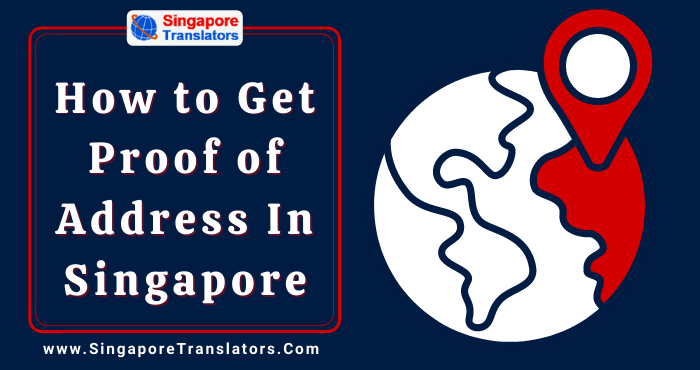 This quick article will explain to you complete details about proof of address in Singapore, documents that can be considered as address proof in Singapore, etc.
Moreover, by choosing Singapore translators you can also get access to better quality legal translation in any language.
What is a Proof of Address?
Proof of address in Singapore is an address that indicates your residential address in Singapore.
Whenever you are going for an account opening anywhere in Singapore, you will need to provide proof of identification and proof of address.
Not just at the bank, but when you are going to take up an insurance policy, getting engaged in public welfare, etc., you will always require proof of address.
Get Fast & Accurate official notarization for ICA, MOM, MFA.
There are several different organizations or groups which ask for different types of address proof in most of the cases.
However, time requirements might also vary depending upon the different organizations.
For example, suppose a company asks for a utility bill paid in the last three months; on the other side, another organization might request a bill that was paid within the previous six months.
There might be different time frames depending upon the type of documents.
Here is the checklist of most of the documents (these are not a complete list), which might be considered proof of Singapore address.
Local utility bill that was paid 3 to 6 months depending upon the requirements of the company.
One of the proofs of address in Singapore is a local telecommunication bill which indicates a specific name, address and date.
Local bank or credit card statement.
Valid passport where the address provided by the immigration authority within the period of 6 months.
Bills, statements, or letters provided by the Central Provident Fund Board & Inland Revenue Authority of Singapore within one year are also considered as the proof of address in Singapore.
Letters or documents issued by the insurance company in Singapore (within six months).
Duly signed tenancy agreement (containing the signatures of both the tenant and the landlord within one year).
A letter received from the public authority including court, or power of attorney.
A mortgage loan statement or agreement (duration of minimum one year).
A Document received from the school mentions your address in Singapore. However, according to the Council for Private Education or Ministry of Education, official letters from the institutions and schools are highly restricted.
Registration document of your car
A document of employment signed by the authority of the company mentioning your local address in Singapore
The valid insurance policy for your newly purchased car or your home.
A letter or bills issued by other local government agencies within the given time frame like land transport authority, town council, housing development board, etc.
Apart from this, there might be several other different address proof requirements in Singapore, totally depending upon the residence permit or immigration status.
All the above-given address proof in Singapore might be accepted; there is no such guarantee that the above address proof can be accepted; it can also be denied depending on the organisation.
So it's always a better idea to enquire about the accepted form of address proof in Singapore with the organisation.
However, the requirement to address proof might also vary depending on whether you register online or in person.
In most cases, submitting NRIC, i.e. national registration identification card in Singapore, gives some basic details like name, photo, and address. Therefore, it is acceptable to address proof when registering in person.
What are forms of Proof of Address that are not accepted?
Following given proof of Address are not accepted in Singapore in most of the cases, especially when presented as sole address proof:
If you submit the proof of identification without any supporting document, then proof of address will not be accepted.
In case your provided address is commercial and not a residential one.
If the document provided as proof of address in Singapore has already exceeded the given time frame.
Any address proof that exceeds the given timeframe as mentioned in the organization regulations.
Any provided document which mentions your residential address at some different address.
In most cases, printouts or photocopies of the document. This will totally depend on the organisation and whether the processing is done through online or in person.
Pension agreements.
Receipts and invoices for purchasing goods.
In some cases, NRIC cannot be considered as the sole proof of address in Singapore.
No matter what type of proof of address you are providing, you must always attach one or one supporting document mentioning your valid name and address.
Why is Proof of Address needed? Its Uses
Proof of address is essential as every bank and organization requests proof of address for security purposes.
Over the years providing false proof of address has greatly increased to a greater extent.
A document can be easily falsified, or a temporary address can be provided to replicate the permanent one.
Because of all these reasons providing exact proof of address has become extremely important.
Hire a Language translator for converting your legal & Other Documents.
How to get Proof of Address
After you have submitted the required documents for proof of address, the further process will be in the hands of the organisation.
The assisting organisation will handover you the extensive guide of the complete process and requirements related to proof of address.
The process of obtaining proof of address can be slightly tricky.
Getting proof of address does not only involves submitting the acceptable documents.
Pay attention to all the calls or mail you get from the organisation, which might be for submitting additional information or any other documents proof.
In case you do not pay proper attention to the mails or if you miss any important mails, then the process of getting proof of address might be withdrawn.
In most cases, and automatic check can be conducted. Moreover, here is the list of the steps that you need to follow if you are registering manually:
Check the documents properly for the watermark, security features, indications of graphic design alteration or any other sign that indicates falsification.
Confirmation of the date and the address provided, mentioning the date that meets the required time frame.
Confirmation of your name on the required documents.
Valid address mentioned on the documents. However, make sure that the address must be the valid one that already exists.
After all the documents are verified, you will receive an update. Therefore, each applicant needs to ensure that the documents and information provided are updated in the right order to prevent any mistakes.
Documents can be rejected if your name, address, or any other information does not align.
Your documents might be denied if the name, address and information provided does not match.
It's your responsibility to update the insurance agencies, bank and several other information regarding the change in the documents to prevent issues when submitting proof of address in the near future. Therefore, always keep the document updated.
Are banks giving you the runaround?
There is no doubt that small business enterprises in Asia faces difficulties in opening the bank amount. No matter how much proof of Address you provide.
Choose our highly certified translators
The above article has complete details that are sufficient to help you understand proof of Address in Singapore.
You can also read our blog on: Can A Notary Translate A Birth Certificate?
If you seek a reliable document translation agency for document translation service in Singapore at a relatively low price, then getting in touch with Singapore translators will be worth your every penny. We have a team of certified translators that are efficient in delivering the top quality translation. We also offer translation of PR documents in English.
This translation company is considered to be the paramount provider in the translation of notary public documents, legally certified documents, and ICA-related documents.
No 1 Online Translation Services for Document & Legal Translations in Singapore.
---
---