Posted By Singapore Translators | Publised At 14/07/2021
Last Modified: 9
th
Aug 2021
601
How to apply for an APEC business travel card
APEC business travel card is generally for businessmen travelers who usually travel to various countries for business purposes. Applying for the APEC makes your immigration clearance easier.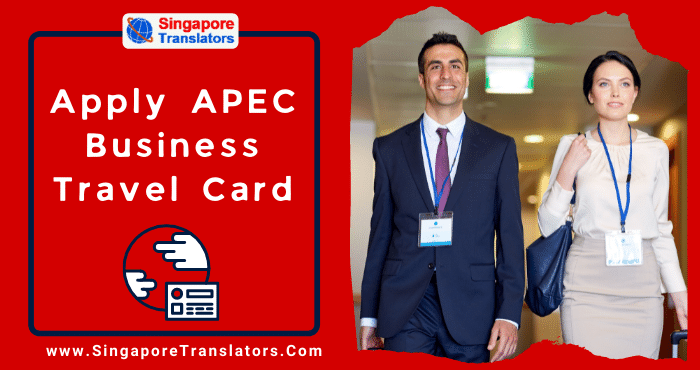 If you are unaware of the APEC, then here is what you should know about this card. Continue reading the article to know more about this business travel card.
APEC Business Travel Card
The Asia-Pacific Economic Cooperation (APEC) business travel card is a type of travel card specially designed for the businessman who usually travels among the APEC member economies. It is issued by Immigration and checkpoints Authority (ICA).
Get Fast & Accurate official notarization for ICA, MOM, MFA.
What is the Eligibility criteria?
Only those Singapore citizens are liable to apply for the APEC Business Travel Card who do not have a past criminal record and comes under the following:
Must be part of the professional body like a doctor, lawyer or accountant, etc.
Must be the public servant representing economic agency or statuary board, government department, traveling in official space.
A reputable business person representing an actively running business entity.
Singapore citizens holding valid passports along with the issued APEC Business Travel Card (ABTC) have the option to utilize ABTC as a multiple entry visa that makes the immigration clearance easier via designated lanes in the below-included countries:
| | |
| --- | --- |
| Australia | Brunei Darussalam |
| Chile | Chinese Taipei |
| Hong Kong | China |
| Indonesia | Japan |
| Malaysia | Mexico |
| New Zealand | Papua New Guinea |
| People's Republic of China | Peru |
| Republic of Korea | Russia |
| Viet Nam | The Philippines, Thailand |
United States (US) and Canada are one transitional country in the newly introduced ABTC scheme, and hence these countries are not mentioned at the backside of the ABTC.
In case of traveling to the US or Canada holding ABTC, irrespective of whatever reason you are traveling, you will be addressed to enjoy the standard immigration clearance process. In addition to this, you also can ask for fast-track immigration lanes, (i.e., currently available only for airline crew) at larger International Airports.
Some of the major airports in Canada are as follows:
Calgary International Airport
Edmonton International Airport
Halifax Stanfield International Airport
Montréal–Pierre Elliott Trudeau International Airport
Ottawa Macdonald–Cartier International Airport
Toronto Pearson International Airport (Terminals 1 and 2)
Vancouver International Airport
Winnipeg James Armstrong Richardson International Airport.
Hire a Language translator for converting your legal & Other Documents.
Documents Required
You must have a list of the supporting documents ready while applying for ABTC using the e-Service:
You must have the recent passport-sized, colored, digital photographs taken in the previous three months.
It is recommended to check the photograph guidelines set by the Singapore immigration authority to get details about the photo requirements while applying for Asia-Pacific Economic Cooperation (APEC) through e-Service.
You should have properly scanned the signature image file. Make sure the file should be in JPEG format ()'jpg' extension and its preferred dimensions should be 250 x 220 pixels. Image file size should not be more than 60 Kbytes.
You should have a scanned copy of the support letter and letter of authorization from the specified organization. The file should be either in PDF or JPEG format (jpg' extension). Its file size should be within 1 MB. If you have already signed the support letter, it is suggested to submit the ACRA Business Profile scanned photocopy.
Those individuals who are part of professional bodies looking to apply for the ABTC in their personal capacity need to submit the document that mentions the reason behind filing an application for ABTC, evidence that you are part of the professional body.
If you are an integral part of the overseas company requesting for APEC Business Travel Card, submit the scanned photocopy of the company's overseas business registration certificate.
Ensure that the certifications are in English. In case any of the documents or certifications are not in the English language. However, you still do not need to stress as you can get access to quality Language Translation Services in Singapore by choosing Singapore translators as your reliable immigration document translation agency.
You should also have a Valid Singapore passport.
Procedure
In order to apply for APEC Business Travel Card, you need to submit the application by logging into the e-Service using the Singpass 2FA account.
In case your ABTC card has been expired or if you wish to update details in your passport, then in such a situation, you will require submitting a new application again online. If your passport is about to expire and your passport application is under approval, you will have to apply for a new ABTC only when you have received the replacement of the passport.
Fees
The application fee of the ABTC card that needs to be paid is S$100 (fees are non-refundable no matter your application is accepted or rejected)
You have the following options to make the payment of the application fee:
Visa or MasterCard credit/debit card
American Express (AMEX) credit card
Internet Direct Debit (DBS/POSB, OCBC, UOB, Standard Chartered Bank, and Citibank internet banking accounts in Singapore)
Processing Time
The estimated time taken to process the ABTC application following the date of receipt is three months. However, it might take up to one year to get a secured pre-clearance from all the included ABTC economies in certain cases.
Enquire Application Status
If you are willing to check the current status of your application, you will need to write the complete name and identity card number to ICA_ABTC@ica.gov.sg.
Hire Singapore translators as your documents translation agency
So now, the above-given information has everything that you should know about APEC business travel cards.
If anytime you get puzzled in finding the Certified Translation Services Singapore, directly connect with our team at Singapore translators. By choosing us, you will get access to accurate visa document translation services at reasonable rates.
No 1 Online Translation Services for Document & Legal Translations in Singapore.
---
---