Posted By Singapore Translators | Publised At 10/08/2021
Last Modified: 11
th
Aug 2021
547
Everything About

Attestation of Documents in Singapore
No doubt, getting authentication of documents is essential for everyone regardless of whether you are willing to immigrate to Singapore or willing to get your company registered in Singapore.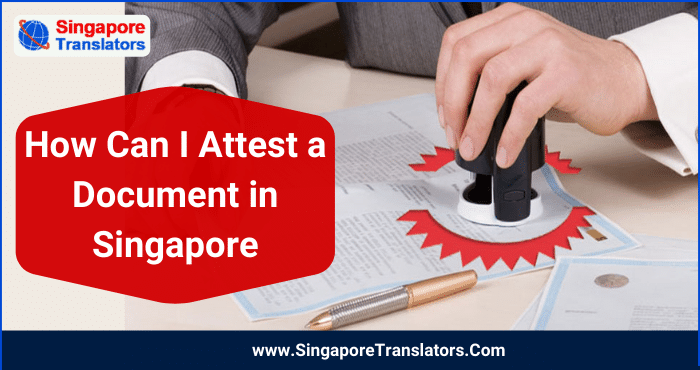 However, if you are not familiar with the requirement for document attestation, we have got you covered. In this article, we have covered the attestation document requirements. So keep on reading the article to know more.
Requirements to attest the document
The original document and photocopy of the passport and identity card is required.
A sticker form is also required, which you can get by visiting one of the BLS centres.
The estimated processing time is 3 to 5 working days.
All the original documents need to be presented during the time of submission.
Get Fast & Accurate official notarization for ICA, MOM, MFA.
There is a separate document that needs to be attested from HCI; it's highly recommended to approach BLS where they can check with the embassy before processing.
All the documents that are originating from India need to be authenticated directly by HCI.
All those supporting documents that are originating from any foreign country needs to be first sent for notarization. Then they will be sent to get attested by HCI excluding some of the documents like marriage certificate (spouse name needs to be endorsed either in the wife or husband passport), birth certificate, educational documents and death certificate first needed to be attested by ministry of external affairs (Indian documents) or Ministry of foreign affairs (Foreign documents) and then these documents will be sent for attested by HCI.
The supporting documents must be submitted with at least one set of copies because one of the documents will be attested and returned to the applicant immediately. In contrast, the HCI will keep the other copy for future reasons.
The candidate should bring an online transfer certificate for testing the transfer certificate only if the issuing school is a non- Indian school. Then transfer certificate needs to be sent for attested by the Ministry of education Singapore, and then it will be accepted by HCI for attestation. Note: applicant needs to bring the original and photocopy of child and parent valid passport along with identity card.
For getting the attestation of salary slip, your salary slip should be entirely sealed and signed by the Company.
For getting the bank statement attestation, it needs to be sealed and signed by the bank.
For all the foreign documents, including Singapore passport, Singtel, Starhub bills, income tax, NRIC needs to be sent for notarization first.
You can connect with a team of Singapore translators for getting certify true copy in Singapore.
Attestation Of Documents (Company)
Covering letter issued by the company mentioning the reason for getting attested.
The letter needs to be attested by the Academy of Law.
The Ministry of foreign affairs should attest to the letter.
The letter must be attested by a notary.
Sticker form
The estimated processing time for authentication of Company documents is 2 to 3 working days.
Choose our certified translator for affordable translation service 
In the above article, we have included complete information regarding the documents required for attestation and attestation of company documents.
If you are looking for reliable Immigration Document Translation Services, then you should definitely get in touch with Singapore translators. However, we have a team of highly experienced translators who are skilful enough to deliver you an Ica certified translation service at an affordable price. Besides this, we also offer Notary Public Translation Services Singapore.
Hire a Language translator for converting your legal & Other Documents.
---
---