Posted By Singapore Translators | Publised At 14/07/2021
Last Modified: 13
th
Oct 2023
If the child is born in Singapore, you must get your childbirth registered in Singapore and collect the birth certificate which confirms their Singapore citizenship.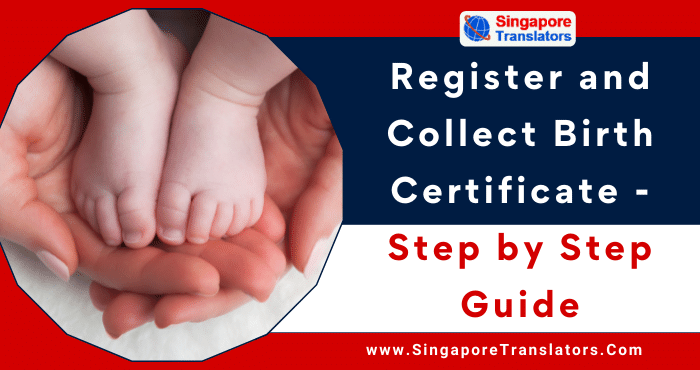 You have to do this process within 14 days. If you delay the process, you might be asked to provide additional information. If you don't know how to register and collect a childbirth certificate. Don't worry! Here in this article, we have covered complete details of how you can get your newly born childbirth registered and collect the birth certificate.
However, if you seek any translation service Singapore, quickly approach Singapore translators. We have a vast year of experience in providing quality translation service. As of now, we have covered more than 100 foreign languages (Including Malay, Spanish, Chinese, etc) translations into English and still counting.
Register and Collect Birth Certificate
All newborn baby whose birth occurs in Singapore needs to get their kid birth registered within 14 working days from the date of birth. Registration of childbirth can only be done by the child's parent or by a proxy appointed by the child's parent with a letter of authorization. After parents have registered their child's birth, a birth certificate will be provided.
If there is a delay of 42 working days following the date of birth. In that situation, parents will be required to submit a letter mentioning the reason for the delay and address it for approval. You can get the late birth registration by visiting only at the registry of birth and death rate ICA's building. Still, it's always suggested to register your childbirth in Singapore as soon as your child is born.
Get Fast & Accurate official notarization for ICA, MOM, MFA.
What if baby birth occurring in a foreign country?
Birth taking place outside Singapore cannot be registered in Singapore and hence will the child cannot be termed a Singapore citizen. Parents who are willing to request Singapore citizenship for their child born outside Singapore need to apply for Singapore citizenship lawfully by filing the Singapore citizenship application. If approved, their child born overseas can lawfully become Singapore citizens.
Note: Parents can apply for their child Singapore citizenship (child born overseas) only after receiving the birth certificate in the country where their child was born.
Visitor Seeking Permission to Give Birth in Singapore
Those people visiting Singapore as visitors intending to give birth in Singapore first need to get permission from the local sponsor.
Documents Required
If you are going for walk-in registration, then you will require having the list of the following original or copying documents:
You must have the notification of live birth provided by the doctor/ midwife/ hospital, if any, while going for the walk-in registration of the child's birth.
Identity card of both the parents of a child.
You must also submit the marriage certificate of the child parents if the parents are married.
The child's parents might provide a letter of authorisation if the child's birth registration is done by proxy.
Foreigners who are willing to register their childbirths need to provide the additional original supporting documents:
A valid passport of the child parents
Must also have the long term pass card of the child-parent if any
Those documents that are not officially translated into English also need to be provided. Immigration and checkpoints authority (ICA) accepts:
Only those documents translation that are provided by the country's embassy which issued the document.
Translation performed by the notary public in Singapore or from those countries which have provided the document.
Privately performed document translation done by the country's embassy that provided the document or notarized by the notary public in Singapore or that country which issue you the document.
Always remember immigration and checkpoints authority (ICA) does not consider a private translation agency or company. If you do not provide the documents on time or your documents do not meet the requirements of ICA, then there might be a delay in your childbirth registration.
Hire a Language translator for converting your legal & Other Documents.
Inclusion of name in ethnic characters
If parents of the child originating from Chinese, Malay or Indian origin. In that situation, they have the option to add ethnic characters of their child name in Chinese (中文名), Jawi (ث چ  ش) or Tamil (கொ ண் க ப ). Parents must check the accuracy of the ethnic characters that they have included. Those characters must be in the recognized dictionary. Hanyu Pinyin name must also be added along with the Chinese ethnic character name on the issued birth certificate.
By choosing Singapore translators you can get access to quality Malay birth certificate translation services.
What is the procedure for registering and collecting birth certificates?
You have multiple ways through which you can register your childbirth:
Online registration via LifeSG app;
Walk-in registration at any designated birth registration center; or at the
ICA Registry of Births & Deaths.
The very first way through which you can register your childbirth is online through the LifeSG app. In addition, Singapore citizens can register their child's birth and a request for the baby bonus at the same time through the LifeSG app.
To register the childbirth through the LifeSG app is only for those parents who have to meet the following given criteria:
One of the parents should be a lawful Singapore citizen.
Both the parents should have their own Singpass account.
If the parents are married, then their marriage should be registered in Singapore during childbirth.
You will only get elected to use the birth registration service online through the LifeSG app if your child is born at one of the hospital gazettes as a birth registration center.
This application is compatible with both iOS and Android, which means iOS users can download the application from App Store and Android users from the Google play store.
Walk-in registration
Parents can register their childbirth by visiting any of the concerned birth registration centers. Some of the birth registration centers are listed below:
Gleneagles Hospital
KK Women's and Children's Hospital
Mount Alvernia Hospital
Mount Elizabeth Hospital
Mount Elizabeth Novena Hospital
National University Hospital
Parkway East Hospital
Raffles Hospital
Singapore General Hospital
Thomson Medical Centre.
Also, you have the alternate option to register your child birth registration by visiting:
Registry of Births & Deaths
Citizen Services Centre
ICA Building
10 Kallang Road, Level 3
Singapore 208718
(near to the Lavender MRT station)
Visiting hours for this birth registration centre is between 8 AM to 4:30 PM on Monday to Fridays and 8 AM to 12:30 PM on Saturdays.
At the centers, you might have to wait for long if you visit the centers during the following periods.
Mondays, Fridays, Saturdays
Public holidays
What are the Fees?
The fee that needs to be paid is S$18. The birth registration Center might ask for some additional fees apart from actual S$18 fee.
If you are choosing walk-in registration, then you can make the payment using the following method:
Visa or MasterCard credit/debit card
NETS
Mobile Payment (ApplePay, SamsungPay, GooglePay)
NETS QR (DBS Paylah, OCBC PayAnyOne, UOB Mighty)
And, if you are choosing online registration through the LifeSG app to register your childbirth, you can make the payment through Visa or MasterCard credit/debit card.
An important point to consider
Child parents should apply for the change of their child's name before their child turns one year of age, only if the birth extract has not been provided before.
What is the Processing Time of the application?
Walk-in Registration
The processing time of child birth registration and collection of birth certificates is mostly completed on the same day, provided all the documents that you submitted are valid and as per the criteria of the immigration and checkpoints Authority (ICA). If your documents are invalid, then your application might take longer than usual.
Online Registration via LifeSG App
Parents have the option to immediately collect the birth certificate at the birth registration centre situated at the hospital where your child birth occur, or you can also visit the ICA registry of births and deaths.
If you are opting to collect the childbirth certificate at the immigration checkpoints Authority (ICA) and you have already cleared all the required payments through the LifeSG app, then you will require to schedule an appointment in order to collect the birth certificate at the ICA Registry of Births and Deaths.
For any further information related to the collection of birth certificates from the birth registration Centre, it's better to contact directly with the hospital where your child was born.
Hire our experienced translators for document translation service
Above we have included every detail which is required for every parent to understand about registration and collection of their childbirth certificate. Therefore, ensure that you do not miss even a single point.
As you know ICA does not accepts all the translation documents that's why we Singapore translators, reliable translation company come up an experienced team of ICA-certified translators that provides you the official translation Singapore. Whether you are looking to translate Chinese documents into English or any other foreign language documents in English. We have got you covered. Quickly get in touch with us to get access to a quality translation service.
---
---