Posted By Singapore Translators | Publised At 16/08/2021
Last Modified: 3
rd
Jun 2022
515
How you can buy over an existing business in Singapore
If you plan to set up a new business in Singapore, no doubt it will involve lots of struggle and expenses to help it reach greater heights. But if you choose to Buy Over A Business in Singapore, you don't have to invest much money compared to building a new business.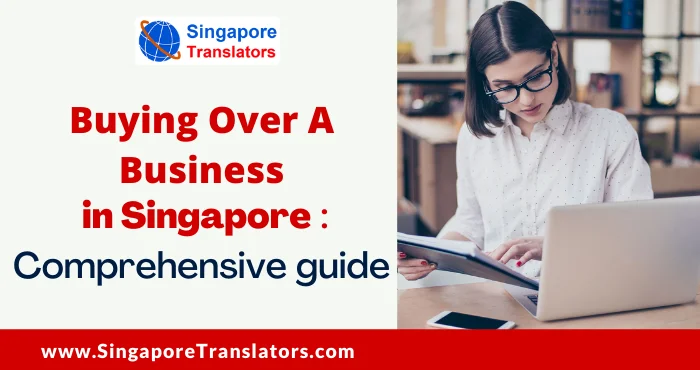 If you are also interested in taking over an existing business and enjoy the existing customer base and management system but are not familiar with the process of buying over a business in Singapore. Then this total guide is for you to continue reading the guide to get familiar with complete details regarding how you can buy over an existing business in Singapore.
However, if you wish to expand your business in Singapore you also have the option to set up offshore company Singapore.
What should you consider when Deciding to buy over an existing Business
When you have finally decided that you are interested in taking over an existing business, the most important thing you must consider prior to making the final decision is due diligence.
Due diligence is defined as the process of a complete evaluation of the business that you are looking to acquire. This process involves the evaluation of assets and liabilities along with commercial prospects of an existing business that you are willing to take over.
Get Fast & Accurate official notarization for ICA, MOM, MFA.
The list of the things that you need to consider in due diligence is given below:
Compliance and good standing
The first thing that every individual should look at before taking over an existing business is the compliance and a good understanding of the business. You must research the business's reputation in the market that you are going to take over and the types of problems they are facing in the market.
Financial due diligence
The second thing that you should look for is complete financial disclosure from the business you are looking to acquire to get the complete understanding of its current cash flow position. This will help you in making an effective business decision.
You can also take the assistance of a professional lawyer and accountant in this process.
Assets & liabilities (including intellectual property)
The third thing that you should look for while buying over a business in Singapore is the complete valuation and understanding of the asset and liabilities of the targeted company. Most importantly, the asset like intellectual property is essentially important to understand.
For instance, several other things that also need to be considered is if the company owns any trade name or trademark which are already operating or if any other business has any particular innovation that needs to be possessed.
Important contracts (including employment contracts)
Another essential thing that needs to be considered is getting a comprehensive understanding of the current strategies that business has already undertaken in the past to reach greater heights.
This thing will involve several things like employees on which businesses rely upon who needs to be retained to become successful as well as the material contract with the suppliers that the business needs in order to continue operating.
Another important contract can be the lease contract, where you need to make sure that the landlord intends to assign the lease to you.
Licenses and permits
Now the final thing that you should look for is to research additional details about the regulatory system under which business operates. This will also give you an idea of what question you should ask the seller, which may prevent the business from choosing those liabilities which breach the regulations.
You must also find out if the business complies with the relevant regulations. Also, it has the required license and permits to operate in the country.
For example, suppose the targeted business is dealing in nutritional products and supplements. In that case, you must make sure that all the required licenses and permits have been acquired from the Singapore Food agency.
What you must do after Buying Over the existing Business in Singapore?
Once you have finally taken over the existing business and the ownership of the business is under your hands, then there are several other things that you must do. It's your responsibility to properly check all the financial accounts and see if any discrepancies might not be determined during the due diligence process. In case you found any of the discrepancies, take quick measures to resolve them as quickly as possible.
This checking of the financial accounts will prevent you from sustaining any additional liabilities if the Inland Revenue authority of Singapore (IRAS) asks for the audit.
The other thing that you need to do is ensure the smooth functioning of the business by issuing the notice regarding the changes in the management to all the employees, customers, vendors and contractors. However, you will also need to give them some message to guarantee them how the business will run effectively even after the change.
The last thing you have to convey to all your management team is to plan new strategies regarding how the business will reach greater heights.
Hire a Language translator for converting your legal & Other Documents.
 Why buy Over an Existing Business rather than starting a New One?
Do you also wish to become your own boss but don't have sufficient funds to build new company in Singapore? If yes, then rather than starting a new business, it's always a better idea to buy an existing business as it gives with several benefits.
Taking over an existing business in Singapore provides you the benefits in the form of marketing advantage and resources, excellent employment infrastructure and a good customer base. However, the expenses of taking over an existing business are relatively low when compared to setting up a new one.
These are some of the benefits that make purchasing over existing businesses less risky when compared with building an entirely new business from scratch.
Moreover, if you take up an existing business, it might give you valuable patents, trademarks and copyrights, which can be worthy if you plan to expand your business.
Hire our ICA approved translators for business document translation
We hope the above information in the blog regarding buying over a business in Singapore has helped you in understanding the complete process.
Besides this, if you need business translation service Singapore to translate your foreign language document into English, you can quickly get in touch with a Singapore translator. As we have a team of ICA Approved translators that can offer you accurate and prompt translation service. Our translation services Singapore rates are reasonable that anyone can afford it.
No 1 Online Translation Services for Document & Legal Translations in Singapore.
---
---