Posted By Singapore Translators | Publised At 02/07/2019
Last Modified: 17
th
Nov 2023
A birth certificate is the most crucial personal document one can have. It is simply the record of your birth and without this, you cannot get to school, or get a job and leave alone going to another country. If you are applying for a job in another country and immigrating there you will need a translation of your birth certificate.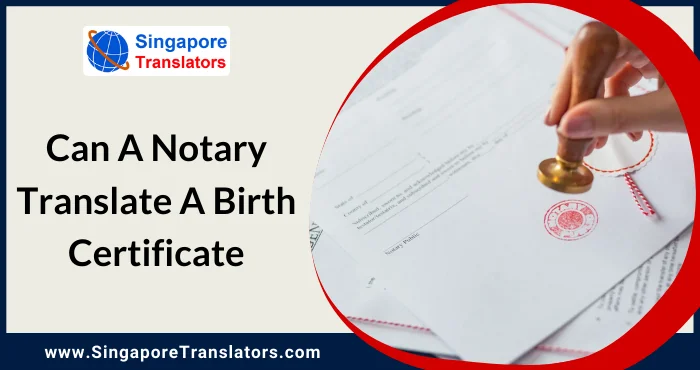 If you also target to earn a foreign degree then still it is important to translate your birth certificate. If you ask can a notary translate your birth certificate in Singapore then the answer is the local notary of your city only offers certification of the birth certificate's translated copy?
Moreover, you can also take online birth certificate translation services from language translation service companies and agencies in Singapore. One of the most renowned language translation service providers is singaporetranslators.com who has experienced translators to translate your birth certificate.
Importance of Birth Certificate Translation
There are various requirements in life where you need to translate a birth certificate. Be it an official purpose or legal purpose, you will require birth certificate translation depending upon its requirements. If you are submitting the translated birth certificate at court, then you must require the notarized certification from the notary persons.
A notary person can certify all types of documents, but when it comes to the birth certificate, the translated copy needs to certify otherwise it can be rejected also. At Singapore, the Department of Citizenship and Immigration accepts the only certified translation of birth certificate along with other documents for immigration application.
Hire a Language translator for converting your legal & Other Documents.
It is the birth certificate is not certified, your immigration application can be canceled. Moreover, the birth certificate translation which you are seeking for must be in the most précised form. You can get accurate translation services from a qualified translator from any translation company. The best option to get services is at singaporetranslators.com.
Can a Notary Translate a Birth Certificate?
Many people ask "Can a notary translate a birth certificate?" The right answer is absolute" NO". They cannot translate your birth certificate but can only provide certification to all types of official documents like birth certificate by providing an approved seal and authorized signature.
They cannot translate the document and only experienced translators can translate your birth certificate. The notary can just certify the translator's translated birth certificate copy.
If you are looking for the perfect certified translation services Singapore then you may take help from the local notary of Singapore for their certification and approval of various documents. Notary people can only attest translators' attested copy of the birth certificate with sign and seal of approval.
In some countries like India, notaries can translate birth certificates and other official and legal documents. This power is given to the notary under Indian notaries act and rules.
But in a country like Singapore, document translation by notaries is not considered a good practice. The notary may not be fluent in most of the languages so it is useless to get translation services from them. You are just better off with a translation service from a professional language translator at a document translation company or agency.
In Singapore, most of the people staying in cities like Kampong Glam, Jurong, Punggol, Woodlands, etc. prefer to have their birth certificate translation done by the professional translators at various language translation companies or agencies.
Only their translated copy can be certified by the notary. Moreover, the translation agency or company has a better knowledge of the entire proceedings of birth certificate translation. They know how to translate documents on the basis of the requirements of USCIS and other government departments and organizations.
No 1 Online Translation Services for Document & Legal Translations in Singapore.
This is the reason why you must go to the translators to translate the birth certificate. And when you know that it is important to certify the translated birth certificate copy you can take help from the notary.
Though the notary cannot translate all your documents but can only certify them. They provide all types of document certification with a sign and seal in the areas of immigration translation services.
Why Do You Need To Notarize Your Birth Certificate?
It is common sense to translate your birth certificate to the language of the destination country. If you are leaving your native country of Singapore and going to some other country for study or job then you must at first translate the birth certificate from the professional document translator at singaporetranslators.com.
Then you must take the translated copy to the notary to get it certified with approved sign and seal of authority. If you don't do this, your immigration application may get rejected.
If your original birth certificate is not in the English language, then you must translate the birth certificate from your native language to the English language. The translated copy must be certified by a reputed and authorized notary.
Certified notarization is important in a birth certificate since it is used for various purposes. This can be visa application, immigration, US social security benefits applications, school and university admission, passport application, obtaining driving license at a foreign country, marriage certificate, and many more purposes of legal and official uses.
Eligibility for getting Notary Services for Birth Certificate in Singapore
You are eligible to get notary services of your birth certificate only if the translated birth certificate copy has your correct name, date of birth, place of birth, names of both sets of parents and official and verified seal and signature from the issuing officer.
Read More:- How to Translate and Notarize Industry Documents?
Who Wants a Certified Birth Certificate Translation Copy?
A notarized birth certificate translated copy is required for various requirements of government office, immigration process of USCIS, legal documents, school admission, business establishments, various government license, etc. Moreover, embassies and consular offices also require a notarized birth certificate.
Where to Obtain Notary Services Singapore?
You can get obtain notary services for your translated birth certificate document online from any reputed translation agency who also have notary public to do the document certification. They certify the entire translated document including your birth certificate too.
Get Fast & Accurate official notarization for ICA, MOM, MFA.
The notary services are done only through a recognized and registered language translation service provider. In this case, you can get all the translation and notary services from the experts at singaporetranslators.com. Here, you can also request to obtain notary of documents used in legal translation services Singapore.
Conclusion
Thus, if you need translation and notary services for the document of your birth certificate then you must take the services of translation and notary separately. Peoples of Singapore can take these services exclusively at singaporetranslators.com.
---
---