Posted By Singapore Translators | Publised At 09/03/2019
Last Modified: 31
st
Dec 2019
5663
A foreign person such as a Malaysian, who is not locally from Singapore, has always had a question in their mind. This is "Can I use a Malaysian driving license for driving in Singapore?" Well, the answer if the person from Malaysia is of 18 years of age or more, who has a work pass, dependent pass or a student pass can drive in Singapore with a valid Malaysian license of class 3, 3A pr 2B.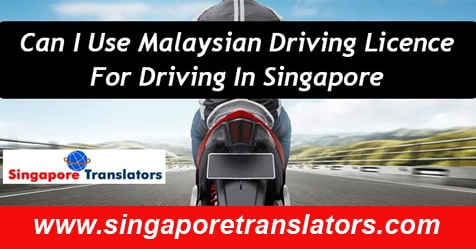 Moreover, since this driving license is not registered in Singapore, then you must check if you need driving license translations. It is important to translate your Malaysian driving license into a valid Singapore driving license so that you can have seamless driving here.
In addition to this, if you are staying in Singapore for more than 12 months, then you must obtain a Singapore driving license or just translate your Malaysian driving license into one of the official languages of Singapore, for example in English.
How to Convert Your Malaysian Driving Licence in Singapore?
If you have a Malaysian driving license and you have already settled in Singapore with your new Singapore citizenship, then you must convert your Malaysian driving license within 3 months of citizenship or getting a permanent resident certificate.  So, for a successful foreign driving license translation, you must follow the following steps, which are:
Step Number 1: Passing Basic Theory Test.:  If you need to translate your foreign license such as a Malaysian driving license in Singapore, then you must pass your Basic Theory Test. If you have your theory test results in Malaysia, then that it would certainly not work here in Singapore. For this, you need to create an account with the registered Singapore driving centers before you book for Basic Theory Test online or offline.
Hire a Language translator for converting your legal & Other Documents.
Step Number 2: Applying for conversion.:  In the driving centers of Singapore, you must go to the counter of the traffic police test center and apply for conversion. The necessary documents you will need for conversion is original and photocopy of your passport, entry permit of employment, dependent pass, visit pass, etc. You must also take the original Malaysian driving license along with its photocopy.
Moreover, you must also take a proper and recent matte passport size color photograph of you with a white background. You are also required to pay a processing fee of $50 by cash, card or net banking.
What Will Happen If Your Malaysian Driving License is Not in English?
If your Malaysian driving license is not in English, then you must produce an international driving permit.  Additionally, you must also produce a certified translation of your driving license in the language of English. You can obtain the translated copy of your driving license from the Embassy office or from the Office of the High Commission. In addition to this, you can also get certified translation services in Singapore from certified translation companies such as SingaporeTranslators.Com.
Though in Singapore, it is not strictly required to get a translation of your Malaysian driving license. But, if you really want to translate in the English language, you can just go ahead and get your driving license translated from various translation companies.
You must be informed that apart from Malaysia, driving license issued by the countries of Indonesia and Brunei also does not require translation. Another important thing is that, if Malaysian or any other foreign driving license does not feature the first issuing date, then it is just getting a driving license record from the licensing authority.
Discover More:- Importance of Driving Licence Translation Services and How to Pursue It
Driving in Singapore for Malaysian Tourists
For the Malaysian tourists who want to drive around the tourist places of Singapore on their own can drive via a valid foreign license. Along with the driving license issued by the Malaysian Government, a valid International Driving Permit issued by the officials in your native country i.e.
Malaysia is also important. Generally, international driving permits are granted by the immigration authorities. Moreover, if a Malaysian tourist visiting Singapore seeks driving permits to drive cars while visiting Singapore can obtain international driving permits from Automobile Association too.
In case of the absence of international driving permits, Malaysian tourists can also opt for getting an official English translation of their driving license from qualified document translators from the best translation agencies. Singapore Translators.Com is one of the best-rated translation agencies in Singapore that have experienced and qualified translators for translating all types of documents in an accurate manner.
Therefore, if you need Malay translation services to translate your Malaysian driving license in the English language then you can consult the translators at SingaporeTranslators.Com and get your deal done at a best-valued price.
Must Read:- Where to Translate Your Academic Document for Higher Studies at Singapore?
Long Term Malay Residents Driving Dream in Singapore
The Malaysians who have already got settled in Singapore and made Singapore their home, then it is also compulsory to get a local Singapore driving license and ditch with their old driving license from Malaysia. It is important that after you gain a permanent resident certificate in Singapore you must apply for a fresh driving license within 12 months in Singapore.
While the application of the driving license you must prove the authority of your stay in Singapore. It can be proof of your employment or study in Singapore. Moreover, Malaysian citizens who have migrated to Singapore and has got permanent resident certificate must translate their foreign license within 3 months of obtaining new resident certificate status.
Thus, the translated foreign driving license given to the Malaysian people who have come to Singapore for the purpose of travel, job or study is valid for a period of 5 years from the date of its issue. Moreover, license issued to the new acquired Singapore citizens who were the former citizens of Malaysia can get their driving license issued from Singapore with unlimited validity. 
In Which Cases You Cannot Use or Translate Malaysian Driving Licence?
There are various circumstances under which you cannot use your translated Malaysian driving license. Here the circumstances below:
Heavy vehicle licenses cannot be used or translated in Singapore. The applicants who want to drive heavy vehicles in Singapore must enroll them in a driving school and pass the applicable driving tests. This test is important to determine if you are allowed or not allowed to drive heavy vehicles in Singapore.
Even your motorcycle or bike driving license and its translated copies are certainly not going to work in Singapore. In this case, too, you must pass a relevant driving test.
Conclusion
Now that you are being informed of the driving license rules after you migrate to Singapore from Malaysia for any long or short term stay. Whatever be the purpose, you must get a driving permit or translate the driving license from a certified translator from SingaporeTranslators.Com before you drive on your own. Thus, just a piece of advice which states that you should drive legally and always remember that Singapore citizens always drive on the left.
---
---