Posted By Singapore Translators | Publised At 03/09/2019
Last Modified: 16
th
Oct 2023
A foreign person such as a Malaysian, who is not locally from Singapore, has always had a question in their mind. This is "Can I use a Malaysian driving license for driving in Singapore?" Well, the answer, if the person from Malaysian wants to driving in Singapore is of 18 years of age or more, who has a work pass, dependent pass, or a student pass, can drive in Singapore with a valid Malaysian license of class 3, 3A or 2B.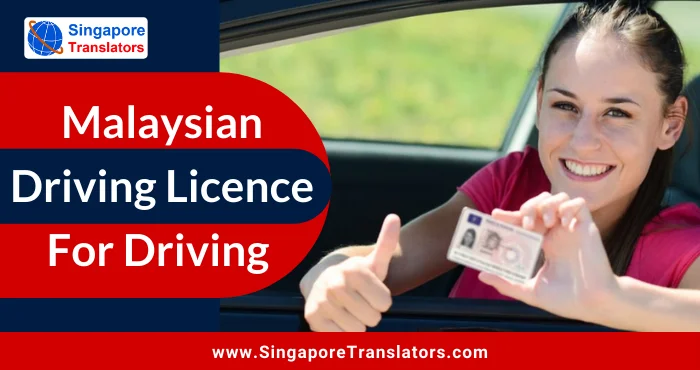 Moreover, since this driving license is not registered in Singapore, then you must check if you need driving license translations. It is important to translate your Malaysian driving license into a valid Singapore driving license so that you can have seamless driving here.
In addition to this, if you are staying in Singapore for more than 12 months, then you must obtain a Singapore driving license or just translate your Malaysian driving license into one of the official languages of Singapore, for example in English.
Also, you must check our complete article on Frequent Traveler Endorsement Singapore for additional information on the traveler program.
How to Convert Malaysia Driving License to Singapore?
If you have a Malaysian driving license and you have already settled in Singapore with your new Singapore citizenship, then you must convert your Malaysian driving license within 3 months of citizenship or getting a permanent resident certificate. We have professionals who can do Malaysia license convert to Singapore license. So, for a successful foreign driving license translation, you must follow the following steps, which are:
Step Number 1: Passing Basic Theory Test:  If you need to translate your foreign license such as a Malaysian driving license in Singapore, then you must pass your Basic Theory Test. If you have your theory test results in Malaysia, then that it would certainly not work here in Singapore. For this, you need to create an account with the registered Singapore driving center's before you book for Basic Theory Test online or offline.
Get Fast & Accurate official notarization for ICA, MOM, MFA.
Step Number 2: Applying for conversion.:  In the driving centers of Singapore, you must go to the counter of the traffic police test center and apply for conversion. The necessary documents you will need for a Malaysian license to convert to Singapore

will be the original and photocopy of your passport, entry permit of employment, dependent pass, visit pass, etc. You must also take the original Malaysian driving license along with its photocopy.
Moreover, you must also take a proper and recent matte passport size color photograph of yourself with a white background. You are also required to pay a processing fee of $50 by cash, card or net banking. So, after translation now, any Malaysian holding a Singapore driving license can drive a car safely. Don't wait to receive the best conversion of Malaysia driving license to Singapore at cheap prices.
What Will Happen If Your Malaysian Driving License is Not in English?
If your Malaysian driving license is not in English, then you must produce an international driving permit or need to Malaysian driving license to convert to Singapore official languages.  Additionally, you must also produce a certified translation for converting Malaysian driving license to Singapore in the language of English. You can obtain the translated copy of your driving license from the Embassy office or from the Office of the High Commission. In addition to this, you can also get certified translation services in Singapore from certified translation companies such as Singaporetranslators.com.
Hire a Language translator for converting your legal & Other Documents.
Though in Singapore, it is not strictly required to get a translation of your Malaysian driving license. But, if you really want to translate in the English language, you can just go ahead and get your driving license translated from various translation companies.
You must be informed that apart from Malaysia, a driving license issued by the countries of Indonesia and Brunei also does not require translation. Another important thing is that, if Malaysian or any other foreign driving license does not feature the first issuing date, then it is just getting a driving license record from the licensing authority.
Discover More:- Importance of Driving Licence Translation Services and How to Pursue It
Driving in Singapore for Malaysian Tourists
Malaysian tourists who want to drive around the tourist places of Singapore on their own can drive via a valid foreign license. Along with the driving license issued by the Malaysian Government, a valid International Driving Permit issued by the officials in your native country i.e.
Malaysia is also important. Generally, international driving permits are granted by the immigration authorities. Moreover, if a Malaysian tourist visiting Singapore seeks driving permits to drive cars while visiting Singapore can obtain international driving permits from Automobile Association too.
In case of the absence of international driving permits, Malaysian tourists can also opt for getting an official English translation of their driving license from qualified document translators from the best translation agencies. Singapore translators is one of the best-rated translation agencies in Singapore that have experienced and qualified translators team who convert Malaysian driving license to Singapore and other types of documents in an accurate manner.
Therefore, Malaysian driving in Singapore roads then they need Malay translation services to translate their Malaysian driving license into the English language then you can consult the translators at Singaporetranslators.com and get your deal done at a best-valued price.
Must Read:- Where to Translate Your Academic Document for Higher Studies at Singapore?
Long Term Malay Residents Driving Dream in Singapore
The Malaysians who have already got settled in Singapore and made Singapore their home, then it is also compulsory to get a local Singapore driving license and ditch with their old driving license from Malaysia. It is important that after you gain a permanent resident certificate in Singapore you must apply for a fresh driving license within 12 months in Singapore.
While the application of the driving license you must prove the authority of your stay in Singapore. It can be proof of your employment or study in Singapore. Moreover, Malaysian citizens who have migrated to Singapore and has got permanent resident certificate must convert Malaysia license to Singapore within 3 months of obtaining new resident certificate status.
Thus, the translated foreign driving license given to the Malaysian people who have come to Singapore for the purpose of travel, job or study is valid for a period of 5 years from the date of its issue. Moreover, licenses issued to the new acquired Singapore citizens who were former citizens of Malaysia can get their driving license issued from Singapore with unlimited validity. 
FAQs
How much does it cost for a Malaysian car to enter Singapore?
You will be required to pay the vehicle entry permit fees to let your Malaysian registered car enter Singapore.
Vehicles Entry Permit (VEP) Fees
After entering your Malaysian registered car in Singapore for the first 10 days, you will require to pay the vehicle's entry permit fee every calendar year. After that, you need to pay $35 each day if your car is within Singapore.
You do not require paying the vehicle entry permit fee under the following conditions:
On Saturdays, Sundays, and Singapore public holidays.
If you arrive in Singapore through the private car from 5 PM and leave Singapore by 2 AM the very next day.
You do not require to pay a vehicle entry permit fee while entering Singapore during June and December school holidays, provided that you are entering Singapore from 12PM and leave Singapore by 2 AM the next day.
Can you buy a car in Malaysia and bring it to Singapore?
Yes, you can buy a car in Malaysia and import it into Singapore provided that you are paying the excise duty to Singapore customs based on the 20% of the Open Market Value (OMV) to that of the total price of the car. The total price of importing the vehicle in Singapore involves the cost of insurance, right, vehicle, along with the additional duties that need to be paid.
How long can a Malaysian car stay in Singapore?
The Malaysian registered car is granted to be in Singapore for a maximum of 14 days for each entry or until the vehicle's insurance expiry, whichever time period is earlier.
Is it cheaper to import a car to Singapore?
You have the option to import a car in Singapore either by sea or by air. If you are looking for a cheaper option, you must ship the car via sea. However, it will take time but also save money that might have been paid while importing through the air. One of the fantastic ways to arrange for the car shipment through the sea can be by reaching out to the shipping agent to guide you in this regard and provide relevant details.
How do I import a car from Singapore to Malaysia?
In order to import a car, you will require to file an application to the Ministry of International Trade and Industry (MITI) for the approved permit.
You must file the complete JK69 customs clearance form.
A valid passport and Malaysian Visa to provide at the entry
You must also have a Malaysian or international driving license to drive a vehicle legally.
While applying for the import of a car, you also need to show proof of car ownership.
How much is import duty in Singapore?
Singapore government charges 7% of goods and service tax. The taxable value of GST on the dutiable goods will be determined based on CIF (Cost, Insurance, and Freight) along with additional duties and charges. If the goods are non-dutiable, then the GST will be charged based on Cost, Insurance, and Freight along with the commission and several other charges no matter if it is specified in the invoice or not.
Which countries accept Malaysian driving licenses?
The drivers holding a valid driving license of any specified ASEAN member countries are entitled to use the national driving license in any nine countries without even obtaining an international driving permit. These countries include Myanmar, Laos, Cambodia, Vietnam, Brunei, Malaysia, Indonesia, Singapore, Thailand, and the Philippines.
Conclusion
Now that you are being informed of the driving license rules after you migrate to Singapore from Malaysia for any long or short-term stay. Whatever be the purpose, you must get a driving permit or translate the driving license from a certified translator from Singaporetranslators.com before you drive on your own. Thus, just a piece of advice which states that you should drive legally and always remember that Singapore citizens always drive on the left.
No 1 Online Translation Services for Document & Legal Translations in Singapore.
---
---