Posted By Singapore Translators | Publised At 11/29/2021
Last Modified: 28
th
Dec 2021
312
Must know the difference between a Lawyer, a Solicitor, and a Barrister
Those who are passionate about legal careers should learn about the various types of roles that exist. It is often difficult to understand the difference between a lawyer, a solicitor, and a barrister.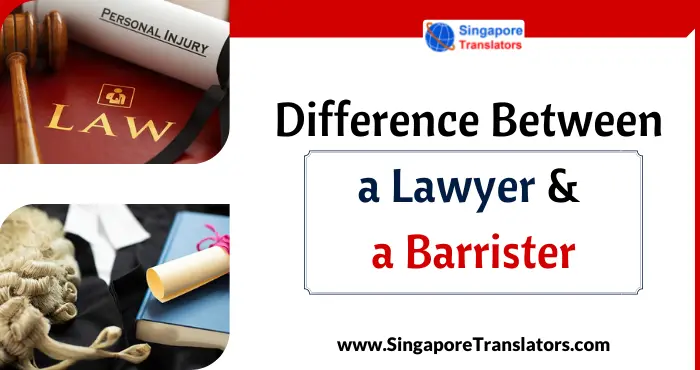 After reading this article, most probably you can quickly determine the difference among all these legal terms. Since this article gives a brief understanding of these roles.
Who is a Lawyer?
Many people might be wondering who exactly is a lawyer. This is one of the most common phrases you should have indeed listened to or seen in the description of legal proceedings.
In simple words, a lawyer is someone who has the necessary qualifications to provide legal service and defend you in court proceedings in exchange for fees. This is the only reason due to which solicitors and barristers come under the category of the lawyer.
Get Fast & Accurate official notarization for ICA, MOM, MFA.
Who is a solicitor, and what are they responsible for?
Solicitors are basically lawyers capable of representing individuals, private and public companies, groups, and government sectors. Historically, solicitors were the first to whom individuals seeking legal guidance would turn when needing legal advice. Depending on the nature of the case, if necessary, a barrister can be referred to represent you.
Among their responsibilities, a solicitor should ensure that they work with their clients and get the necessary documents and paperwork in order to assist them in completing necessary actions. Among these services is the drafting documents, letters, and contracts to satisfy the client's needs.
Similarly, the solicitor will be the person preparing court documents. In addition, they are responsible for managing a team of assistants and legal secretaries that might be involved in support.
Along with handling personal injury claims, wills, matters of family law, property law, probate, and some criminal legal matters (normally lower-level cases), solicitors also handle some other aspects of criminal law.
The primary purpose of these lawyers is typically to act as negotiators between their clients & some other party to achieve the objectives agreed on between the two parties.
Solicitors cover a larger area in the legal field, including claims for personal injuries, wills, family law, property law, probate & some areas of the criminal law (usually the lower-level cases).
In most of these law areas, their primary roles are acting as negotiators between their client & some other party, aiming to secure the agreed-upon objectives with their clients. While solicitors might come to court when needed, they might need a barrister who will play their part in various instances. In some cases, they are going to act in support of the barrister.
As a good solicitor, you should have a thorough understanding of the areas of law in which you operate. You must pay close attention to details since even small mistakes may have serious consequences. The negotiation skills they will need to possess will depend on whether they can control their clients' expectations to a level where they will understand whether their demands are reasonable or not.
Who is a barrister, what are they responsible for?
Barristers are lawyers who represent individuals or organizations in court sessions. They can provide legal advice to their clients in writing. A barrister is only needed for court proceedings when legal representation is required.
They may also give unwritten opinions to their clients (or solicitors) to help them determine the strength of their cases. Possibly this includes advice explaining whether they are happy for the case to be brought before the court.
A barrister typically specializes in one legal area. This ensures that they provide their clients with the highest quality legal representation in their field. A barrister's duties in a courtroom include providing evidence, examining witnesses, and making strong statements on behalf of their clients.
They do not work with their clients on a one-on-one basis, but always under the direction of their solicitors, who interact with them in the case to make sure they get complete understanding of each detail in respect to court related matters.
One barrister can work collaboratively with a large team of solicitors to put together an extreme case.
In most cases, barristers work for their firms. However, they may establish arrangements with other law firms in the area. The barristers might work in "chambers" with some of the other lawyers in their area.
The two barristers in one chamber practicing on the opposite side of the same case are not that unusual, and sometimes a barrister works with a prosecutor to represent the country. Several barristers just handle commercial clients in the legal departments, which they are part of.
Conclusion
The above explanation for each term might have given you a clear view on each, and undoubtedly, all the terms have only motive, i.e., court proceedings. So its quite unfair to judge each legal professional with a uniform, instead understand each by carefully reading the above article.
However, you can hire ICA-approved translators from Singapore translators, the best translation agency for any legal document translation. The legal translation has become a mandatory requirement for non-English documents that need to be submitted in Singapore court proceedings.
Hire a Language translator for converting your legal & Other Documents.
---
---