Posted By Isabelle | Publised At 10/10/2023
Last Modified: 12
th
Oct 2023
Singapore – "The City of Lions" is the best-ranking place in the world to start your career. A majority of professionals and companies come here for better work and business opportunities than in other countries. They come to Singapore because it offers a great corporate life. This is due to various company establishments, unmatched cosmopolitan life, high-quality educational standards, and great medical facilities.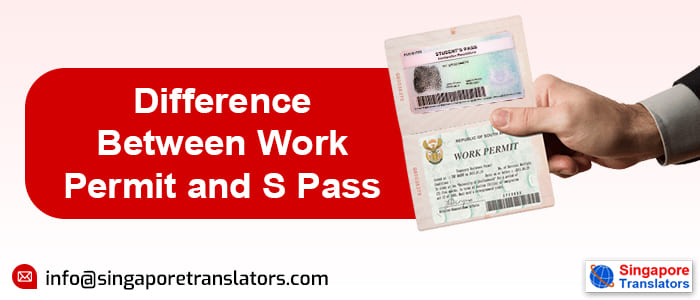 In Singapore, you will find many start-ups and corporate companies setting up their offices. This is possible because of easy registration, seamless hiring process, and tax-friendly administration. Therefore, all this makes Singapore the most sought-after place to work for today's working professionals. So, before applying for jobs in Singapore, you should seek an application for Work Permit and S Pass. These documents are essential for working in Singapore.
So, let us know the difference between a work permit and an S Pass. You will also get to know about the various requirements you need to fulfill to get your Work Permit and S Pass in Singapore. Moreover, you will get to know how to get work visa application translation services and other related document translation services in Singapore.
What is the Difference Between a Work Permit & S Pass in Singapore?
Work Pass and S Pass are not applicable to all professionals. So, you need to understand the difference between both and choose which one you want as per your needs and requirements.
S Pass is better known as Singapore Pass. This pass is applicable to those foreign workers or mid-level technical workers who are earning a fixed salary of a minimum of $2,200 per month in Singapore. The employment company or the employment agent issues an S Pass on behalf of the selected candidate.
Every time the holder of S Pass changes their jobs, their new employer applies a new pass for them. An S Pass is valid for 2 years, and it can be renewed for up to 3 years thereafter. This pass also provides medical insurance benefits to the employees from their employers.
Work Permit is a type of work visa in Singapore. It is also called an employment visa that permits unskilled foreign labor workers to work in blue-collar jobs. These jobs are available in Singapore in sectors of marine, manufacturing, construction, domestic work, etc. Work Permit is in great demand in Singapore due to its norms of low qualification.
However, the employment firm is imposing many restrictions in giving Work Permits.
There is no minimum salary requirement in getting a Work Permit, unlike that of an S Pass. The employer holds full responsibility for sponsoring the applicant and taking care of their well-being and stay in Singapore. The Work Permit is issued for 2 years. It is re-issued every 2 years for up to 10 years. Unlike S Pass, Work Permit holders cannot bring their family along with them. Just like the S Pass, the Work Permit is also available with free medical and health insurance facilities.
Get Fast & Accurate official notarization for ICA, MOM, MFA.
Documents Required to Apply for Work Permit & S Pass
Following are the documents required to apply for Work Permit and S Pass.
Work Permit Document Requirements:
Written permission letter from your company on your behalf.
A photocopy of your passport's personal information page.
Pass education certificate copies with recognized verification.
The registered latest business profile of your company with the Accounting and Corporate Regulatory Authority (ACRA).
S Pass Document Requirements:
Candidates' personal information page from their passport.
Updated the company's business profile and service details as registered with the Accounting and Corporate Regulatory Authority (ACRA).
All educational certificates of the candidates.
Eligibility Criteria for Applying for Work Permit & S Pass
Work Permit: Eligibility Criteria
All the applicants for Work Permit should be aged 18 years or above.
It is important to submit all the educational degree certificates and trade certificates. This is to identify who are skilled, and who are non-skilled candidates.
Proof of insurance and housing from the employers.
S Pass: Eligibility Criteria
As per the new rule, you need to show proof of the salary offer which is a minimum of $2400 per month.
All the degree and trade diploma courses are important to submit. It is because of adding extra bonuses to your job application. Moreover, all the certification is necessary to have at least a full-time 1-year study.
Relevant job experience letter from your previous company for more credibility.
Conclusion
Therefore, since you now know the difference between a work permit and an S Pass. Whatever suits your, qualifications, salary, and career requirements, you can apply for it. If you are interested in more information, you can check with the Singapore embassy and immigration officials.
To get more information on our translation services you can read our blog: Do I Need To Translate My Birth Certificate For PR Application?
Purchase All Types of Work-Related Translation Services in Singapore
As you now know what is all about the application process to get your Work Permit and S Pass in Singapore? But, the most important thing about this application process is submitting the approved documents. If the documents are in your native language, then you must go for translation documents to get your work permit and S pass.
You can purchase all types of work-related translation services in Singapore online. There are many approved translation companies offering employment pass translation services. One of the most popular translation companies is www.singaporetranslators.com. Here, you will get assistance from experienced Singapore translators in translating all your documents that are necessary to get a work visa and immigration pass. You can also pay these translators to get a translation of certificates in Singapore.
You can hire these translators to get affordable immigration document translation services within the deadline. Moreover, this Singapore translation professional also proofreads and edits the translated documents before certifying them. Thus, if you want to purchase all types of visa translation services in Singapore, contact us at www.singaporetranslators.com.
No 1 Online Translation Services for Document & Legal Translations in Singapore.
---
---