Posted By Singapore Translators | Publised At 06/07/2021
Last Modified: 2
nd
Jun 2022
1964
All about Disembarkation/Embarkation card ICA Singapore
If you are making plans to migrate to Singapore or apply for a Singapore permit or pass, you must be aware of this embarkation card or embarkation card. It is a paper-based card that is an integral part of your Singapore immigration supporting documents that you need to present at the Singapore entry port. To get more details about the disembarkation/Embarkation card. Continue reading the article.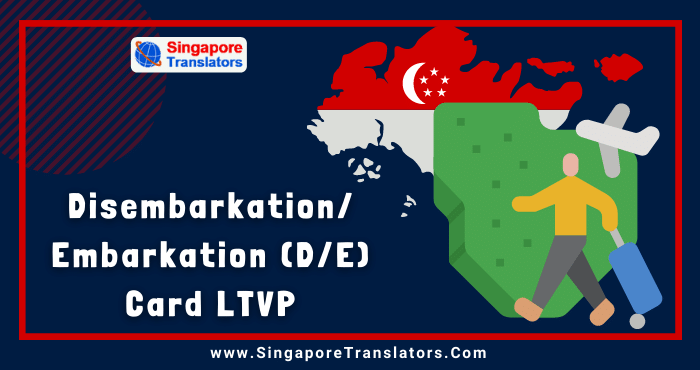 For any documents translation, you can consult Singapore translators as they offer you quality documents translation service ICA.
What is the meaning of a disembarkation card?
A disembarkation card is the arrival card used by the immigration authority of several countries. It is a legal paper-based document that contains some basic information about the immigrants arriving to Singapore. It is one of the essential parts of the immigration document of Singapore.
What is the Singapore De card?
Those foreigners making plans to visit Singapore are issued a Disembarkation/Embarkation (D/E) card. This card is issued with all Singapore passes and permit. It is mainly for the individual to conveniently enter and leave Singapore.
D/E card is a paper laminated card that will include some basic details about the applicant, including date of birth and Foreign Identification Number.
Who require filling in a D/E card?
Every foreign visitor arriving in Singapore must fill the disembarkation/embarkation card no matter which passes and permit you are applying for. This is must carry card whenever you are visiting Singapore.
Clearing immigration
Every applicant must submit the duly completed disembarkation/embarkation card along with the travel documents to the ICA officer by visiting the immigration counter. At the immigration counter, the ICA officer will keep the disembarkation card with them and return the embarkation card to you. Since an Embarkation card will be essential for you when leaving Singapore.
Do I need it while leaving Singapore?
Now, applicants do not require an embarkation card to depart from Singapore. However, if you already have the embarkation card and you have left Singapore, then you must discard the card from the middle. Since this card includes some basic details about the applicant, it's always better to discard the card properly.
Completing a D/E card
While filling the disembarkation/Embarkation card, always remember to use neat and clean handwriting and only use a black or blue ink pen.
Do I still need to carry a disembarkation/embarkation card?
No, now the disembarkation/embarkation paper-based card has been replaced by the Singapore electronic arrival card or SG arrival card. This means now all these foreign individuals who are willing to arrive in Singapore must have Singapore electronic arrival card or SG arrival card. This replacement has been taken place considering the effect of the corona virus pandemic.
Also, this card has benefited foreign nationals in multiple manners. Like now, they do not have to wait for long at the entry port, and this card has made the journey of the foreign national to Singapore easier.
What to do if my disembarkation or embarkation card has been lost?
If your disembarkation card/ embarkation card has been stolen or lost, then you will require to consult the relevant immigration and checkpoints, authority officer. They will properly guide you regarding this.
What is the difference between the disembarkation card and embarkation card?
A disembarkation card is a type of legal document that allows the immigrant to enter Singapore. On the other hand, an embarkation card is a type of legal document which allows the applicant to leave the country.
Hire our certified language translation service
We hope the above-mentioned information regarding the disembarkation/embarkation card was helpful for you in understanding the role of the card and how it is important for your Singapore immigration journey.
If you are in search of a reliable immigration document translation agency, then without thinking much you can rely on Singapore translators. They have a team of certified translators that will provide you the smooth delivery of official documents translation.
---
---