Posted By Singapore Translators | Publised At 24/09/2019
Last Modified: 16
th
Oct 2023
Most of the time, people in Singapore think that "Do I need to translate my birth certificate for PR application?" The answer is yes. During the process of getting a permanent residence in Singapore, it is important to submit translated certificate & other documents as evidence that can support your PR application in Singapore.
The most common document needed in every official and legal use is your birth certificate. Suppose your birth certificate is in Malay and you are searching "do i need to translate Malaysia birth certificate for pr application"? Then you just need to choose our translation agency to translate your birth certificate into English. It is clear that birth certificate translation is very important for immigration purposes.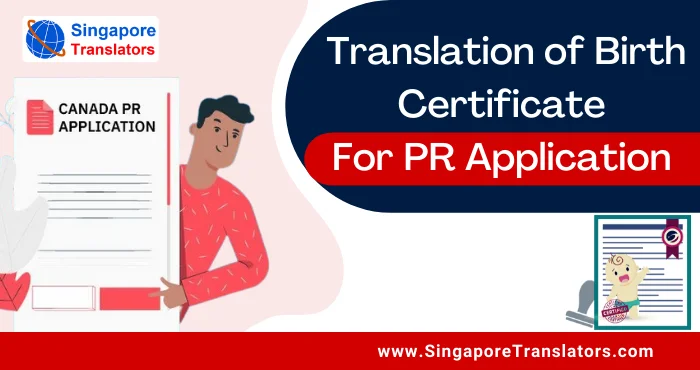 It is also important to hire professional translators from language translation companies that specialize in translating documents like birth certificates perfectly from any native language into the English language. In Singapore, you will get various translation companies, and Singaporetranslators.com is one such trusted translation company that you can depend upon for all your translation needs under a single roof.
Thus, this piece of writing will act as a guide in getting certified and accurate birth certificate translation services in Singapore for the successful acceptance of your PR application.
Translation of Birth Certificates for Singapore PR Applications
Those people who want to permanently settle in Singapore for jobs, education, and a better life then you need to apply for a PR certificate. For this, you need to submit a translated copy of your birth certificate as one of the most important documents needed for a PR application. This translated birth certificate is very important since it determines the successfully passing and processing of your PR application form.
Hiring professional document translators can obtain the translation of important documents such as your birth certificate. These translators can also be hired at Singaporetranslators.com in Singapore.
Get Fast & Accurate official notarization for ICA, MOM, MFA.
After getting the translated birth certificate copy from them, you can submit it for your PR application online also in the form of a scanned copy at the ICA website. You must get hire those translators and get help in birth certificate translation who is a specialist in offering accurate ICA document translation services.
My birth certificate is in Malaysian. Do I have to translate it into English before submitting it with my PR application?
Yes, ICA will require you to translate your Malay birth certificate into English before submitting your PR application. You can either use a qualified translator or engage a professional translation service provider to complete this task for you. To ensure the accuracy of your translation, it is important to select a reputable and experienced provider that has experience working with official documents like birth certificates.
At Singapore Translators, we offer professional and high-quality translation services for a variety of official documents, including birth certificates. Our team of experienced translators has the expertise and knowledge to accurately translate your birth certificate into English, so you can feel confident submitting it with your PR application. To learn more about our services and get a free quote, please visit our website or contact us today!
Why Do You Need Birth Certificate Translation For Singapore PR Application Document?
It is important to have a proper translation of your birth certificate for a flawless PR application online. This is important due to the following reasons, which are:
Need for Obtaining Authentic Birth Certificate Translation: PR officials need an authentic and appropriate translation of PR-supported documents in which your birth certificate is also included with it. So, in this regard, you must seek flawless document translation online through language translation companies that specialize in offering all kinds of document translation.
To Avoid Errors & Flaws in Translated Birth Certificates: The translated birth certificate must be accurate and free from any kind of flaws, or errors, and mistakes. So, it is important to hire professional document translators to translate your birth certificate to avoid any kind of errors in the future.
Mandatory Birth Certificate Translation As Per ICA Rules: The birth certificate must be translated as per the rules of ICA. If the translated document of birth certificate is not done as per the official rule, then your PR application might be rejected. So, for a successful PR application, it is important to get birth certificate translation services from experienced and professional translators online.
Hire a Language translator for converting your legal & Other Documents.
Mandatory Certification & Notarization of Translated Birth Certificate: For a successful and smooth PR application, apart from a translated birth certificate document, you must also get certified notary services. This is offered by the notary public or any legal professionals. Unless your birth certificate is not notarized, it will not be accepted by the immigration officials.
So, in order to make the ICA and immigration officials accept your PR application, along with the other supporting documents, you must also provide them with your certified, notarized, and translated birth certificate.
Translated Birth Certificates For College & Job Use: A birth certificate is an important document that allows you to have jobs or helps in getting college admission in any foreign country. Thus it is important to have a translation of the birth certificate in the correct form without any mistakes. It will be best if professional translators translate the birth certificate since they are qualified to offer flawless birth certificate translation services.
Therefore, due to the following reasons, you must translate your birth certificate by taking help from professional translators for a smooth and successful PR application.
Must Read:- Where to Translate Birth Certificate to English in Singapore?
Hire Translators to Get Your Birth Certificate Translated For PR Application?
You can easily hire the best and native Singapore translators from online translation companies such as the reliable and dynamic Singaporetranslators.com. Here, you will get qualified translation experts who are the best language experts in Singapore.
They are very experienced in offering all kinds of document translation for the purpose of PR. They have more than 10 years of document translation experience. When these translators translate your birth certificates for your PR application, then you must be assured that it will be accepted by the ICA and immigration officials.
Moreover, your birth certificate will be translated using the latest technology of SSL transcription.
You can get affordable translation services for your birth certificate at Singaporetranslators.com in the following manner, which are:
You can consult the right translators at Singaporetranslators.com.
You can talk to them regarding your requirements for birth certificate translation.
After that, the translators will provide you with a price quotation to translate your birth certificate.
After you approve the price quote, you can also pay it online via net banking, credit/debit card, or e-wallets such as PayPal.
Once you confirm about your payment, they will immediately work to translate your birth certificate.
Once the translation is completed, you will get the final translated birth certificate copy at your email address within the deadline.
Choose SingaporeTranslators.com For Birth certificate translation for Singapore PR Applications?
At Singaporetranslators.com, you will get the following benefits that can make you trust this translation company. The benefits are as follows:
PR document translation in Singapore at Singapore Translators is accepted at organizations such as MOM, ICA, LTA, business organizations, educational institutes, and courts.
The translators charge a very less price for the birth certificate translation. It never charges any kind of hidden services like handling and administration fees.
Our team of multi-lingual translators is able to translate your birth certificate into English from more than 100+ languages.
Conclusion
Therefore, if you still have doubt about having a translation of your birth certificates, or if you still have the question of "Do I need to translate my birth certificate for PR application?" then by reading this piece of writing you have realized the importance of translating your birth certificate for PR application.
Thus, it is best to go for professional translators' help at Singaporetranslators.com and get the best translation at cheap prices. In this way, there will be no obstruction in the path of getting successful and smooth documentation of PR applications.
---
---