Posted By Singapore Translators | Publised At 11/10/2019
Last Modified: 16
th
Oct 2023
There are many business people who want to expand their company's business all over the world especially in Singapore. So, for successful business world-wide and association with multi-national companies, one must need document translation services to set up business in Singapore. Business document translation is required for corporate communication, boosting up sales and managing daily business operations.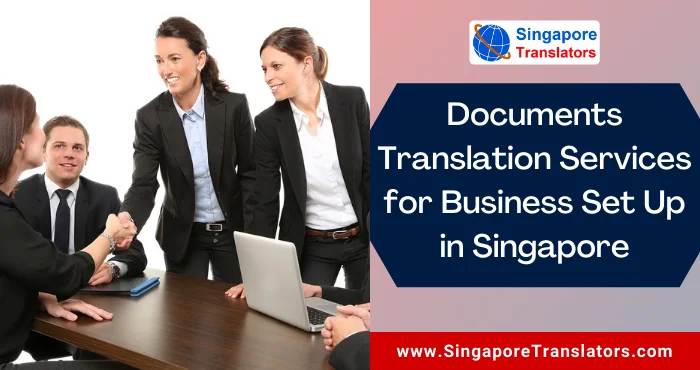 There are many translation companies in Singapore which offer professional translators' service to translate all the business documents. Among all of this, the most versatile one is singaporetranslators.com which offers translation services from professional and experienced native translators. The business document translation services provided by these translators are accurate and suitable for your budget.
Why Do You Need Business Translated Papers for Singapore Business Establishment?
Professionally translated business documents are hugely required for business establishment in Singapore. If you belong to a different country and all your business documents are not in one of Singapore's official languages such as English, then you must translate your business documents into the English language.
Moreover, you must know that if you want to have a successful business expansion in Singapore, you must translate your business documents accurately.
The translation of business-related messages of marketing, promotion or business proposal must be done in such a way that communicates your business-related message in a planned manner. The probable business partners and customers clearly understand your message. This is possible only by the translation services provided by the Singapore translators for business documents for business set up in Singapore.
Hire a Language translator for converting your legal & Other Documents.
If you need to translate all your business documents for your clients and customers of Singapore, then you choose the best translation service, providers. The top-rated translation service providers like Singaporetranslators.com offer translation of all types of business documents which is trusted by many companies and business establishments in Singapore.
The business documents like financial reports, business contracts, business agreement papers, business proposals, promotional paper materials and video materials of your company's products and services, broachers, leaflets, flyers, etc. are accurately translated by the professional translators at singaporetranslators.com.
Their translation services are trusted and appreciated by all in Singapore. So, if you want precise and perfectly formatted business document translation, trust the translation services provided by the translators at singaporetranslators.com.
Read More: Local Translation Services In Singapore To Expand Business Opportunities?
What Are the Unique Business Document Translation Services Provided By Singapore Translators?
The growth of the global business has led to an increasing trend of taking business translation services. The unique translation services you will get are:
Localization of Business Documents:  The translators at SingaporeTranslators.Com translate all the business documents which are relevant to the target country's culture as the culture of Singapore. Moreover, all the translation work is also done in the correct format. While translating the business documents, the translators ensure that full localization of documents is done for the target customers. This is done by translating the entire documents as per customers' linguistic preferences and accurate business terminologies which is understood by the customers.
Multi-lingual Business Document Translation:  You must have an excellent business plan to attract new business partners from Singapore. Moreover, to attract new business clients, investors and customers you produce all the documents in their own language. It will have the potential to have great success if you speak and convince them to do business or get interested in your business proposal in their own languages.
No 1 Online Translation Services for Document & Legal Translations in Singapore.
If you speak or communicate in their own language then it will surely impress them. Our translators at Singapore Translators translate all types of business documents into English from over 300+ languages like Spanish, Japanese, German, etc.
Accuracy, Affordable, Timely:  Singapore translators use the latest translation software programs to provide accurate translation along with services of editing, proofreading, and revision. Moreover, translation services are available at cheap prices and delivered within the specified time.
Conclusion
Business document translation services are required to take in order to set up your business in Singapore. Hire Singapore translators who can provide accurate multi-lingual business translation services in an accurate manner.
---
---