Posted By Singapore Translators | Publised At 18/07/2019
Last Modified: 1
st
Jun 2022
4058
Price is the most important thing which the customer thinks before buying a product or pay for any particular service like English to Chinese translation service. A large number of customers will only pay for the services which are actually priced.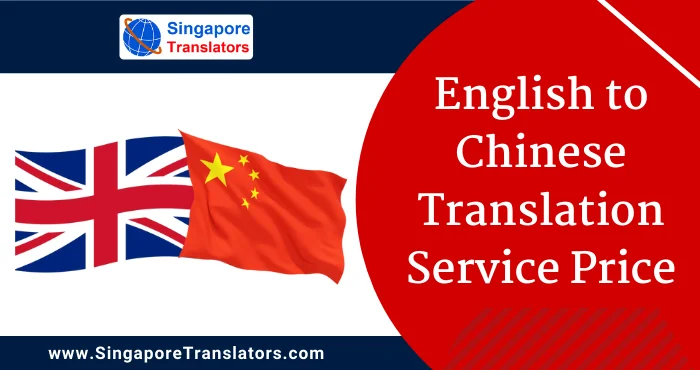 They will never pay more than the actual rate of the products or services. This is evident because as per the famous American Business personality Ron Johnson – "Pricing is actually a pretty simple and straightforward thing. Customers will not pay literally a penny more than the true value of the product."
So, when you go for getting translation services of English to the Chinese language price, Chinese to English price then you must also consider the fee for which you are paying for the translation service.
In the industry of translation services of one language to another, particular translation services need an appropriate price plan. You must determine English to Chinese translation service cost before buying it from a service provider.
Explore About:- How Long Did It Take You to Learn Chinese And Mandarin?
If you are in Singapore and require translating all your documents and papers from English to Chinese, then the preferred translation service provider is SingaporeTranslators.Com.
The language translators know hundreds of languages fluently and they are also very expert in translating your English language documents into any language you desire.
Rate structure of getting English to Chinese Translation Services 
Before you take up any type of translation services in Singapore then you must know that English to Chinese translation services rate are determined by the following factors which are:
Pay Per Word:  Most of the language-translation service providers offer to charge on the basis of the total number of words to be translated. If there is an option of paying per word then it is termed to be the easiest and fair price for all the customers.
Get Fast & Accurate official notarization for ICA, MOM, MFA.
The translation services are customized as per the customer's needs and requirements. It also depends upon the type of document and its content. The reputed SingaporeTranslators.Com charges anything from $0.13 to $0.20 per word which is quite cheap. If you also want to translate English to Malay then it will charge $0.16 to $0.19.  This is price plan of pay per word is best suited for short-term projects and short document translation.
Pay Per Line:   In Singapore, prices are often based on lines of the preferred language for translation. Price byline is normally calculated of translation which makes the price comparison of English to Chinese translation services easy. The standard price of translation pay per line of 55 characters starts at $2 onwards.
In Singapore, most of the people staying places like Jurong East, Seletar, Yishun, Novena, etc prefer to have a translation on the basis of lines or characters.
It includes  Chinese language translation of Simple Chinese, Traditional Chinese language, Japanese or Korean language. If you go for the option of paying by line or character then you can access that option at SingaporeTranslators.Com.
You can speak to the expert language translators there to know about other alternatives to better pricing and extra benefits if you pay by characters or lines in the translation service you prefer to take.
Pay Per Page:  You can also consult some Singapore translation service providers regarding the option of paying by a total number of pages to translate. The contents translated on the document are based on the number of pages.
Hire a Language translator for converting your legal & Other Documents.
This translation option is best suited for those documents where the word cannot be counted electronically. It can be a PDF document, book or paper documents like a court document, medical records, etc.
Normally, $100 is charged to translate a page. Apart from the English to Chinese translation service price on the basis of the page, you can also get to translate English to the Korean language also. Our team of Korean Translator in Singapore at SingaporeTranslators.Com also provides English Chinese translation services at the cost paid by pages.
Pay Per Hour:  Most of the translation companies in Singapore also prefer to go for the option of pay per hour to pay for the language translation services especially for the English to Chinese. Translation companies like  SingaporeTranslators.Com usually don't charge for the translation services on the basis of hours since it is personal.
Moreover, the price charged on the basis of the hour is generally hard to determine. Moreover, pay-per-hour translation services are best suited for doing updates and edits on a translated copy of English to the Chinese page.
Pay someone for taking Benefits of English to Chinese translation at a low price
If you are opting to get the best-priced language translation services then you can also get that at a cheap price. You can also go for small translation projects up to 250 words.
At a cheap price online, you will also get customized services to translate your documents from English to Chinese. This includes subject matter research, language arrangement, attractive discounts and editing, proofreading and also meeting deadlines. Each of the services is priced separately.
Translation Price Rules:  In Singapore, thousands of peoples prefer to take online translation services from English to Chinese. The expert language translators provide the best-valued translation services with various price plans available.
No 1 Online Translation Services for Document & Legal Translations in Singapore.
Timely professional translation services are available at $ 0.13 per word onwards. For example, you can also get Russian translation services between $0.13 to $0.16 to translate your documents from the experts at SingaporeTranslators.Com.
Conclusion
Therefore, before finalizing any type of services like English to Chinese translation services you must also get accurate information about the amount you pay for translation.
You must compare each and every source and provider to get the best-valued translation services. English to Chinese translation services price is very reasonable if you get it from SingaporeTranslators.Com.
---
---