Posted By Singapore Translators | Publised At 08/27/2019
Last Modified: 31
st
Dec 2019
248
This is a common thought that good English is the key to establishing a successful business, especially in other countries. Good spoken and written English is the only sole way to do business all over the world. Apart from your native country – Singapore you can also do business with other countries if you have the knowledge of English. Moreover, you can even apply for jobs to English speaking countries like USA, UK, Canada, Australia, etc.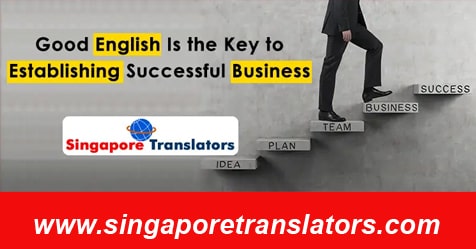 Though the English language may not be your mother tongue, it is the language that you should think, speak and write perfectly. Singapore peoples should learn English at a very young age at school since this language which you should learn if you want to be successful. For international business or job or for international communication you need to be best in spoken and written English.
"Do you want language translation services for translating native language business-related communication into the English language? If yes the language experts at SingaporeTranslators.Com will do that for you in a perfect manner".
Why English Is Important To Run A Business?
The English language is very important to run a business worldwide since it is the means of survival along with means of communication with the rest of the world. This is the common language spoken which is very important. There are true facts that determine the importance of the English language for business communication.
The facts are as follows:
English is the most spoken language for maintaining the business relationship and establishing communication with the rest of the part of the world. Though English is not the native language in Singapore. But, in order to maintain a connection and establishing a healthy business relationship with the rest of the world, English is very important.
There are about 1500 million speakers of English in the whole world, where only 375 million English speakers speak English as their native language. The remaining ones speak it as a foreign language.
Thus, if you don't have the knowledge of English, then you will be not able to establish communication with the rest of the part of the world.
If you are a user of the Internet and heavily depend upon websites and social media to run business, then English is important since it is the main language of the Internet.
If you are tech-savvy and use the Internet regularly at the workplace or to grow your business then English is required to work in Excel sheets, conference calls via the internet, research, getting data, etc.
Moreover, you must also use English in all your business documents. If you want the business translation experts will translate all your business documents from the native language into the English language.
Explore About:- How Can I Translate Arabic PDF To English?
Benefits of Having Good Quality Spoken and Written English Skills in Business Operations
There are various benefits of having skills of high quality spoke and written English especially in Business operations which are:
Business Operations Enables To Learn English Advanced Way:  The days before the globalization in Singapore, the learning of the English language is regarded to be extra credit. It was a way to impress the people and show them your advanced knowledge and modernity. But, now it is very important for everyone to know English.
Even the workplaces in Singapore regard English to be the only official language. Even the company where you are working now, your superiors will expect you to speak English and also use the same language for official communication. You have to do this even if this language is not your mother tongue.
Hire a Language translator for converting your legal & Other Documents.
Better Communications With Your Co-workers: It is important to have a cordial relationship with the other fellow co-workers at your workplace or with your business partners. In the office, teamwork is important while the business establishments need collaborations with other countries.
Both organizations regard the English language as the most important one, if you don't know the language then it can create misunderstanding between 2 or more people and organizations. This will even put your job in danger. So, it is best to know the language.  So, English is needed at work and businesses.
Delivering Presentations and Speeches: It is important to use Business English when you are doing business with your international clients. Here you need to deliver presentations and speeches regarding a business proposal or a business meeting. If your team and clients do not speak your native dialect, then you cannot deliver your presentations or take charge of the business meeting in your native language.
It is important to present your thoughts and ideas in a particular language that everyone can understand and that is one and only the English language. If you want to excel in the English language especially for your business-related communications then there are lots of online English courses which can be quite helpful for you. SingaporeTranslators.Com is popular for offering all types of English training programs and all kinds of' business professional translation services.
Good pronunciation and accent always make a good first impression:  Speaking and writing English are two different things. You may write well but it doesn't matter unless you speak English with a perfect accent and a good pronunciation. You will be able to make excellent contact at a business or at the workplace if you speak good English – American or British accent.
Hire a Language translator for converting your legal & Other Documents
Sometimes it is also quite ok to use words from your native language with English for communication. Moreover, it is important to pay attention and work hard to improve your pronunciation. You can improve your pronunciation if you listen to the excellent pronunciation. You can do that online too.
Traveling for Business:  If you want to work at an international destination or travel for business purposes then English will be helpful to communicate with people in that place. After all, when you will be in a foreign country, the English language will help in effective communication with the people there.
Discover This:- Get Genuine Passport Translation Services in Singapore on Urgent Basis
How to Improve Your English For The Sake Of Business?
You can improve your Business English in several ways which are:
You can choose to study various courses like business and entrepreneurship and career development to boost up your English skills. You can either opt for online or offline courses on the basis of your needs and conveniences.
English improvement can also be done with the help of studying vocabularies, playing games of words, listening to British podcasts and audiobooks, watching online videos, do regular interaction in English, and finally, you can get involved in self- study.
Conclusion
The English language is an important means of communication in the world of the international business world. You must make an effort to learn the language perfectly. This is important because without knowing the English language you cannot do business in the international market.
No 1 Online Translation Services for Document & Legal Translations in Singapore
Thus, to make things better, there are various online English tutors who offer English courses and even translates business documents of native language to English and vice versa. This is offered by the native Singapore translators at SingaporeTranslators.Com.
---
---