Posted By Singapore Translators | Publised At 08/28/2019
Last Modified: 31
st
Dec 2019
223
There are many patients who prefer to have a medical translation of all their medical documents in their native language in Singapore. If they have their medical documents, for example, the medical prescription in their own language then it will be very easy for them to read and understand the things which the doctor has prescribed to them.
Sometimes the big hospitals in Singapore bring out the medicine prescription in the English language.  Most of the Singapore people especially the patients from the rural areas are unable to understand the written content in their medical prescription.
So, it is important to have medical translation services from an experienced translator who can translate medical prescription from the English language to the native Singapore language as per the patient and their relatives' choice. Moreover, when patients from other countries arrive in Singapore to get a taste of the advanced medical treatment here, they also need English translation of medical documents like reports, prescriptions, etc.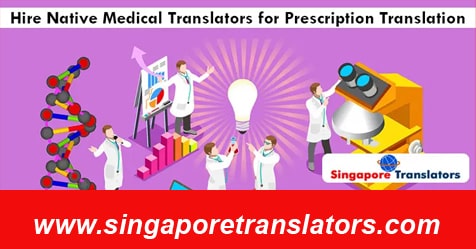 There are various online translation services offered by the diligent language translators in Singapore. It is available in various language translation companies and the most renowned one is SingaporeTranslators.Com.
Why Do You Need Medical Translators To Translate Your Prescriptions?
You can imagine the nightmare of the patient and their family members where they are not able to understand the language spoken by the doctor and the medical staff. They face a lot of problem and confusion during the course of medical examination or treatment or in case of a medical emergency.
Let alone reading and understanding the medical document in the form of prescription, medical reports, and medical bills. This is quite stressful for the patients and their family members alike since they are quite helpless. But, with the help of the medical interpreters and medical translators, they will be able to understand the medical documents though it is not their language. The medical translators will provide them the best medical report translation.
You will need the help of a medical interpreter who can act as a communication link between you (if you are a patient) or your relatives (who has accompanied you for treatment) and the doctors and the hospital staffs. The medical interpreters will translate your talks, thoughts, and doubts and express it to the hospital and get answers back from them to translate it back to you.
Hire a Language translator for converting your legal & Other Documents.
Medical interpreters are helpful for speaking to ensure clear and crisp communication between the doctor and patient. Most of the big hospitals in Singapore also have the facility of getting interpreters on – call. Medical interpreters are helpful for verbal communication and are limited to this only.
If you want a medical translation of documents like brochures, medical prescriptions, medical reports, etc then only professional medical translators will come in handy. They will do a complete translation of your medical documents including the precious prescription in your native language after discussing it with the doctor and hospital staff.
Thus, it is very important to get translation services from medical interpreters and medical translators to serve for all the medical needs. You must hire only trained and qualified medical translation professionals who translate the medical documents perfectly even if it contains complex medical terms and terminology. Translation services in the medical field must be perfect and flawless because a single mistake and error and can be dangerous and can cost a life too.
Know This:- Is It Possible to Expand Your Business Globally Without Taking Translation Services
What Are The Medical Documents Translated By The Professional Translator?
If a patient or their family member is not able to understand the language spoken by the doctors and the hospital officials, then they must get help from a professional Singapore based translators who can provide the translation services. At SingaporeTranslators.Com, you will get the best and qualified Singapore translators who can offer to translate the following medical documents such as:
Hospital websites, social media posts of hospital treatment and marketing materials of a hospital.
Patient history diet forms and treatment of  consent forms
Patient's past history of  common illnesses, injuries, and diagnoses
Medicine prescription with exact dosage.
Discharge instructions and discharge letter.
Scientific and medical reports
Hire a Language translator for converting your legal & Other Documents
Importance of Taking Medical Translation
It is true that due to growing globalization more and more people in Singapore are now having the spoken and written skills of common global languages. International languages like Spanish, English, Chinese, Arabic and even French are spoken by most of the people in Singapore. Even if the rural people of Singapore don't know English or French, their relatives working in cities might know these languages. So, it is clearly stated that medical translation will have little to do in the future due to globalization.
If you see the other side of the coin, medical translation is required if you are traveling to a distant country or migrating to some country that does not speak your native language. Again, due to globalization when people are migrating to other countries for a better life and career the demand for medical translation services has increased rapidly.
You will require translated medical documents to obtain a visa to enter a country in case your medical documents is not in the known language of the preferred country you were going. You can get the translated documents from an experienced medical translator in Singapore who has previously offered medical manual translation to many people.
Professional Prescription Translation Service
There are some people in Singapore who have come for work and travel. But, hardly the majority of them know the official languages of Singapore. If in case, due to some medical emergency they get admitted at Singapore hospitals, they will face a great problem due to ignorance of Singapore languages.
Simultaneously, if a Singapore resident who does not have the knowledge of a language such as English, then he or she will face the same problem if they go to USA or UK. Thus, when such kind of a situation arises you must instantly get a certified medical translation service.
A professional translator is greatly required which can save you from various confusions if it is a medical requirement. The translator hired to do the medical translation of your medical documents will help you to understand about taking the right medicine dosage. If the professional medical prescription translator is not there for your help, you will surely get into trouble like taking the wrong medicine or taking the wrong dosage.
No 1 Online Translation Services for Document & Legal Translations in Singapore
If this happens then there will be side effects that can also be life-threatening for the patients. Thus, in Singapore, you must get help from a professional medical translator who can offer translation of medicine prescription and medical report translation at lower prices.
There are various translation agencies in Singapore, and the most reliable one is SingaporeTranslators.Com. This translation agency hires only qualified and experienced medical translators who have a piece of significant knowledge about medical and pharmaceutical terms. They are certified to provide the best and accurate medical translation within the deadline.
Conclusion
Now there has been a trend of getting medical treatment in other countries. So, to understand what the doctor of the foreign country says and to also know what is written in all medical documents, it is important to get help from the professional translators.
At SingaporeTranslators.Com, you will get the promised quality of translation at the best prices. Even life science translation is also available at competitive market prices. Thus, to get the best and affordable medical translation you must be free to contact the translators and get a free price quotation online.
---
---