Posted By Singapore Translators | Publised At 29/06/2019
Last Modified: 16
th
Oct 2023
In various business organizations of Singapore, it is common to get documents or business letters from your overseas clients in form of PDF form in a language that is not known to you. It happens that instead of the international language English your overseas client may send you the document in a language that is spoken in their country.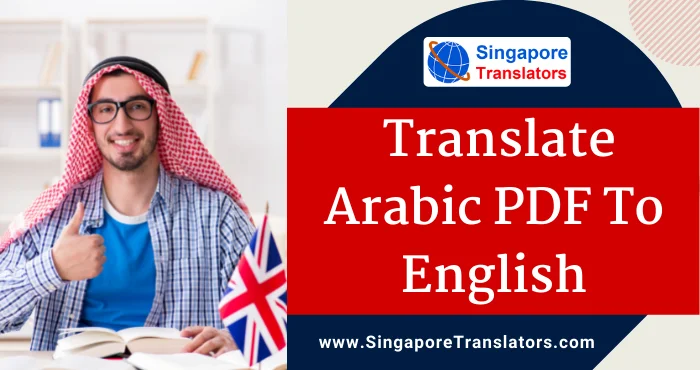 If you have a business connection with Arab countries then you are sure to get PDF documents in Arabic language and Arabic script. Since Arabic is not known to you then you must have a common question in your mind that "How can I translate Arabic PDF to English?" The simple answer is to get Document Translation Services Singapore online.
Translation of Arabic PDF to English
If you have got an Arabic PDF from your client and need to translate in the common international language like English then there are various ways where you can get the PDF copy translated. You can get language translation services through professionals who are present in both online and offline.
You may also translate the PDF in some online software too. Moreover, if you want to translate the Arabic PDF document all by yourself then Google Translate is the best option ever.
Read More:- Translate My Documents Into English For Me?
Here you can upload the Arabic PDF document and convert it in the English language. Moreover, there are also various language translation companies and agencies which can offer accurate language translation services. They employ professional language translators to offer services to both individuals as well as business organizations.
Online Translation Software in Arabic Translation
The task of translating the Arabic PDF to English can be done in various language translation software which is available in plenty in various online sites.  If you open the translation option in this free software, you are required to select and paste the entire PDF file and put it in the first box and click on the language setting "English" on the second box.
Get Fast & Accurate official notarization for ICA, MOM, MFA.
Then after you click on the Translate option then you will see that simple test file in English is created. These free websites also offer all types of your translation request such as academic translation services at free cost.
Professional PDF Document Translators at Singapore
You can also get the online translation services from the language translators, editors, and proofreaders from various companies and agencies in Singapore. One of the most reputed companies is Singaporetranslators where you get expert language translators to translate your document in the preferred language. These skilled translators carefully translate, edits and proofread the fixing the entire document's loopholes.
This is done to maintain the high-quality standard of the translated document. The improved translation services provided by these experts have positively been beneficial for the clients for 10 years. Accurate translation of PDF files can be complex, but with the translation help provided by the language translators, you will be able to translate all types and all lengths of PDF files.
Moreover, if you want to get error-free PDF document translation from Arabic to English then you can just rely upon the services of one of the best Singapore translation services called Singaporetranslators.com.
Here you will also get the native translators to translate the document at cheap prices and also get delivered quickly at your email address within the deadline. Moreover, if you also need to certify the translated documents then at Singaporetranslators.com you will also get the best certified translation services Singapore.
How to Access Online Language Translation Services?
At SingaporeTranslators.Com, you must fill up the translation order page by filling up the details along with uploading the original copy of the Arabic PDF document. You must fill up the order form by specifying your requirement which is the types of the documents to be translated, the total number of words and pages, extra requirements of editing, proofreading, etc.
Hire a Language translator for converting your legal & Other Documents.
After that our team of translators at SingaporeTranslators.Com will review your original document and requirements and will give you a price quote. Once you acknowledge the price and pay it online the translators will do their job of document translation as per the guidelines given by you. You will get the best translation services from them at the best prices and that too within the deadline.
Affordable PDF Translation Services
At SingaporeTranslators.Com, you will get all types of PDF translated from various languages to the English language. If you want to translate your Arabic PDF to the English language then you will get the most affordable and best translation services from us.
Read More:- How Much Should I Pay For Translation Services?
All the translation services offered by our team of specialized language translators are of very affordable cost starting at just $10 onwards. The charges are decided on the basis of the service type they provide in translating the original document's language, the total number of words along with technical terms.
Types of PDF Documents Handled By Our Translators in Singapore
The language translators at SingaporeTranslators.Com are experienced in translating all types of PDF documents into the English language. This includes bank account statements, academic documents, legal notices and affidavits, driving Licenses, Birth Certificates, passports & all types of identity cards, divorce notices, police clearance certificate, no claims certificates, marriage certificates, medical reports, etc. They also provide all types of legal translation services in Singapore in a perfect manner.
Why Trust Our Translation Services of Arabic PDF Documents To English?
There are many customers who come to us for various types of translation services.  Translation of Arabic PDF documents to English is also one of the services offered at SingaporeTranslators.Com. The services provided by us are the most trusted ones since we provide high-quality translation services.
No 1 Online Translation Services for Document & Legal Translations in Singapore.
We have a strong team of 3,000 plus professional translators who can translate PDF documents from Arabic to English from scratch. They can translate almost 120 world languages to the English language in the most accurate and swift manner.
The Singapore language translators offer top quality translation services and you must have trust in them without having a second thought. Moreover, timely delivery is always offered by the translators and they have never been delayed so far. Additionally, we keep all the information and communication shared between us in secret. We also provide a safe payment gateway also.
Final Words- Therefore, you can get flawless, accurate and error-free PDF translation from Arabic to English, through our expert language translators. If you have any translation requests to fulfill, remember to use our language translation services for a better experience at SingaporeTranslators.Com.
---
---