Posted By Singapore Translators | Publised At 06/21/2019
Last Modified: 27
th
Aug 2021
1972
There comes a time in the corporate sector when you usually receive documents in PDF form in another language for example – German, which is not known to you. So, in order to have access to that document in a common international language like English you need to translate that PDF file from German to the English language.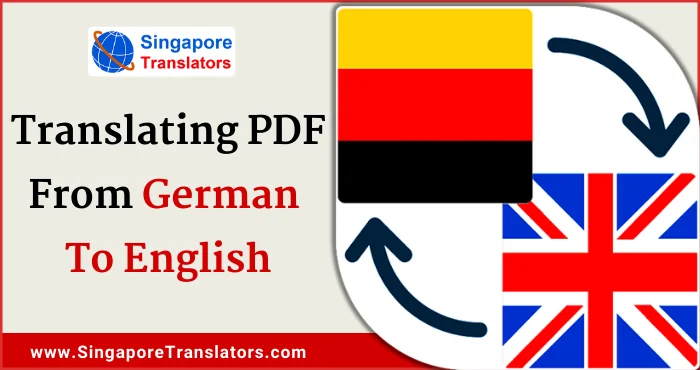 Though there are various language translation services offered by language translation companies both online and offline. If you want to try your hand in translating the PDF document then you can use certain online tools such as Google Translate. This is a special tool where you can upload the PDF document in German language and convert the file in the English language.
Learn More:- Good English Is the Key to Establishing Successful Business
How To Use Google Translate To Translate a PDF From German To English?
language translation from German to English, you need to select German in the first box while English in the second box. After selecting the final document and language setting, just click on the option called Translate. Then you will see that a simple text file is created and implanted into the website of Google Translate.
Professional Language Translators at Singapore
Accurate translation of PDF files from one language to another is quite tricky. You may get many PDF files and there are also various types of PDF translation programs and software that translate the PDF text into your preferred language. But if you decide to get an error-free PDF translation from German to English then you must go along with the best Reliable Singapore Translation Services at the most preferred and trusted language Translation Company in Singapore called SingaporeTranslators.Com.
Hire a Language translator for converting your legal & Other Documents.
Here we offer native language perfectionists to convert and translate your PDF file into English from the German language. We offer language translation services from the best language experts who can meet your translation service requirements the way you want within the deadline.
On the website of www.singaporetranslators.com, you can easily upload the PDF file and get a quote from our translators regarding the PDF translation cost. When you will consult our experts to convert your German PDF file into an English copy then you will get the best and smooth experience from our experts.
How to Book Online Translation Service?
At the esteemed website of SingaporeTranslators.Com, once you have selected the PDF document, you must set up the desired language you want. After that, you can specify the translation service type which can be medical, academic, technical, scientific, legal translation service, etc.
After requesting and telling all the translation requirements, your PDF file will be sent to our best professional language translator will translate your German PDF document to the language of the English PDF document as per the framework of the file. Moreover, you will also be informed of the deadline and its prices. Thus, you will be assured to have the best experiences of language translation services from us.
Must Read:- Common Mistakes to Avoid In Translation
 PDF Language Translation through Online Experts
At SingaporeTranslators.Com, you will get help from a team of language translators, editors, and proofreaders who are very efficient in their respective work and their field of skilled works in the field of language translation. They carefully translate the PDF document and carefully edits and proofreads to detect and fix any shortcomings.
This is done to maintain the quality standard of the translated document. PDF document translation is not an easy job and we try to pay each and every attention to our client's request. We do our job best to improve the quality of translation services and have always got positive feedback from our clients.
Thus, if you are looking for the best translators who can do all types of language translation of every document then our team of professional PDF translators offers first-class services. They can even offer Chinese to English translation services of various PDF documents perfectly.
No 1 Online Translation Services for Document & Legal Translations in Singapore.
Cheap Translation Services from Us – The cost charged by the Singapore translators is different from one service provider to another service provider. They charge a very low price starting as low as $10. The fees calculated by them depend upon the type of services they provide in translating the original document's language, number of words and technical terms.
Services of Native Translators in Singapore – Our team of expert language translators is so qualified that they are able to translate all types of non-English PDF documents to English translated PDF copy. They can translate the following documents which are: bank account statements, academic certificates, legal affidavits, driving Licenses, Birth Certificates, passports & all types of identity cards, divorce order, police clearance certificate, no claims certificates, marriage certificates, medical reports, etc.
Why Trust Our Translation Services of All PDF Documents?
Most of the clients are regular customers of our translation services especially from German to English. These are various reasons for their strong trust upon us. This is because we have a strong team of 3,000 plus professional language translators who can successfully translate important PDF documents into the English language.
They can translate almost 120 languages like Chinese, German, Spanish, etc to the English language in a quickest and accurate way.  Our team of Singapore language translators is ISO- certified enough to offer high-quality translation services without any second thought. When they take up any kind of translation work then they do it quickly and always strive to deliver it without any delay at your email address.
Get Fast & Accurate official notarization for ICA, MOM, MFA.
Moreover, you can also trust upon the services of SingaporeTranslators.Com where we keep in secrecy all the communication, data, and payment details shared by you to us. These are never leaked to the third person or any other company.
Final Words- Thus, for flawless, accurate and error-free PDF translation from German to English, is trust our expert language translators. If you have any translation task, remember to use our services for a better experience.
---
---