Posted By Singapore Translators | Publised At 30/07/2019
Last Modified: 23
rd
Sep 2021
1950
Is it possible to learn a new language staying right here in Singapore? Yes! You can learn a new language apart from your own native language. Singapore is the country that has its national language- Malay along with other official languages of English, Tamil and Mandarin Chinese.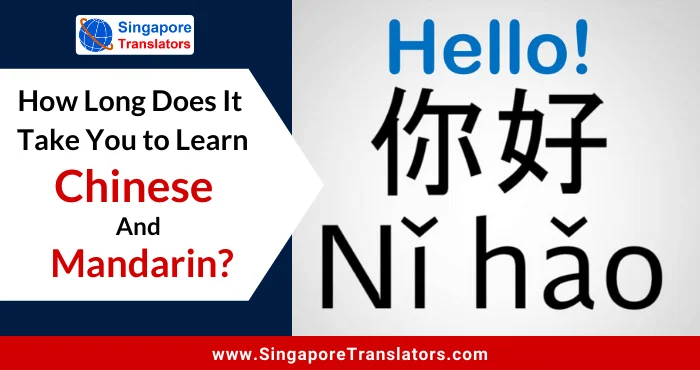 If you want to know how much time it takes to learn Chinese and Mandarin language then it quite unpredictable. It can take years or just a few months depending upon the credibility of the learner. So, if you are ready to embrace learning a different language which is not your native language then you can easily do that in Singapore.
If you have decided to learn Chinese and Mandarin among the official languages of Singapore then you can do that easily. In this blog, we have various tips for first-time learners of Chinese and Mandarin languages.
"While learning Mandarin Chinese language, do you require help in English to Chinese translation of texts? If yes then the native Chinese translators at SingaporeTranslators.Com will help you translate the English text into Chinese so that you can learn the language well".
Time Taken To Learn Chinese and Mandarin Language
Perhaps you must be thinking when you can reach that level of fluency in Chinese and Mandarin. So, after days and months of training, you think that you will achieve your goal in a year or two? It is quite an unpredictable question and the answer also you get is unpredictable.
This is because everyone's language learning ability is different. Though, some of the experts state that it takes 2,200 class hours to learn the language. Moreover, if you practice daily it will take 88 weeks.
This is just an estimated time period which can also change. Chinese and Mandarin language is not that easy-going and takes time, hard work and determination to learn the language perfectly.
Must Know:- What is English to Chinese Translation Service Price?
What Factors Estimates You To Learn Mandarin Chinese Language In A Specific Period Of Time?
Let us discuss some factors which will enable you to estimate how much time it required by you to learn Mandarin Chinese. On the basis of these factors, you will be able to understand better about the estimated time needed by you to learn Mandarin Chinese.
Chinese languages comprise the branch two sub-languages – Mandarin and Cantonese. We are now focusing upon learning Mandarin Chinese language which is also known as the official language of mainland China, Singapore, and Taiwan.
The time needed to learn this language depends upon the purpose of learning. There is a varied time period taken to learn for various purposes for learning the language.
Get Fast & Accurate official notarization for ICA, MOM, MFA.
"Do you want a perfect language translator who can help you do Chinese to English translation of texts and vice versa for quick and seamless learning of Chinese language?
You can get that perfect translator at the renowned SingaporeTranslators.Com offering services at Singapore cities like Jurong East, Seletar, Woodland, etc"
It depends upon your requirement of learning the language. What are yours?
Do you want to learn the basic conversation skills to converse with the local people for your upcoming trip to China?
You want to converse with your Chinese friends and relatives freely in Chinese?
Do you want to have a better understanding of Chinese culture, literature of history?
Do you want to learn Chinese in an advanced way of learning including reading the traditional Chinese signs?
You want to work in China or for Chinese companies?
So, if these are your requirements for learning the Chinese language, then it will require various types of time and various levels of dedication.
Learning Mandarin Chinese Language at Singapore
In Singapore, when you are learning the Chinese language the debate arises to learn the Chinese characters. The pictures and characters act as the alphabet system in English and other languages. Each Chinese character symbolizes a word or sentence meaning. In the Chinese language, there are thousands of Chinese characters.
If you want to comfortably read a Chinese newspaper, book or text then you must learn 1500- 3000 Chinese characters. If you have learned basic spoken skills of the Chinese language then you must also learn to read the characters since it is an integral part of learning Mandarin Chinese.
Hire a Language translator for converting your legal & Other Documents.
If you perfectly learn the characters then it will be easier to learn the language. It is entirely up to you whether you want to learn simplified or traditional Chinese characters.
Traditional characters have been evolved over thousands of years, while the simplified ones are the modern system of learning the Chinese language. This is prevalent in Mainland China and is initiated to fight against illiteracy.
"The translators at SingaporeTranslators.Com offer language translation in almost all the languages. If you want to translate Chinese characters to English texts then they are very specialized to accomplish this job".
Language Institutes in Singapore Coaching For the Chinese Language
Singapore has some of outstanding institutes which are backed up by experienced teachers and a wide range of courses offered in learning Mandarin Chinese.
Some of the best language institutes to learn Mandarin Chinese in Singapore are Linda Mandarin, Yi Mandarin, Han Hai Language Studio, Little Mandarins Language Centre, Twinkle Stars Mandarin Centre, Stanford Language Centre and many more good institutes of good reputation.
Best Tips to Seamless Learning of Chinese and Mandarin Language
When you are learning a particular language, you must immerse yourself in that language and culture deeply. Only this kind of exposure can help you learn better. The same applies when you are about to learn Chinese and Mandarin language.
It is true the more exposed you are to the language and culture daily, less the time it takes to learn it. So, if you want to learn Chinese and Mandarin language fast then you need to expose the Chinese way of life in your daily routine.
No 1 Online Translation Services for Document & Legal Translations in Singapore.
If you are living in a country like Singapore where various cultures of people's lives you must create a Chinese environment all around you.
The tips to the quickest method of learning Mandarin and Chinese apart from your Chinese language institute are:
Listen to Chinese music or watch good Chinese movies in your free time.
Converse with Chinese Community people on a regular basis.
Be an active user of Chinese social media sites such as WeChat or Weibo.
Attend local events and cultural programs in China with your Chinese friend.
Get a native Chinese tutor to teach you well.
Use of Chinese study techniques such as SRS (spaced repetition software), Flashcards Deluxe, etc.
Therefore, if you learn Chinese and Mandarin in a practical way then there is more fun to learn Chinese. Moreover, if you want to learn document translation from Chinese to English or any other language or the vice versa then you can get that online at SingaporeTranslators.Com at cheap price.
Conclusion
Thus, these are the various requirements, factors, and tips of learning Chinese and Mandarin language discussed above. If you also want to learn the Chinese language but are unable to do so perfectly then you can take help from the language experts at SingaporeTranslators.Com.
Here you will get the option to hire the best language experts to teach and coach you to learn Chinese and Mandarin language at competitive market prices.
---
---