Posted By Singapore Translators | Publised At 24/06/2019
Last Modified: 27
th
Aug 2021
1937
There comes a time when you need some of your document, say a birth certificate needs to be translated. If you have never hired a professional language translator or took language translation services from some service provider or company, then it is quite logical to ask this question – "How much does it cost to translate a birth certificate in Singapore"?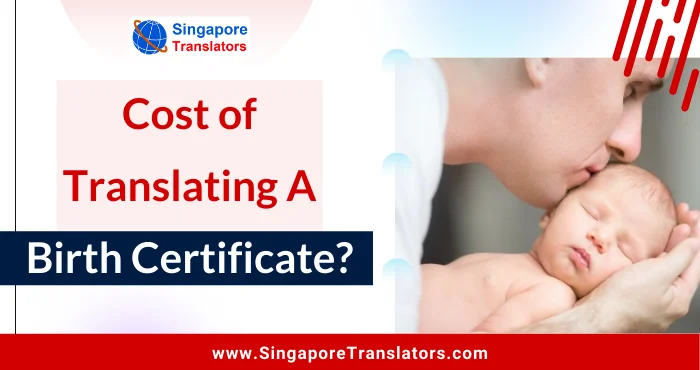 The Cost Idea to Translate a Birth Certificate
If you ask the professional translators and language translation companies in Singapore about the fees they charge to translate your birth certificate. They are not able to tell you the exact cost unless they see your original copy of the birth certificate. The most popular language translation service provider in Singapore – "SingaporeTranslators.Com" often gets emails and phones regarding the query from the probable clients and customers like you asking"  need to translate a birth certificate along with other documents.
What are your fees?" Document translation like birth certificates and others varies from document to document.
So, the price is also differently charged from each other. There is not a single price charged for all types of document translation, and charges are different for each translated document.
Read More:- How Much Does a Document Translation Service Cost?
Questions Asked By Translators before Translating Documents to Quote the Exact Price
Professional translation services Singapore is quite complex and nor there is a single price for all documents to be translated. The translation of each document has a different process and approach. So, before a professional translator or a translation company gets a request for translation of a certain document from you, they need answers to some of the very basic questions. They need these answers before sending you the price estimation to translate your document, such as your birth certificate.
These the basic questions asked by the translators or the translation company to you before sending you the price quote or estimation of the total fees charged for translation services.
The questions asked are as follows:
Question 1: What Document you need to be translated?
The translation costs charged by the translators are different for each type of document they translate. So, before price quote and translating they will definitely ask what document you are translating. Is it a personal file, a birth certificate, an educational certificate, a business letter, a webpage, or an app? It is important to tell the type of document you need to be translated so that they can provide you with the accurate price charged by them to offer translation services of your preferred document, say your birth certificate.
Question 2: Who will read your translated document?
Before you give the document to be translated specify the readers who are going to read. You need to mention the native language those readers speak. For example, if you are translating your birth certificate for those readers who speak Chinese in Singapore while your original birth certificate is in Malaysia's Malay language.  Then you must need the help of the native Chinese writers in Singapore who can translate your birth certificate in the Chinese language.
Get Fast & Accurate official notarization for ICA, MOM, MFA.
Question 3: What is the purpose of the translated document?
You also need to mention the purpose for which you need a translation of your birth certificate along with other documents. Will it be used for official purposes or to be presented in court or to be published on the web or magazine? You must answer the questions specifically in order to have the translators an idea on what approach and in which style they will translate your document. This translator also offers the best legal translation services singapore if you want your documents to be translated for court purposes.
Question 4: What are your requirements?
You must also specify your requirements and expectations. You must also specify if you are open to making use of machines to translate your documents which will be manually edited by our editors. This will also lower down your cost to translate the document of your birth certificate. You must also mention apart from translating your document, do you also need the services to certify and notarize your document? Moreover, do you also need to translate in a specific layout or not? Do you also need the document to be legalized and printed?
Question 5: What will be the preferred time and date to deliver your document?
The translators at SingaporeTranslators.Com will also ask you the preferred date and time to deliver your document. Mostly, our translators translate around 1000 – 1500 words in a day which depends upon language, content topic, format, references, and styles. If you need to be delivered on an urgent basis, charges will be extra.
Thus, you need to answer all the asked questions and you must also be specific of the requirements you need while translating your document. After analyzing all the requirements we will tell you how much our translators will charge. We take a fair price for all types of customized translation services. We are very transparent about our translation service cost and we never take any kind of hidden cost.
Price Rates of Birth Certificate & Other Document Translation
We various price plans for various types of document translation which generally depends upon the types of services and requirements requested by our clients. We offer personal, legal and Scientific translation services to individuals and also to large scale and small scale business organizations as per your budget in which our clients are comfortable with.
Hire a Language translator for converting your legal & Other Documents.
At SingaporeTranslators.Com, we usually charge $0.6 – $0.35 per word. Moreover, prices are calculated on the basis of the total words, languages, text techniques, document type and certification works. Moreover, additional services will incur additional costs. Our team of customer care professionals will make you aware of the extra and increased cost before you make an order of translation of your birth certificate. If there is urgent same-day delivery then the prices will go up by 10% – 25%.
To lower the prices charged for our translation services, our team of translators also waives off some of the service costs as well as provides discounts. To keep the cost low to translate your birth certificate and other documents, we waive off the hand-delivery fees, don't charge GST (goods & service tax), no admin fees, and also offer free freebies and attractive discounts on your every translation order. All the payment is accepted in Singapore Dollars. Another payment mode accepted is through cheque, net banking, credit/debit card, PayPal, etc.
Conclusion- Thus, the language translation services for every type of documents offered are best in terms of quality and prices at SingaporeTranslators.Com. So, we look forward to serving you with our best translators. So, simply contact us today and get with your birth certificate and other documents translation accurately at low prices with timely delivery.
---
---