Posted By Singapore Translators | Publised At 06/25/2019
Last Modified: 31
st
Dec 2019
370
Whenever you need to get Document Translation Services Singapore in Singapore where do you usually go to get help? Most of the people have answered that they prefer to go for online translation services for their documents. You can get professional translators online at SingaporeTranslators.Com who can easily translate any document, for example, your academic document.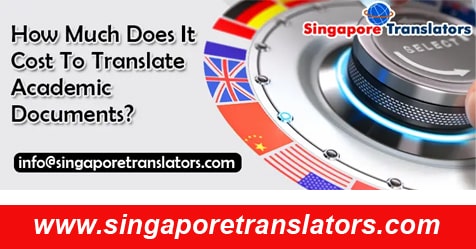 They provide the best translation services at cheap prices and that too very accurately and without any flaws. Most of the people who have never taken any online translation services to translate their documents have the most basic question on their mind which is –"How much does it cost to translate academic documents?"
Estimated Expenses to Translate Academic documents
There are different charges for different kinds of documents. If you want to translate your academic document then charges are different for each type of document translated. Moreover, if you randomly ask the translators about the cost they charge to translate your academic document they will only will able to say after looking at your original academic document. After reviewing your document and your requirements they will provide you the full price estimation. At SingaporeTranslators.Com, you will get the most reliable and cost-effective translation services Singapore.
Information's Translators Need to Know before Translating Documents to Figure out the Exact Price
If you are looking for professional services for translating your academic documents in Singapore then you must know that it is not an easy process. While you approach the professional translators online at SingaporeTranslators.Com the expert translators will extract some basic information from you so that they can provide an exact price to translate your document. There are different rate cards for different types of documents and customer's requirements since each and every document is translated with different processes and approaches.
Before the translators tell you the exact cost of the translation services offered by them they need some of the information to estimate the total price charged for the translation services. Here is the list of the information they require which are:
Different types of document has a different rate card. So, before deciding the price and translating the document, you must inform them of the type of document you want a translation for. This can be your academic document, personal document, educational pass certificate, business letter, webpage, etc.
You must also tell the translators in which language you need your document to be translated. For example, if you want your document to be translated in Chinese language then at SingaporeTranslators.Com you will be getting native Chinese translators to translate your document.
You must also inform the expert translators of SingaporeTranslators.Com for the reason to translate the document. You must tell if your translated academic document is meant for official use or for legal use or to be published in a magazine or digital media. If you are using for legal purposes at court then our translators offer the best legal translation services Singapore.
Hire a Language translator for converting your legal & Other Documents.
You must also inform about your other requirements apart from translating services for your academic document. Extra requirements will be charged extra and this includes certification and notarizing cost. If you have any requirement regarding translation in a specific layout or the document need to be printed and legalized you must specify that to the translators. The charges will be extra.
The professional translators mostly translate documents that have around 1000-1500 words in a day. But if your document exceeds 1500 words and you need it urgently and prefer same-day delivery then the charges will be extra. So, you must tell the preferred time and date on which you need the translated document delivered.
Therefore, before opting for translation services, you must specify all your requirements needed to translate the document. Only after scrutinizing all the requirements and your original document the translators will quote a fixed price that you will pay in order to translate the document. All prices decided by the translators are fair and they provide all types of personalized translation services at the right price. They are very transparent about the cost and they never charge any kind of hidden cost.
Expenses of Academic Document & Other Document Translation
We provide services of various types of document translation as per your requested services and requirements. All types of personal, legal, educational and scientific translation services are offered to the individuals as well as business organizations.
The translation services are customized as per the budget in which you are comfortable with. The cost of the document translation, say your academic document is charged generally $0.6 – $0.35 per word. The translation prices are decided on the basis of the overall word count, preferred language to translate, text method and style, type of document, notary works and certification services.
Hire a Language translator for converting your legal & Other Documents
In addition to this, extra services will invite additional costs too. Any type of extra cost will be informed in advance by our team of translators before you order our translation services to translate your academic documents. If you want the delivery of the complete translated copy urgently then the prices will rise up by 10% – 25% extra.
To keep the price of our translation services low, our teams of translators also surrender off some of the service cost in order to provide discounts to offer the cheap translation services. They also make the price furthermore low to translate your academic documents and other documents by deducting the hand-delivery fees.
They also add no charges on GST (goods & service tax), charge no admin fees, and also offer free perks and alluring discounts on your every translation order. All the payment is made in Singapore Dollars in cash. Other payment mode is through cheque, net banking, credit/debit card, PayPal, etc accepted by us.
Read More:- How Much Does It Cost To Translate A Birth Certificate?

Conclusion- Thus, we provide quality translation services through our translators and also offer cheap prices at SingaporeTranslators.Com. Therefore, get connected to us now and get done with your academic documents translation precisely at affordable and right prices with well-timed delivery.
---
---