Posted By Singapore Translators | Publised At 09/07/2019
Last Modified: 31
st
Dec 2019
327
Whenever you are going to get translation services to translate your documents you have always thought first about the budget. For example, if you are from Thailand and want to translate your Thai documents in Singapore then you will just prefer the native Thai language translators to do the job for you.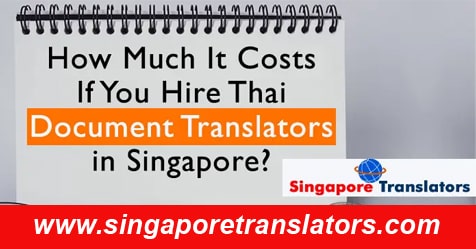 Moreover, there will be just one question which will come first to your mind. The question is that – "How much it costs if you hire Thai document translators in Singapore"?
There are many online translation companies in Singapore offering to translate Thai documents at cheap prices. One of the reliable translation companies is SingaporeTranslators.Com. This Singapore translation company provides the services of best Thai translators who accurately and perfectly translate your Thai documents into the English language in the best market value prices.
Get Best Thai Translation Services in Singapore
In Singapore, it is quite difficult to find a good Thai document translator who can accurately translate your Thai document at an affordable price. There are more than 500 offline and online translation companies in Singapore. Only a few translation companies such as the SingaporeTranslators.Com offer Thai document translation.
Moreover, you will also be surprised to know that different translation companies quote different prices for Thai document translation. If you consult the Thai translators from SingaporeTranslators.Com you will get the translation services starting at $0.88 per word onwards. Mostly you will be pay in Thai currency that is in baht.
When you are finding a Thai translator you should know the entire process of hiring Thai translators to do the translation for you as per your needs and requirements. In this blog, you will know how the right Thai translators are hired by the translation companies, fee structure, rates and their types of offered services along with the payment method.
Hire a Language translator for converting your legal & Other Documents
Online is the best possible way to find the perfect Thai translators who can translate your Thai business websites, Thai articles, Thai documents, Thai legal documents, movies, and contracts. Moreover, if you are also going to some meetings or gatherings where the Thai language is being used, then you can even get a professional interpreter who can translate and interpret the Thai language into the English language for your own understanding.
In Which Sectors Thai Document Translation Services Are Available?
It is important to discuss the types of translation services offered by the Thai translators at Singapore Translation. Even you will also get to know which sectors they offer Thai document translation services. You will be pleased to know that the specialized Thai translators are very trained, skilled and qualified in offering Thai translation services in areas of legal, agriculture, information technology, business proposal, and product & service information, etc.
Following are the sectors in which Thai translators' offers translation, which is:
Food & Healthcare
Report Translation
Certificates
Education Catalogs and Brochures
Business & Investment Proposal
Employment & Legal contract papers
Government Report
Company Annual
Immigration Documents
Academic Certificates
E-mails
Driving Licence
Medical Documents.
How to Choose the Right Thai Translators in Singapore at Cheap Price?
While choosing a Thai translator for your document translation you must keep in mind about the following points, which are:
Background Check:  Before you choose a Thai translator you must be aware of his or her educational background and years of work experience in translation. For example, there are many medical and legal translators who have earned their University degrees in the same educational field. It can also be said that a Medical graduate can perfectly translate a person's medical document from Thai to the English language.
No 1 Online Translation Services for Document & Legal Translations in Singapore
Even if the translator does not have a relevant degree, they still can do the translation. If they have the certificate of proof that they have pursued translation courses from the Thai Translator and Interpreter Association of Thailand. Apart from this, if the translator has experienced the translation of a similar field then this will be the appropriate translator for you.
Agreement Upon Budget, Delivery Date & Translation Method:  Before you hire a Thai translator you must speak with them regarding price or budget for translation, way of translating document along with the day of delivery.
If you want to lower the translation cost, you must provide the Thai translator with a sample or a full document for reference, delivery date along with the translation method. Once you have made it clear to the translator, the translation work will be done at cheap prices.
Moreover, the prices will be expensive if you do not produce the document, translation method along with the delivery rate. Moreover, you must also check that if the translation package is available with editing, revision, cancellation, etc.
What Are The Various Price Structure To Get Thai Document Translation From Professional Thai Translators?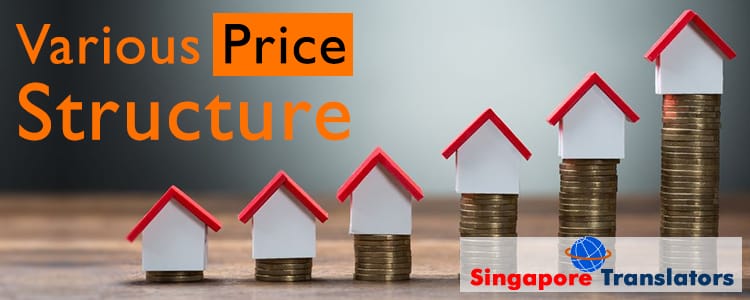 You can opt for getting Thai translation at a cheaper rate. There is various price structure which you can check and decide which will be suitable for you on the basis of the price.  You can determine the translation cost on the basis of the following factors which are:
Pay per Page: Thai translators in Singapore charges translation payment on the basis of the pay per page model. When you are translating from Thai to English, pay per page model is generally preferred overpay per word. This is because when you are translating Thai words into English word count, it yields more words and characters. Thai words are much more in count than that of English words. This also leads to making the translation words more and the cost also goes up, making it quite expensive. Hence, if you are charging on the basis of pay per page it is quite easier than those of counting words in pay per word model.
Pay per Word: The popular translation cost in Singapore is pay per word. This is simply done by calculating the words via Microsoft Word or Pages for Mac. In this, there are also other extra charges added which include tables formatting and posting translated copies on websites. In addition to this, the translation cost is also depended upon the type of main document, delivery speed, extra services of editing and proofreading.
Moreover, there is also another cost of getting the paper legalized or certified. You are also required to pay for certified translation services. So, the final price is not just decided by just word count. The final price is decided after adding up all the services along with translation costs by words.
Hire a Language translator for converting your legal & Other Documents.
Pay per Minute:  If you are engaging Thai translators to translate dialogues and subtitles of Thai TV shows and movies in English, the price structure is different.  The translation cost taken by the professional Thai translators is based upon pay per minute. If the translators are translating TV shows, movies, and cartoons by providing English subtitles with the rates are 40 baht per minute. This means TV shows and movie translation will go up by 2000 baht.
Pay per Hour:  When it is hard to calculate the cost of the translated documents by pages, words and minutes, cost calculation is done in terms of hours. It simply means the number of hours taken to translate the Thai documents and Thai files into the English language. In general, a Thai translator takes 200 baht per hour. So, the translation cost of a single assignment takes 8- 10 hours which means the cost is 1600- 2000 baht.
What Are The Other Factors To Determine Translation Cost For Thai Documents in Singapore?
The translation cost is determined in traditional methods like in terms of words, pages, minutes and hours. There are other services too which will make an estimation of the total translation price. These are as follows, which are:
Royalty fee:  Thai Translators are also paid in terms of Royalty also. It is the royalty fees paid in terms of percentage for translating books and e-books. The fees are calculated from the sales amount of the total books sale or printing amount of the total books printed. The general charges are 6% – 10% for books and 20% – 25% for e-books.
Added Associated Translation Services:  The translation cost if you hire Thai document translators also depend on various services they give while translating your document. It depends upon the translators' experience, skills, delivery speed and level of document translation, legalization and certification. The average market price of the services is 1 baht or 2 baht per word. It is also possible to find a much lower rate online. Moreover, for legal documents the translation and certification cost will be anything between 1500- 2000 baht.
Conclusion
Translation costs quoted by the Thai translators for translating Thai documents are determined on the basis of various price factors. So, if you want to know the exact price, you can contact the native Thai translators at SingaporeTranslators.Com to know more about the price and the Thai Translation Services.
---
---