Posted By Singapore Translators | Publised At 06/27/2019
Last Modified: 27
th
Aug 2021
2673
Most of the people in Singapore look for Low priced translation services to translate their documents, certificates, books or videos from one language to another language.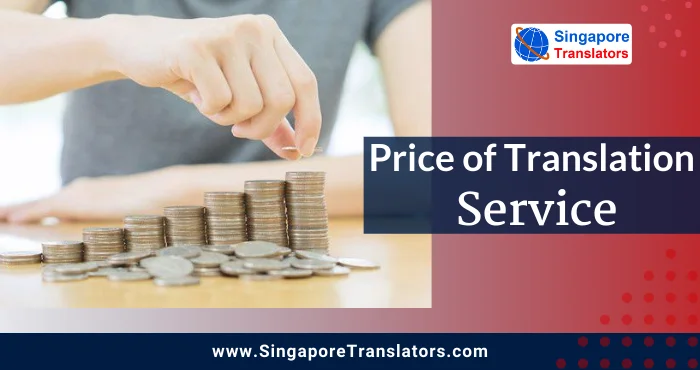 In Singapore, there are many private translators and government-certified professionals who offer varied certified translation services in Singapore. The people who want to take these translation services have always had one question in o their mind which is – "What is the cost of hiring a translator"
Estimated Cost to Get Translation Services
If you ask the professional language translators and translation companies and agencies in Singapore about the estimated translation cost to get services for any type of legal documents, educational documents and other files in various forms. Then the translators will not able to tell you the exact cost unless you show them the original document.
The renowned translation company – SingaporeTranslators.Com often gets questions from future customers about the cost of certified translation of their document and or any book or file translation. Emails and phone calls always come from customers to know our market rate of translation services.
There are different types and forms of documents in the form of paper, video, email and message screenshot, books, journals, etc which the customers ask to translate. So, the price for translation is different for each document translated. At SingaporeTranslators.Com, our team of Singapore translators after reviewing your original file and requirements will decide the price to translate the document.
Read More:- How Much Does It Cost to Translate 1000 Words?
On What Basis How Should You Pay For Translation Services?
The charges for taking translation services in Singapore are different for every document translated. Each document translation consists of various processes and different approaches.
Get Fast & Accurate official notarization for ICA, MOM, MFA.
Before you go for taking translation services you will be required to know on what basis and on what services you will pay for getting translation services. Before paying translation fees, you need the details of the services which you are paying for getting documents translated.
Following are the details which will provide you an idea of services for which you are paying:
You need to be informed of the price range of translation services for each type of documents and other files and materials. Price is different for every type of document and material translated. So, you need to know the right price for translating personal files, birth certificates, legal certificates, academic certificates, passport web pages, mobile applications, etc. This will let you know the accurate price of your preferred document.
How much does a translator cost?

Prices of translation services also vary from language to language. Before you opt for taking translation services you must tell the online and offline professional translators the preferred language you need the document to be translated. The cost of the translation service also depends upon the language too.

Translation services prices are also different for various translation purposes. Before you pay the price you must know that charges are different if you get the document translated for personal use, legal purposes or online publishing uses.
If you take just the translation services then the price will be slightly lower. But if you need the extra services such as editing, proofreading, revision, certification, notarizing along with other requirements then your translator rate

will go up.

Charges for translation services

also depend upon the time to deliver the translated document. If you need urgent delivery within a day then you have to shell out more money. But if you need a normal delivery date then the price will be slightly lower than the urgently delivery time.

How much does it cost to translate a book? Well, obviously, the pricing varies according to the company's quality and professionalism in translating the book. Also, how many words, pages and many other factors of a book carry affect its cost for the translation. As an example, a certified translation agency in Singapore charges a book translation cost of around $0.10 per word or  $25 per page if we consider 250 words per page.
Thus, you must be specifically aware of these details while you pay for the document translation services in Singapore. You must analyze all these details and ask the translators the right price after you tell them your requirements. At SingaporeTranslators.Com, you will get the best price for the services you take. Moreover, there are no hidden costs charged by the translators.
Price Plan of Document Translation Services
At SingaporeTranslators.Com, you will get various types of rate cards of different types of translation services you take. This is generally depended upon the types of services you take and the requirements you have. You can get all types of personal, business, scientific and legal purpose translation services here. All types of translation services are offered to cater to the needs of personal and business uses.
Hire a Language translator for converting your legal & Other Documents.
You can choose your preferred translation services as per your preferred budget and also as per your needs.
How much translation cost per word? If you employ online professional translators from SingaporeTranslators.Com, then you will be usually charged $0.6 – $0.35 per word. Moreover, if you take legal document translation from the government based court interpreter then the translation payment will be about $45 per page with inclusive services of certification and notarizing.
How much does it cost to translate a birth certificate? At SingaporeTranslators.Com, we usually charge $0.6 – $0.35 per word in accordance with the total words, languages, text techniques, document type and certification works. Our team of customer care professionals will make you aware of the extra and increased cost before you make an order of translation of your birth certificate. The urgent and same-day delivery may raise the prices up to 10% – 25%.
Translation services singapore rates are determined and calculated on the basis of the total number of words translated, language type, text techniques and types of documents along with the requirement of certification. If you take online translation services at SingaporeTranslators.Com, then the expert translators will let you know about the exact cost of translation services after you take extra services before you pay for the translation services. You must also know that the price charged for the urgent delivery of document translation will be 10% – 25% extra than the normal delivery of document translation.
Price Relief for Online Translation Services
If you opt to take online translation services such as SingaporeTranslators.Com for legal translation services Singapore then there will be some price relief and offers provided to you for lowering the entire price of translation services. To keep the average cost of translation services affordable, you will get free hand-delivery services for your document translation.
No 1 Online Translation Services for Document & Legal Translations in Singapore.
Moreover, you will not be charged for GST, admin fees, etc. You will also get attractive discounts for every translation order you make. Moreover, there is a safe payment gateway to make all the payments online. All the payment is accepted in the local currency of Singapore, which is Singapore Dollars. You can also pay through cheque, net banking, credit/debit card, PayPal, etc.
Final Words- Thus, now that you are aware of the prices charged for translating various types of documents and files, you must not lose any time and get the best-priced translation services at SingaporeTranslators.Com within the deadline.
---
---