Posted By Singapore Translators | Publised At 22/11/2019
Last Modified: 16
th
Oct 2023
If you have a fantasy to become a successful document translator or language translator in Singapore then you can be one someday in your life. All you need is to put effort into proving yourself as a professional certified translator. This includes having the necessary required education and translation training to start your career in the Singapore translation industry.  There are various sectors like healthcare, legal, educational, etc. in which you can work as a full-time as well as a freelancer translator.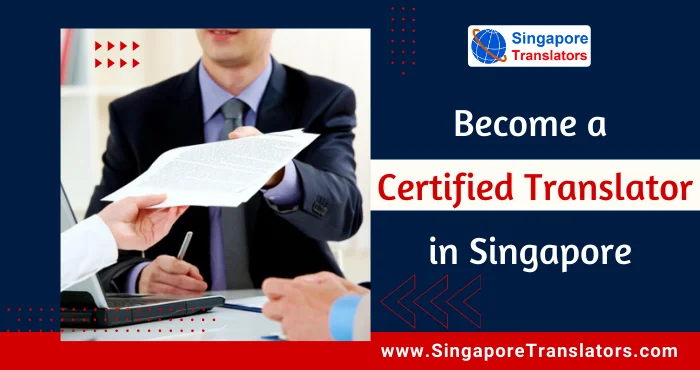 Moreover, there are many translation companies like Singapore Translators where you can tie- up with it and work as a translator for their client's various translation requirements. Sometimes you can even work from the comfort of your home and earn handsome pay every month. If you are looking to how to become a certified translator and to get translator certification Singapore, then our total guide will help you. Now let us know more about the scope of becoming a certified translator in Singapore by fulfilling your "how to be an official translator in Singapore" request.
Who is a Certified Translator?
A certified translator is an authorized translation professional whose work is to translate written and spoken information and details from one language to another language. They work as a professional translator in various government and private sectors like legal, corporate, publication, educational, translation companies, etc.
There are many other career options in the translation industry where you can work as a translator. They do the translation work perfectly under the deadline. A certified translator translates all types of documents perfectly accurately and error-free. 
Get Fast & Accurate official notarization for ICA, MOM, MFA.
How to Be a Certified Translator in Singapore?
If you want to be a certified translator in Singapore, then you have to fulfil the following criteria which are:
Get Required Education Degrees & Language Knowledge:
A bachelor or a master's degree in any discipline from a reputed college or university is required to be a qualified translator. Without a college degree or university degree, you cannot be a professional translator in Singapore. In addition to a college degree, you can also choose a professional language translation course or any translation certification programme in Singapore. Though it is not necessary to get a translation course, still if you do that then you can add extra merits to your resume.
Moreover, other than your mother tongue and English, if your language skills of a foreign language like Malay, Chinese, Spanish, French, Thai, Japanese etc then it will attract more translation job opportunities for you. Moreover, you can even get various translation projects from various clients and translation services providers in Singapore. 
Obtaining Translation Certification:
In order to become a certified translator, you must obtain some certification from an authorized body that is of great value. For example, you can achieve the designation of being called an official certified translator from authorized associations like the American Translators Association (ATA). You can get ATA certification by appearing and clearing certification exams conducted by the American Translators Association (ATA). ATA is the most popular global certification organization providing certification to all the budding translators of the world.
Moreover, if you want to be a professional medical translator and legal translator then it is important to get certification from the National Association of Judiciary Interpreters and Translators and National Board of Certified Medical Interpreters (CMI). These are the selected certifications that you need to get if you want to call yourself a certified translator in Singapore. 
Having Language & Communication Skills:
The most important key skill in a certified translator is that they must be completely fluent in at least two languages. Moreover, they must also possess the perfect communication skills and knowledge of Microsoft Office and related translation software. In addition to the list of the added skills, you must also fully understand and have knowledge of the culture and tradition of the speakers of the languages in which you are specialized. 
Thus, these are the educational requirements and key skills which you need to fulfil to become a successfully certified translator in Singapore. Moreover, please note that the average salary of a certified translator doing document translation and language translation is approximately $43000 as per the 2015 reports as stated by the US Bureau of Labor Statistics. 
Jobs Opportunities for Certified Translator in Singapore
Some of the employers like industries, corporate bodies, and translation companies like SingaporeTranslators.com hire certified translators who are fresher or have approximately 5 years of translation experience. Moreover, you can also seek translation internship opportunities in various hospitals, sporting events or the Red Cross to build up your experience in your maiden translation career. 
Moreover, you can also join translation companies like SingaporeTranslators.com to be a certified translator for better career opportunities. You must also keep a portfolio of your work to impress the probable employers for achieving well – paid translation jobs. 
Why Work With Singapore Translators As A Certified Translator?
Singapore Translators is one of the best translation companies to provide accurate and flawless certified translation services. If you join as a certified Singapore translation professional at SingaporeTranslators.com then you will get regular translation work as well as an attractive regular income every month. Working as certified translators here is easy and even the chance of getting innumerable translation projects is more at SingaporeTranslators.com. 
Conclusion
Now it is clear to you how to be a translator in Singapore which certified by govt. You are also informed about the skills and requirements you need to have in order to become a professional certified translator in Singapore.
So, just fulfil those requirements and achieve the skills to become a successful translator by starting your career at Singapore's finest translation company – singaporetranslators.com. 
No 1 Online Translation Services for Document & Legal Translations in Singapore.
---
---