Posted By Singapore Translators | Publised At 07/03/2021
Last Modified: 18
th
Dec 2021
3088
All About Ica Long Term Visit Pass for Parents
Long term visit pass for parents is the Singapore pass that grants the parents of Singapore citizens to stay in Singapore for a long period. If you are Singapore permanent residence or citizen, you can sponsor a Long-term visit pass (LTVP) for parents. If you are puzzled and not finding the right instructions to apply for the pass. Don't worry. In this article, you will get all the information required to apply for LTVP for parents.  Continue reading to get complete details.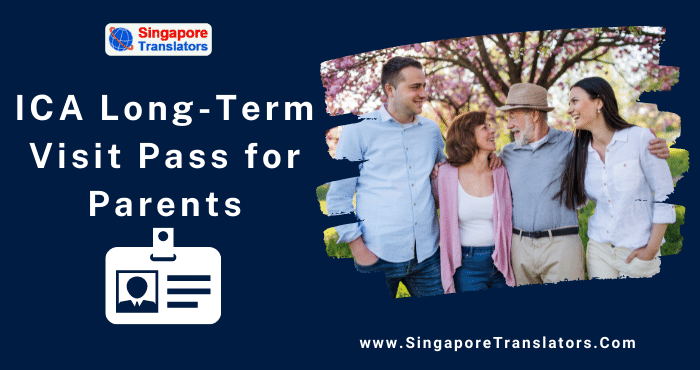 However, if you are in a hurry to get an accurate visa document translation, then you should seek our Singapore translation service without thinking twice.
Long term visit pass for parents
Long term visit pass for parents is the pass that allows you to stay in Singapore and enjoy the rights similar to the Singapore permanent resident. After getting approved for a long-term visit pass, you can legally travel in and out of Singapore continuously for 2 years.
When your parent receives the long-term visit pass, then they can lawfully stay in Singapore for two years. The only caveat is that your parents will not be granted to start working in Singapore with a long-term visit pass. But this condition is not an issue, as several parents are simply working in Singapore even after applying for a long-term visit pass. However, your parent will only be required to apply for a work permit and get the job to start working in Singapore.
Note: For officially getting your work permit documents translated in English you can choose a Singapore translator that offers you certified Translation Services Singapore.
Get Fast & Accurate official notarization for ICA, MOM, MFA.
What are the Documents required for LTVP for parents?
Here are some of the relevant documents that you and your parent need to submit while filing the application:
The document required from the parent:
Your parents will require submitting a photocopy of the personal details page of the valid passport.
You need to submit the Disembarkation/ Embarkation (D/E) card
The applicant will require attaching the most recent passport size digital color photograph taken within the previous three months. You can check more about photograph guidelines by visiting the official website of the immigration and checkpoints Authority (ICA).
The adoption paper also needs to be submitted, if any.
Documents that need to be submitted by the Singapore citizen or permanent resident child more than 21 years of age ( sponsor)
The valid birth certificate
You are also required to submit the marriage certificate, if applicable.
The child who is sponsoring their parents will require presenting the certificate or diploma presenting the level of academic qualification.
The sponsor will require submitting the income tax notice of assessment for their previous three years and the central Provident fund statement that shows the CPM contribution from the last a year.
The Singapore citizen or permanent residents will also require to present the letter of employment while sponsoring their parents for a long-term visit pass. The letter of employment should mention the date of commencement, monthly salary, and designation.
Those who are self-employed or run a company in Singapore will require showing valid registration from the Accounting and Corporate Regulatory Authority (ACRA) and the company's profit and loss account for the last 12 months.
You are also required to submit the payslips for the previous six months.
If the Singapore citizens or permanent resident spouse (if applicable) is sponsoring, the parent will require submitting the following documents:
Must submit the income tax notice of assessment for the previous three years along with the past one-year statement of central Provident fund showing monthly CPF contribution.
You will require to submit the letter of employment mentioning the date of commencement, monthly salary, and designation( if applicable)
Those Singapore spouses who are self-employed and runs their own company in Singapore will require to present the valid company registration certificate from accounting and corporate regulatory authority along with the last 12 months company's profit and loss statement (only if applicable)
In the end, you will require to submit the payslips for the last six months.
Important points to note:
It is recommended for all the long-term visit pass holders to make the renewal request for their long-term visit pass two months prior to the expiry date of the current LTVP.
Those applicants who are staying in Singapore as a long-term visit pass holder for the first time; they will require making the renewal request ten days prior to the expiry of their visit pass. This is because those willing to stay in Singapore need to have a long-term visit pass throughout their stay in Singapore. Also, they will require having valid passports issued on their name.
Procedure
Those willing to sponsor their parents to join them in Singapore will require a Singpass 2FA to submit the long-term visit pass application online through E-service.
Both sponsor and applicant will need to complete the appendix (VP); it is the consent that you need to fill and provide to immigration and checkpoints authority which is used to verify sponsor and applicant financial status, including the Inland Revenue authority of Singapore or central Fund Board of Singapore.
After that, ICA will contact the sponsor or applicant if they require any additional documents or schedule the interview if needed.
Hire a Language translator for converting your legal & Other Documents.
Fees
You will require paying a S$30 processing fee for every application you file.
Payment can be made using:
You can pay the application processing fee by using the below-given payment method:
You can pay the fees by Visa or MasterCard credit or debit card, or
You can pay through Pay Now.
You can also use an American express AMEX credit card to pay the application processing fee or,
You can also use direct internet debit DBS/POSB, OCBC, UOB, Standard Chartered Bank and Citibank Internet Banking accounts in Singapore) to pay the fees.
Important note: Additional fees might also apply upon collection
The time it takes to get LTVP pass.
When we talk of application processing time of long-term visit pass, it depends on the type of cases, as the application processing time may vary from 7 working days to 6 weeks. There are many cases in which the application gets processed within seven working days, but also there are other cases when the sponsor and their parents require waiting for six weeks for their application to get processed. No doubt it's quite a large range of time, just make sure that the documents you submit should be accurate and in the right manner.
If your application processing time is within the estimated time, you must keep waiting for your application to get processed. If there is any update regarding your application, the immigration and checkpoints authority will update you to your provided mailing address or to your E-service. On the other hand, if your application is within the processing time, its better not to contact ICA to enquire about your application's status as you will be asked to keep waiting ICA will notify you soon.
While your application is under process, you might require providing some of the additional original documents or a photocopy. The ICA might contact applicant and/or sponsor to either submit some additional documents or for attending the interview if required.
How to check your application status?
It is very easy for you check the status of applicant. In order to check the current status of your LTVP application you or your parents can check the current status of the application through Foreign Identification Number (FIN) on the ICA website.
What is the duration of LTVP for parents?
Upon approval, the long-term visit pass for your parents will be valid for two years. In these two years parents will enjoy similar immigrant's rights as enjoyed by Singapore Permanent resident.
Frequently asked questions about LTVP for parents
Can PR apply LTVP for parents-in-law?
Yes, it is one of the benefits of obtaining a Singapore permanent resident. In addition, Singapore permanent residents can apply for long-term visit pass for their immediate family member, which includes Spouse, children (below the age of 21 years old) and parents.
How much does it cost to renew LTVP?
S$60 mainly for the long-term visit passes applicants. S$30 for Multiple Journey Visa (if applicable) S$40 extension fee (if applicable)
Can I work holding a long-term visit pass?
You can only start working in Singapore if you have a valid work pass and a confirmed job offer. Also, remember, you cannot work on some of the restricted occupations.
Can I apply long term visit pass for siblings?
No, instead, you can apply for a short-term visit pass for your sibling that is valid for 30 days, and if your sibling wishes to stay for some more days in Singapore, then you can apply for an extension of short term visit pass whose approval and denial depends on the application and are in the hands of ICA.
How do I renew my long-term visitors pass for parents?
In order to renew your long-term visit pass, you will require signing in to your EP online to make the request for renewal. The outcome of your renewal request will be sent to you via mail.
Singapore translators – One stop solution for immigration documents translation
We hope the above article gave you the feeling of relief that now finally your parents can join you in Singapore. Properly read all the information and inspect every document before submitting it to ICA.
Hiring Singapore translators to act as a one-stop solution for certified Immigration Documentation Translation services in Singapore, here we have a team of experienced translators who can Translate Long Term Visit Pass foreign language documents into English without even changing the actual meaning of the word, you can also get a complete guide of In-principle approval from us.
No 1 Online Translation Services for Document & Legal Translations in Singapore.
---
---