Posted By Isabelle | Publised At 01/02/2021
Last Modified: 9
th
Jul 2021
493
Import permit certificate is an important document that is useful for import business in Singapore. So, when you are in the business of importing goods and services from other countries to Singapore, you need to apply for import permit certificates. You need to submit some documents in order to gain IPC. If required, you need to translate those documents. You can obtain import permit translation service online at good translation agencies. Here, we will talk about the translation needs of import permit certificate (IPC).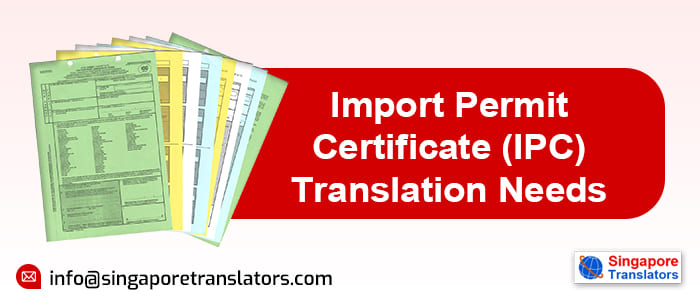 Import Permit Certificate: Definition & Significance
Import Permit Certificate is an essential official business document that makes import business easy. This permits you to import goods and services from other countries and sell them in your own country. Import Permit Certificate (IPC) allows making trade and business liaisons with countries.
Possession of IPC enables you to easily import goods without facing any legal restraints and restrictions. Initially, IPC is issued in your country's native language. However, if you want to use IPC for making trade and business relations with countries, translation of IPC is very crucial.
You can relate to some examples that reflect the need of translating import permit certificate. For example, if you are from China and want to import some products from Singapore. For this, you need to translate your Chinese IPC into the English language. As you know that one of Singapore's official language is English. In the same manner, if Singapore companies want to import their goods and products to China, they should translate their IPC into the Chinese language. Thus, such as the need and importance of getting Import Permit Certificate translation. You can hire local translators online to translate Import Permit Certificates.
Get Fast & Accurate official notarization for ICA, MOM, MFA.
Documents Required to Get Your Import Permit Certificate in Singapore
Import Permit Certificate application in Singapore depends upon some important documents. These are:
International Import Certificate (IIC): International Import Certificate (IIC) is important for importing those goods and services that are government-controlled in Singapore.
Import Certificate and Delivery Verification (ICDV): ICDV certificate is another document that is valid only you have IIC. Moreover, while applying for ICDV you must apply for an inter-bank Giro account. This is a customer account and you must activate it as soon as possible.
Other Documents:   While applying for an import permit certificate it is important to submit documents like Exporter's & End-User's declaration & statement. Along with this, you also need to provide technical specifications and details of your products that your company is importing from another country. These documents are datasheets, product catalogs, brochures, user instruction, and manuals.
Therefore, you can have seamless access to import permit certificates in Singapore if you have the above documents. Once you have all these documents ready in your hand, translate them as soon as possible by native translators. Without translation, it is impossible to import products from other countries. You should also know that this task of document translation for business is vital. Only professional translators can do it accurately.
Hire a Language translator for converting your legal & Other Documents.
Why Do You Need to Translate Documents to Obtain Import Permit Certificates?
It is important to translate relevant documents to obtain import permit certificates. When you are in the importing business with other countries, you need to translate IPC and other documents due to official reasons. Without translation, it will be hard to understand for the target country. If you translate IPC and other documents like International Import Certificate, Import Certificate & Delivery Verification, Exporter's & End-User's declaration & statement, product catalogs, brochures, user instruction, etc then your foreign exporter will be able to understand the trade and import requirements perfectly.
These documents are must for the translation since it improves trade and business relations with your exporter. Moreover, you can import products legally without any restrictions. So, for accurate IPC documents, and translation, you can take translation assistance from professional translators at reputed online translation companies.
Conclusion
Import Permit certificates are crucial for importing goods and services from other countries to your own country. Moreover, you also need a translation of import permit certificates and other relevant documents. So, once you gather all the documents for your import business, go for translation of these documents as soon as possible. This is for improving trade relations with your exporters. So, you need to get professional native translation professionals to offer you accurate IPC translation services at affordable prices.
Get Accurate Import Permit Document Translation by Paying Singapore Translators
You can purchase accurate import permit certificate document translation online by paying native Singapore translators. This is exclusively available at www.singaporetranslators.com where you can get top-rated import certificate translation. Our certified legal translators will provide you accurate translation of IPC documents along with IIC, ICDV, etc at fewer prices within the deadline. You can even get PR application documents translation at an affordable cost with us. Our experienced translators translate the documents with an accurate tone of language, authenticity, and readability.
Thus, if our certified translation services in Singapore satisfy you, order a translation with us at www.singaporetranslators.com.
No 1 Online Translation Services for Document & Legal Translations in Singapore.
---
---