Posted By Singapore Translators | Publised At 10/22/2019
Last Modified: 7
th
Oct 2021
1030
There are many translation companies like SingaporeTranslators.Com which gives their customers the option of proofreading services. Proofreading is just the process to make the translated documents free from errors and mistakes. Such is the importance of getting proofreading services.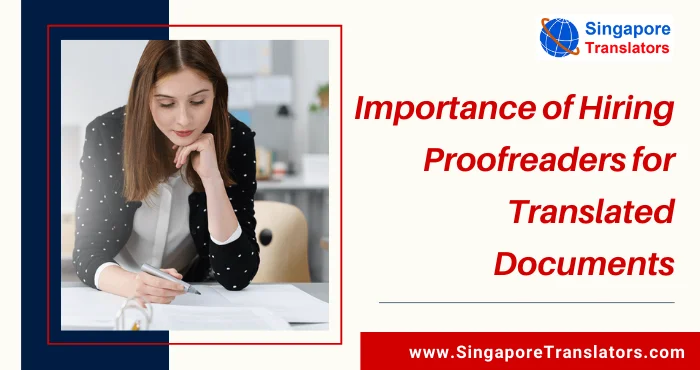 Simultaneously, also the importance of hiring proofreaders for translated documents are well supported by most of the Singapore translation companies. It is up to you if you want to get your translated documents to be proofread or not. But, it is recommended for your own profit of getting proofreading help by hiring expert proofreaders for translated documents.
Is It Really Worth Hiring Online Proofreaders?
Most of the people think if it is really worth hiring online proofreaders for proofreading your translated important documents and papers. One of the most renowned translation companies is SingaporeTranslators.Com, which offers the best translation services for all types of documents.
Moreover, if you want proofreading services you will get it from their experienced translators. The experienced Singapore translators at SingaporeTranslators.Com also have the skills of proofreading. This means that you don't have to look out for additional proofreaders for your translated documents.
These expert translators are also professional and experienced proofreaders who will strictly check and proofread the entire document. They will check for flaws and errors, and if found any they will fix it immediately. You can get both the benefits of having accurate document translation and proofreading services in a single roof.
Worthy and best proofreading services are available only at SingaporeTranslators.Com. Therefore, hire professional proofreaders for translated documents only at this renowned and professional translation agency called SingaporeTranslators.Com.
Why You Need Proofreading Services From Proofreaders For Translated Documents?
Proofreading is truly an important job which is an integral part of your document translation services. You cannot afford to miss it unless you want your translated document to be of finest quality. We have provided some of the crucial reasons to make you understand the need for taking proofreading services from professional proofreaders for every translated document.
The reasons are as follows:
To Eradicate Errors & Mistakes: The professional translators at SingaporeTranslators.Com are humans and not machines. So, it is likely that humans will make mistakes while translating documents. So, professional proofreaders or experienced translators who have proofreading skills are needed to eradicate errors, spelling mistakes, and grammatical errors and all kinds of numerous mistakes.
To Make The Translated Document Superior Quality: An author or a writer is so engrossed in writing a document that they sometimes overlook the silly spelling mistakes, grammatical mistakes, and typo errors. When these documents are translated, the only word to word translation is done. Even in the translation task also checking mistakes and errors is overlooked.
But, if you take the help of the professional proofreaders then they will proofread your documents to be error-free and flawless. Even the translators who have proofreading skills can proofread the document after translating it. They proofread it fix all the spelling errors and grammatical mistakes along with silly typo errors. In the task of proofreading, they translate the document to make it quality rich and error-free.
To Save From Mockery By Critics & Audiences:  If a translated book that is full of errors and mistakes gets published, the critics and readers will make a mockery of the published translated book. They will make fun of the translated book and the author due to mistakes and errors.
But, if these errors and mistakes get checked and fixed by a professional proofreader or a translator having proofreading skills then there will be no mockery at all. Instead, applause and praise will come from the readers and critics. In the same manner, if the translated document is proofread then the audience will too appreciate it instead of mockery.  They will never get displeasure while reading the document.
What Are The Benefits of Having Proofreading Services Along With Document Translation?
Online proofreading services from SingaporeTranslators.Com are beneficial in various ways. The proofreading help from professional proofreaders or the experienced translators having proofreading skills at translation companies like SingaporeTranslators.Com is very beneficial.
Get Fast & Accurate official notarization for ICA, MOM, MFA.
This is has been discussed below, which are:
Proofreading to maintain the accuracy of the translated text or document.
Proofreading is done to enhance the language quality of the translated text.
Proofreaders do proofreading to carry out a critical review of the translated text. This is done to find out if the translated document is accurate, in proper style, incorrect punctuation, stability, and proper readability.
Proofreading services from expert proofreaders make sure that the translated document is precise, consistent and delivers the right and correct message in the target language.
Hiring proofreaders at SingaporeTranslators.Com will also give you extra services apart from proofreading. The professional proofreaders also provide services of copy editing, revision, re-structuring or re-writing, etc.
Importance of Correct Tone in Proofreading and Editing
The presence of correct tone is as important as proofreading and editing, Proofreading is possible by ensuring that the tone of the translation is appropriate for the target readership, depending on cultural or geographical differences, dialects, past experiences with similar content in other cultures…etc. Language specialists are often needed when it comes to evaluating thoughts and feelings within the text. Translators should not simply translate word for word in most cases- they should consider how meaning is conveyed through tone. Interpretive meaning is explicit when using specific nuances of grammar, vocabulary choice and sentence construction to convey subtleties in mood or implications that don't exist in one language when translated into another language with different cultural values or contexts which affect how it will be taken.
How to Use the Tone in an Appropriate Manner in Documents?
There are various things that the writers must consider to write a particular message in an official document. This determines the right tone used in writing the message in the document. The various factors to determine the use of the right tone in the official document are as follows, which are:
Why I am Writing or Translating This Document?:  Before you write or translate a particular official document, you must know the importance and use of the document. When you are thinking about why I am writing or translating this document, you must be aware of the purpose of writing or translating the document. You must know the purpose of that particular document because it will help you to convey the message in a perfect tone.
It is clear that you want the message of your document to be sent to the audience so that the readers will take some action as a response to your written message. It is the same in the case of translating that written document. If you hire professional technical document translators they will be able to write or translate it appropriately.
Hire a Language translator for converting your legal & Other Documents.
For example, you are writing a reply to a job acceptance letter to a particular employer, but you are not sure of choosing the tone. The purpose of writing this message is that you are ready to accept this job and also thanking the employer for this job offer. This tone of writing makes them know that you have really appreciated this job offer. Moreover, you are equally ready to join this job.
For whom I am Writing or Translating the Document?:  When you are going to write or translate the message or information in the main document, you must know who is your reader and audience. You must now decide whether you are writing or translating official documents and letters for your employer or colleague.
So, if you know who are your readers then you must express the thoughts and information in such a way that it will make a great effect after the message reaches the audience and the readers. The tone used to write or translate the official document may directly inspire or not inspire the readers after reading and understanding the content of the document.
For example, you are writing a cover letter in order to apply for a job in a company. You may be feeling unsure if you are going to get selected or not selected for the job. If you use phrases such as "My qualifications make me a perfect applicant for this job…", then the readers (employers) will think that you are sure that you will get this job and also confident enough to handle the job responsibilities. On the other hand, if you use phrases such as " I don't know if I am worthy for this job or not, but still if you give me chance to…", then the readers will take this particular phrase which means that you are not really qualified for the job or not exactly excited to join the job.
Which Type of Tone to Use?:  In order to write or translate for business-related documents, you can use the above-used tones. But it also must use a tone that is sincere, courteous and confident enough to give highlighting the proper subordination. Moreover, the overall tone of writing should not discriminate against anybody and must benefit the readers.
Conclusion
As you know how proofreading services from professional proofreaders can help you get an error-free and flawless document. You can get top-quality proofreading services by hiring experienced proofreaders from online translation companies like SingaporeTranslators.Com. They offer flawless proofreading services at cheap prices in Singapore. Moreover, they also complete and deliver the completed translated and proofread documents within the deadline at your email address.
---
---