Posted By Singapore Translators | Publised At 19/10/2019
Last Modified: 2
nd
Sep 2021
1104
Tourism in Singapore is one of the most booming industries developing across Singapore greatly, and this is the reason why it is important to take tourism translation services in Singapore. You will find thousands of people visiting Singapore from various parts of the world. If you see the tourism records of Singapore, you will see that most of the tourists are coming from India.  Peoples from India are the highest visitors in Singapore.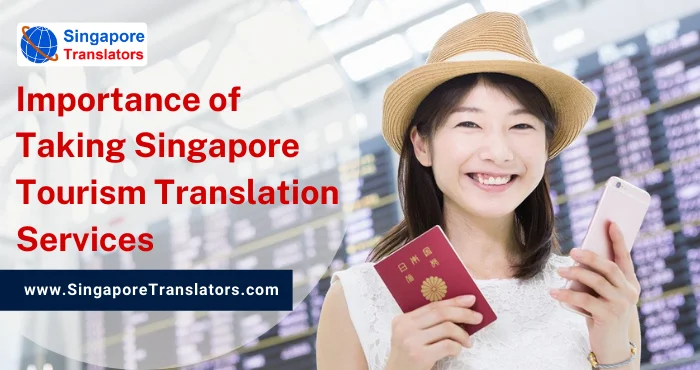 Indians are attracted to Singapore's most sought after tourist destinations like Sentosa Island, Gardens by the Bay, Singapore Botanic Gardens, Merlion and many more jewels of Singapore. Every many people mostly Indians visit Singapore. Thus, if as a tourist you are visiting Singapore then you must take Singapore purism translation services as the utmost importance.
There are many translation agencies in Singapore where the professional translators help the tourists from India as well as other countries to translate their important documents like passports, visa, bank statements, and other related important documents.
In Singapore, one of the most renowned and trusted translation agency is SingaporeTranslators.Com. This is the most reputed translation company offering all types of accurate document translation in multiple languages at very budget-friendly prices. Now, let us put more light on the importance of taking Singapore tourism translation services and know more about it.
Importance of Having Singapore Tourism Translation Services
When you think of getting Singapore tourism translation services, SingaporeTranslators.Com comprises the foremost position in offering top-class multi-lingual translation. The professional translators at SingaporeTranslators.Com offer all kinds of translation of tourist documents in Arabic, Chinese, Hindi, Tamil, English, Dutch, Greek, Malay, Mandarin, and many more global languages over 300+.
Get Fast & Accurate official notarization for ICA, MOM, MFA.
Moreover, the Singapore translators also offer translated documents in your own languages which comes in handy while on your visit to Singapore. This includes guides of exclusive knowledge of Singapore's arts, architecture, tourist places, food, culture, heritage, nature, transport, shopping hub, etc.
All this information is translated into your native language so that you can understand it clearly. This will help you have a better perspective towards the exquisite place called Singapore.
Singapore takes special care of the tourists and makes them comfortable in areas of linguistic matters. The Singapore tourist board offers services to the tourists visiting Singapore with professional guides who can help them visit Singapore. These government hired guides to take you around Singapore and also speak your own native language.
Moreover, it is also up to the tourists to translate their non-English documents into one of the official Singapore languages which are the English language. Translation services will only make them have a comfortable stay in Singapore without going into nay official or legal hassle.
What Are The Important Documents Which Needs To Be Translated For Singapore Visit?
If Singapore is your next travel destination, you must keep in handy some of the important translated documents. These translated might be of some use in a foreign country like Singapore. Moreover, the Singapore visa officials and immigration officers like to have translated documents which, they will feel easy to understand it.
Hire a Language translator for converting your legal & Other Documents.
The following are some of the important documents which are required for translation, not only for tourism purposes but also for legal and official reasons. The documents are:
Your last 6 month updated bank statements.
Last 3 years of updated income tax returns.
Translated Pay slips given by your company.
Address proof
No objection letter signed by you.
Travel application letter to Singapore embassy.
Leave application letter from your company. If you have kids accompanying you, also provide schools' approved leave letter.
Translated documents of health insurance, medical certificate, and criminal records.
How Singapore Translators Offers Tourism Related Document Translation Services?
At SingaporeTranslators.Com, you will get the following services:
Accurate and flawless translation in your preferred languages.
High-quality translation services like editing, proofreading, and revision.
Affordable translation with the fastest delivery without any delay.
Translation using the right tone, understanding both the languages.
No 1 Online Translation Services for Document & Legal Translations in Singapore.
Conclusion
Therefore, translate important documents taking help from the Singapore Translators online at SingaporeTranslators.Com. The expert translators translate your documents in an accurate manner so that you will never have any problem while your visit to Singapore.
---
---