Posted By Singapore Translators | Publised At 12/02/2019
Last Modified: 31
st
Dec 2019
796
When you are going to take notarized translation services in Singapore you must have thought to yourself that "Is every document translation need notary?" or "Do all documents needs public notary translation services?" You should need to understand the importance of notarizing your document.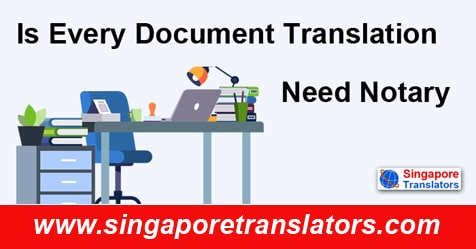 You should also know that not all documents are notarized, for example, personal documents like letters, books, personal messages, etc. Unless these documents are not used for legal and official purposes, you can drop the idea of notarizing these documents. 
However, the best place for getting notarized translation services of all your documents in Singapore is SingaporeTranslators.Com. This is one of the best translation and transcription service providers in Singapore to provide accurate and cheap document translation and notarization services.
Now let us check out which document translation needs a notary and which documents do not require notarized translation in Singapore. 
Which Documents Needs Notarized Translation?
Those documents which are often used for official and legal purposes needs notarized translation. In this regard, a native and experienced translator will translate your important official and legal document like birth certificate, passport or visa documents as a part of your immigration formalities. The translated document is then signed and stamped by the court registrar or a notary public in order to certify its accuracy.
This certificate of accuracy is given with every document with certified translation. Therefore, in this process, it provides validation and authentication to the documents. These validated and notarized translated documents are accepted by all Singapore organizations like ICA, APA, MOM, etc. 
Hire a Language translator for converting your legal & Other Documents.
When you consult Singapore Translators for notarized translation of documents you must also specify which translated documents need to be notarized. If you request notarizing documents like birth certificates then you must request them online for 'birth certificate notary translate'.
However, the native translators will not be able to tell you which documents need notarized translation. These translators are not the authorized person to tell you about which documents need notarized translation. This job of finding out which translated documents needs notary is entirely your responsibility. You must check with the target audience and authorities to detect which documents need notarized translation. 
In general, most of the educational institutions, government offices, courts, law firms, and other offices accept only those translated documents which are notarized by a notary public or any legal professional. Even personal documents like letters, emails, and messages which are meant to be used legally as court evidence also need notarized translation services in Singapore.
When you order document translation of a particular document you must put a request to the translators that if this document requires a notary. Thus, as per your request, they will offer accurate and perfect notarized document translation services with the preferred delivery time and decided budget. 
Which Documents Are Provided With Notarized Translation Services?
In Singapore, there are some organizations that still require notarized translation of documents. Educational institutes, immigration offices, Singapore embassy, Singapore companies recruiting foreign employees and courts accept only notarized document translation.
Hire a Language translator for converting your legal & Other Documents
Moreover, if personal documents are to be used for legal and official purposes then you can also get notarized translation of these documents after consulting with the court or your lawyer. Thus, the Singapore Translators help their clients and customers in getting customized document translation and notarization services of their important documents. 
Here are some of the document translations they provide notary services which are:
Marriage certificate notarized document translation. 

Birth certificate notarized document translation. 

Divorce notice & its certificates notarized document translation. 

Educational certificates and academic records notarized document translation. 

Passport & Visa notarized document translation. 

Medical reports & prescriptions notarized document translation. 

Police clearance certificate and police records notarized document translation

. 
Therefore, for any legal document translation and its notary requirements, you must ask the target audience and authorities if they need to submit notarized or certified translated documents.
After you get your answer, you can approach the Singapore Translators to offer your best-notarized document translation at attractive prices alluring deals in the market. 
What Levels of Notarized Document Translation Services You Get From Singapore Translators?
You will get nothing but only top-level notarized document translation services from the Singapore Translators. These are explained as below:
Translation With Global Acceptance:
All the notarized translated legal documents and official documents obtained from Singapore Translators are recognized to be valid.  It is fully at global organizations like MOM, ICA, LTA, companies, Singapore colleges and universities, and courts. 
Translation With Right Language Tone:
Before offering notary services to a particular document, the translators at Singapore Translators accurately translate the documents using the right language tone and accurate understanding of legal terminologies.
The translators translate the documents in so authentic manner that the language tone of the original document is translated with the right language tone which matches with the target language. 
Translation Services From Exclusive Native Translators:
You will get native translators who can accurately translate your document. If you want to translate your document from Chinese to English, then you will get only native Chinese translator's help who are native Chinese speakers but are also fluent in English. 
No 1 Online Translation Services for Document & Legal Translations in Singapore
Accurate Sworn Translation:
If you want notarized translation services from sworn translators in Singapore, then you are also able to get accurate notarized translation from them. They offer to provide notarized translation services in documents like court order papers, legal declaration, copyright, wills, power of attorney and property rights papers, etc. 
Flawless Notarized Document Translation:
All the Singapore translators offering notarized document translation services care to deliver flawless and error-free translated documents. This is done with the introduction of editing, proofreading, and revision. 
Conclusion
Thus, now you have been told and explained why you should confirm with the concerned authority regarding the need for notary services in the translated document.  Moreover, when you realize that a particular document needs to be notarized apart from translation then you must consult with the Singapore Translators for notarized document translation instantly. Thus, hire Singapore Translators for notary services for translated documents at cheap prices.
---
---