Posted By Singapore Translators | Publised At 08/24/2019
Last Modified: 31
st
Dec 2019
220
Most of the companies in Singapore aspire to expand their business globally to earn more profits and international recognition. If you have a trade or business proposal for other countries then you must take language translation services.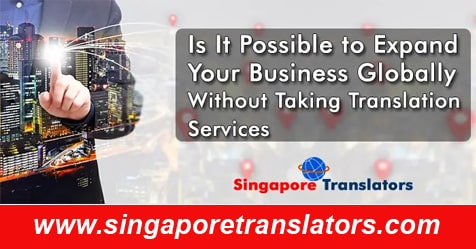 If you have a business to expand globally, then you might have thought to yourself that "Is it possible to expand your business globally without taking translation services?" The answer is quite clear that it is impossible to expand your business without taking translation services from the distinguished language translation company in your town.
If you want to expand your business globally, then all it takes is to hire the best translation company in the town. SingaporeTranslators.Com is the best and reliable translation agency in Singapore that offers end- to- end language translation solutions of all types.
The dream to expand your business in the international market starts with the right translation help which you will get from the SingaporeTranslators.Com.
How Translation Is Possible To Expand Business Globally?
In today's world, everything is possible due to the invention of the Internet. The Internet involves advanced digital technology and resources to do effective and reliable business translation to spread your business in multiple countries.
There are many companies in Singapore who wants to build up business relations with other countries. If your company is one of those who want to get the opportunity to expand their business internationally, then you must research clearly about getting a reliable translation agency. You must select the right translation agency before you dive to expand your business.
After having created your own business brand with huge customer following, you might have aspired to increase your business in global markets. But, did you ever thought that how you are going to do that?
Online is the best way to get your business done with various online translation services that offer business translation online at competitive rates. SingaporeTranslators.Com – the most high-rated translation company makes business translation possible through native Singapore translation experts. Here you will get accurate translation without any flaws and errors.
Must Read:- Presence and Importance of Correct Tone in Official Document Translation
Why Do You Need Translation Services To Expand Your Business Globally?
In order to launch your company brand products and services in the global markets, you will require translation services. It is easy to run your business in your own country. But, when you want to explore new customers and new business markets globally, you must do proper planning. It is very challenging to run a business in the international market.
You must plan accordingly and hire a good local translator who can translate all your business proposals, ideas, business deal papers, business contract papers, company broachers and pamphlets about your products and services. All these translations must be done in the language as per your choice if you want to business globally.
It is important to hire a good and qualified language translator which can help you with accurate translation without doing a single error or mistake. If you hire the right translator from the right translation agency like the SingaporeTranslators.Com, then you can successfully scale great heights with your company brand and services in a brand new international market along with new customers.
Hire a Language translator for converting your legal & Other Documents
If you take help from the local translators to translate all documents related to the new business venture into the language of the target country, then it will be very easy to make easy contacts with the business establishments and customers. Now you have a great business deal and spread your business in the international market via the language of that target country.
Thus, it is now clear that without taking translation services, you cannot move an inch in order to expand business globally.
Related Link:- How Much Does It Cost To Translate Academic Documents?
What Are The Best Ways To Start Your Business Globally While Taking Helping From Translation Service Providers?
It is definitely not a small task at all, especially when you are going global with your company's products and services. If you want to taste success in the international market, it requires meticulous research, innovative strategy and smart execution of ideas. Thus, we have laid the best tips to get started with your business globally with the help of the translation service providers. This includes:
Financial Planning:  Before you embark on a new international business plan, you must review your funds so that you can get to set some goals. You must have sufficient funds to expand business globally. Mainly, business loans come in handy for starting a new business in a different country. If you want a business loan to expand your business globally, then you must think in a different way.
So, instead of taking a business loan from your own country. If you want to get a loan from that foreign bank, then the translation services of the translator are very much required. The translator can translate all your documents related to the business plan and other documents so that you can get a business loan.
No 1 Online Translation Services for Document & Legal Translations in Singapore
Business Partnerships For Marketing & Distribution:  When you are about to build a new business relationship with a different country, then you must gain the best business partners with whom you can do marketing and distribute your products and services in that foreign land. They will help you to identify the target customers and make new markets.
If you want a strong business partnership with them, it is important to take translation services in English. Only, in that way, you can do business with them if you communicate with them using translated business deals, proposals and letters in the language understood by them.
Get The Best Translation Services:  Language is considered to be the biggest hurdle when you expand your products and services in the global markets. Chances are also there that the probable client or customer will not speak English at all, for example in Korea, China, Japan, etc.
So, to attract their attention to your products and services you must inform them about your products and services in their own language. So, there you will 100 % require the help of the translator who can do all the necessary translation for you.
In order to entice the customers of that particular country, you must approach them with a translated version of your company website, product brochures, and manuals, e-mail, advertising and marketing materials, etc in a language that is known to them.
Conclusion
Thus, if you co-ordinate well with the translators and inform them about your business requirements, then they will offer you the best translation services as per your choice. They will provide you the best translation services which can help you to expand your business in the global markets.
You will even gain new clients and customers quickly if you take a translation service from the translator. This is because the translated documents about the products and services of your company will inform them about your business. Thus, get the dedicated translators from SingaporeTranslators.Com to help you with various translations of your business documents.
---
---