Posted By Singapore Translators | Publised At 10/19/2019
Last Modified: 31
st
Dec 2019
218
Every year hundreds of peoples from across the globe migrate to Singapore permanently. They get their Singapore PR certificate so that they can stay in Singapore as a permanent resident. But, if you need a Singapore PR certificate you must fill up the PR application forms, In addition to this, you are also required to submit all the relevant immigration-related translated documents to the Immigration & Checkpoints Authority (ICA).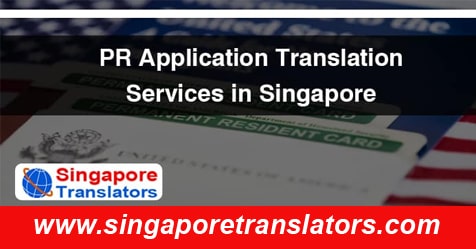 You can take online Singapore certified translation services at various translation companies like SingaporeTranslators.Com. This is one of the most reliable online translation agencies offering trusted and accurate PR application document translation services. The professional translators at SingaporeTranslators.Com offer accurate and flawless translation which is 100% accepted by the ICA officials. Therefore, let us check out more Singapore PR application translation services.
What Do You Mean By Singapore PR Application Document?
Singapore PR application document is the process to get acceptance of staying in Singapore permanently. If you are from another country and wish to settle in Singapore then you must apply it only at the website of ICA. To apply for a PR certificate you are not required to pay any kind of processing fee. On the other hand, you are liable to pay $100 as entry permit charges once your PR application is processed successfully.
While you are applying for a PR application online, you need to submit some documents which are needed for immigration and also to get a PR certificate. If your documents are not in the English language, then you must engage Singapore translators from professional translation companies like SingaporeTranslators.Com. They will accurately translate all the necessary documents which are needed to apply for a PR certificate. Moreover, all types of PR application document translation are available at very cheap prices.
What Are The Supported PR Application Documents Which Needs Instant Translation?
The most important documents needed for PR application certified translation are:
Medical Reports.
Employment Clearance certificate for abroad jobs.
Supported Documents To Study in Singapore.
Legal documents like birth certificate, marriage certificate driving license, etc.
Other documents needed for official and legal purposes.
Financial records. Etc.
What Are The Types of PR Application Document Translation Services Offered?
You need to keep yourself connected with the translators at Singapore translation services to get accurate PR application document translation. The services include are:
The Singapore translators translate all the important documents related to the PR application perfectly and accurately. Their translated documents are accepted by organizations like ICA, MOM, LTA, courts, business organizations, etc.
Our dedicated Singapore translators offer translation to maintain quality with the help of editing and proofreading.
Multi- lingual translation by professional native translators.
Translation with the right tone and great understanding of both the original and target language.
Affordable translation cost, with no charges in handling, administration, and digital delivery.
Timely delivery of all the translated documents before the deadline.
How to Get PR Application Singapore Translation Services?
You must go online to get the best PR application Singapore translation services. There are various translation companies offering online translation services like SingaporeTranslators.Com. You can check its website upload the scanned copies of the documents you need.
Once the translator reviews and tells you the total price to be paid online. After you confirm the payment online, they will start translating your documents and deliver them within the deadline.
Conclusion
Thus, if you want the best Singapore PR application document translation services then you must discuss with the translation experts at SingaporeTranslators.Com. These translators not only translate the PR application document but also offer the best services of editing and proofreading. Moreover, all the translation services are available at cheap prices and are delivered within the deadline.
Thus, hire professional legal translators for best and accurate PR application translation services only at SingaporeTranslators.Com. So keep connected with Singapore translational companies for PR application translation services.
---
---