Posted By Singapore Translators | Publised At 30/11/2021
Last Modified: 12
th
Oct 2023
Renewing the passport is one of the essential things everyone needs to proceed with as quickly as possible rather than delaying it to the last minute. However, applying for the renewal 1-2 months before the expiry date is always recommended.
But still, many passport holders procrastinate the renewal process to the last minute from the Embassy of the Republic of the Union of Myanmar, Singapore. It is always a great idea to enlist your important renewal dates along with the documents required for renewal, certain travel-related documents.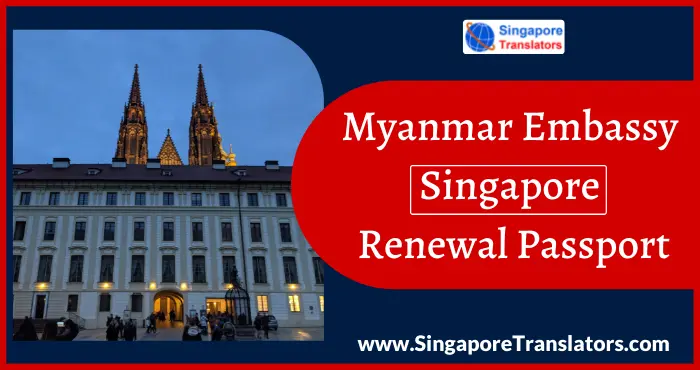 Still, you will find that the name Burma is still stated on some passports, mainly those that were issued a long time ago (older generation). Burma was turned into Myanmar in 1989. In previous years, most of the UK and US used to continue the same name Burma, but in new passports, this has disappeared.
Our guide contains all the information you need to find out how to renew your Myanmar passport at your local embassy in Singapore. Below you'll find all the details you need about forms, how long it takes, and what it costs.
Requirements for Myanmar passport renewal at Singapore Embassy
1. Application Form (One photo within 6 months) taken online
2. (It is also required to take the photo at the Embassy to be used in the MRP Passport)
3. Original and a copy of Passport (Photo page and Observations pages)
4. WP/ SPass/ EP/ PR Card ( Re-Entry Form-7 ) (Original and Copy)
5. Tax receipt ( Copy & Original )
6. If Applicant is Dependent
(I) List of Households/Birth Certificate/Marriage Certificate ( Original And Copy )
(II) Copies and Originals of Passport, IC of your host ( For PR, need to submit Re-entry Form)
7. If the Applicant is a Student, he/she needs to submit a Student Pass(Original And Copy)
8. If an Applicant is a seaman, he needs to provide CDC (Original and Copy) and a Certificate of
Completion of Basic Safety Training (4-Tickets)
9. the applicants who want to change to PJ-type passports and holders of PJ-type passports, need to provide copies and the original WP/Spas/EP/PR card (with Re-entry Form-7). For the PR, it may need to show IRAS or a Company letter.
** For all PR, need to submit with Re-entry Form-7.
** If the applicant cannot provide original documents, his/her application will be rejected.
** Please note that the Consular Officer reserves the right to request additional documents as
necessary
What Are the Steps for Myanmar Passport Renewal?
The process to renew a passport is similar for most of the nations as in Singapore. You need to start the renewal process by scheduling an appointment with the Singapore relevant embassy; all the required paperwork must be done, along with paying the required renewal fees.
After scheduling an appointment with the relevant embassy in Singapore to renew your Myanmar passport, you will get an appointment letter. You need to carry the appointment letter along with you while visiting the embassy.
Also, keep in mind that while renewing the Myanmar passport in the Singapore relevant embassy, an in-person appointment is essential, and you will have to give an entire day to this process. For some countries, renewing a passport requires more detailed paperwork.
Get Fast & Accurate official notarization for ICA, MOM, MFA.
It is important to remember that you won't get your travel documents on the same day as the interview. It will be mailed to you after the interview is completed and may take up to 21 days.
However, neither you are granted to stay in Singapore nor return to Myanmar or any other destination until you have received your renewed passport. That's why you should have enough time to wait for its processing.
At the Singapore embassy, passport renewal for Myanmar will be governed by the 'Q System.' You will be assigned a time and a queue number; however, don't expect to be in a hurry.
Is There a Myanmar Passport Renewal for Overstay?
If you overstay in the country even after your passport or visa expiry, you will have to pay a fine for each additional day, you stay in the country.
Luckily, the overstaying fines are fairly lenient. You are only required to report the office's overstay and pay the required fines, which typically is around 3 USD on each additional stay.
Where to Download the Myanmar Passport Renewal Application Form?
You have the option to download the passport renewal form given under the 'passport renewal' section of the Singapore embassy website.
Here we will also discuss the photo requirement of the travel documents and several other necessary information. However, you do not have the option to submit the Myanmar passport renewal request online.
You need to get a printout of the passport renewal form fill in all the details related to the passport renewal and take it with you while visiting the embassy for further formalities. If you fill up any of the information incorrectly, the embassy has complete authority to reject your application and then you will have to restart the process again.
What Is on the Myanmar Passport Renewal Form?
Following is the information you will need to provide on your renewal form.
You need to write your full legal name (make sure it's correct).
Any former names (including maiden names).
Any other names you go by.
Your actual date of birth.
Your place of birth.
Your nationality.
Your religion.
The number and date of issue of an existing Myanmar passport.
Your national registration number.
Your height and weight.
Your hair and eye color.
Any distinguishing physical features (such as body decorations or birthmarks).
The date of your arrival in the country.
Your purpose for travel.
Your current occupation and employer details.
Any educational qualifications.
Details of any countries to be endorsed on the passport.
The reason behind filling a request for passport renewal.
Can I Do a Myanmar Passport Renewal by Mail?
No, the renewal of the Myanmar passport is not possible through the mail since it needs at least 1 appointment in person at the Singapore embassy. As a result, you cannot complete the renewal process entirely through the mail. As stated above, you require at least 1 whole day in the consular office for the renewal process.
Since the document renewal form is quite lengthy, you should be glad that you have an appointment scheduling option available. It removes the possibility of any mistakes that could delay the process.
It is your duty to carry the photographs with you while coming for the meeting at the Singapore embassy regarding the passport renewal. Since the embassy does not have permission to click the photographs, the photographs that you submit must have been taken in the previous 6 months.
How Long Does It Take to Renew a Myanmar Passport?
Typically it takes between 10 to 45 days to get the renewed Myanmar passport. The renewal process depends on the consular office that you have selected for renewing the passport in Singapore.
Depending on your location, you may also qualify for a fast-track process. There may be a fee involved in expediting your renewal process.
How Much Does It Cost to Renew a Myanmar Passport?
Regardless of your location, you will be at least required to pay the renewal fees in the local currency. The relevant cost that the passport holder needs to pay for the renewal is as follows:
35 USD for a straightforward renewal.
The cost of renewing an expired passport is 55 USD.
Passports with more than 1 year left on their validity must be renewed for 70 USD.
The Singapore embassy might ask you to present the receipt of the airline ticket. That's why it is always essential for you to go through the updated requirements before requesting the Myanmar passport renewal.
Hire a Language translator for converting your legal & Other Documents.
Where Do I Go to Renew My Myanmar Passport?
By now, you might be aware of the essential details you should know to renew your Myanmar passport at the Singapore embassy. In the below section, we provide you details of the place where you can get your Myanmar passport renewed in Singapore.
How to Do a Myanmar Passport Renewal in Singapore.
As already specified, the first thing you need to do to renew your document in Singapore is to schedule an appointment in advance with the consular. It is essential for every passport holder to do so since walk-in appointments are not acceptable unless there is an extreme emergency.
The address of the embassy is:
No. 15
St. Martin's Drive
257996
Singapore
Fill in the paperwork and carry your photo with you. Make sure you carry enough cash to renew your documentation. Only cash payments are accepted at the embassy in Singapore.
It is always recommended to carry extra cash since several unexpected things might result in additional charges. So it's always necessary to be on the safer side to avoid delay in renewal.
Hire our certified translators for the ICA translation service 
If you follow each step and carry all the related documents to the embassy to renew your Myanmar passports, things will go smoothly without getting delayed. There is no doubt that it will take some time for you to receive the updated passports.
However, if you need a translation service for any travel document, you can reach out to us at info@singaporetranslators.com for quality ICA translation service.
No 1 Online Translation Services for Document & Legal Translations in Singapore.
---
---