Posted By Singapore Translators | Publised At 01/04/2021
Last Modified: 3
rd
Jun 2022
1347
Singapore is a highly developing country in Asia where people from different cultures live. One may want to shift to Singapore and be a Singapore permanent resident for family growth and maintain high standards of living. However, there are a lot of factors one should consider before making this decision. Further, a Singapore PR empowers foreigners to live indefinitely in the country of Singapore. Moreover, the permanent resident visa allows them to avail themselves of the benefits and freedom as that of the citizens.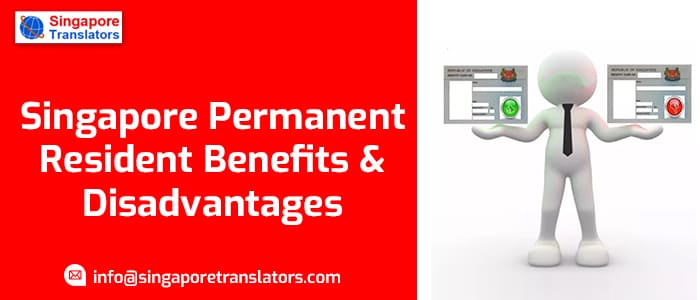 The ultimate goal of foreign residents in Singapore is to obtain Singapore permanent residence. Besides, there are a lot of benefits that come with it. Therefore, every applicant should weigh the Singapore PR benefits and disadvantages at least somewhat differently. As nobody else can decide which characteristics of PR are more or less important to you.
Singapore Permanent Resident Benefits / Pros
Being a permanent resident in Singapore offers a lot of benefits and advantages on your part. With this status, you get to do a lot of things that are not made available to other immigrants in the country. So, here is a list of some basic advantages a Singapore resident can avail:
Getting a stable immigration status in Singapore is one of the major perks of PR in Singapore.
A Singapore PR enjoys a lower tax on real estate purchases. That is to say that you can get a house in Singapore without the need to pay an expensive price for it.
Besides, Permanent residents can enjoy a series of benefits that includes simpler procedures of getting visas to travel to various countries.
The spouse of a PR can still enjoy good immigration stability with an option to apply with Long-Term Visit Pass (LTVP).
One may enter and leave the country without having to apply for separate Singapore visas to work or travel. You'll therefore receive a Blue Card, which acts as your identity document.
Moreover, adult permanent residents of Singapore can sponsor their immediate family members for LTVP or permanent residency in Singapore. This, however, is subjective to a lot of parameters that include financial, career, objective, and so on.
Further, the public government medical service rates for citizens and permanent residents of Singapore are comparatively less
Government primary and secondary schools give priority to permanent residents over international students during enrollments. They also get the benefit of lower school fees as against that paid by foreigners.
So, if you're planning to expand your business and live in high standard society, you may get these major benefits. Therefore, once you complete the procedure for applying PR in Singapore and ICA verifies it, you're a citizen.
Get Fast & Accurate official notarization for ICA, MOM, MFA.
Singapore PR Disadvantages/ Cons
In addition to all these advantages, you need to understand that being a Singapore permanent resident also imposes certain obligations. There is a need to be aware of all these to ensure that you will be able to maintain good standing as a permanent resident. A citizen of Singapore may have to bear the following cons such as:
To get citizenship in Singapore, you will have to denounce citizenship in your home country. Singapore does not allow dual citizenship.
A Central Provident Fund (CPR); the contributory fund is necessary for all working Singaporean citizens and PRs.
Moreover, If you wish to withdraw all your CPF in a lump sum, the only option is to renounce your citizenship status.
Eligibility to lease the public flat for an SPR citizen is only after completing the waiting period of three years.
Further, if you arrive in Singapore with expatriate compensation provisions then your employer may terminate some or all of those elements once obtaining PR status.
All PR males, at the age of 16,  need to register for the national service. Moreover, serve a tenure of 2 years, full-time national servicemen, after they turn 18 years.
Therefore, an individual needs to consider all these pros and cons of a Singapore PR resident before applying for it. Most importantly, the advantages for one may be a disadvantage to another. Also, if you're from a non-English speaking country, you'll even have to translate your immigration documents for verification. Consequently, considering your personal situation one should submit the Singapore PR application. If the ICA approves all your immigration documents, you will therefore have permanent residency in Singapore.
No 1 Online Translation Services for Document & Legal Translations in Singapore.
---
---