Posted By Singapore Translators | Publised At 14/08/2021
Last Modified: 2
nd
Jun 2022
776
Guide to Invest in the Stock Market in Singapore
Singapore is one of the most prominent destinations to buy shares. Even lots of foreign entrepreneurs prefer to buy shares listed in the Singapore Exchange (SGX). There are no restrictions imposed on the investors in the share purchasing procedure in Singapore. Choosing to invest in the share market, especially in Singapore, always gives you greater outcomes. Several Singaporeans have never invested in the stock market, but still, they are aware of the stock exchange. It is the marketplace for all the investors who are willing to buy and sell stocks. However, even after lots of facilities and online platforms, several people are unaware of buying shares in Singapore. Don't worry; in this article, we have come up with few steps that will guide you to Purchase Singapore Company Shares.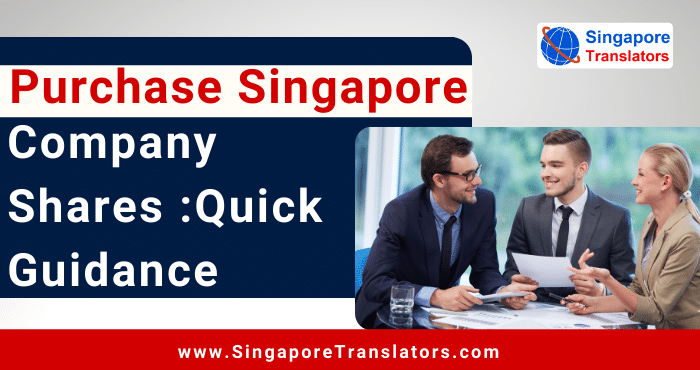 Steps for investing in stock in Singapore
For investing in the stock these steps are very helpful for you.
Step 1: Open an investment brokerage account
Buying stock doesn't mean visiting the shop and wrapped it in a plastic bag. Instead, if you are looking to trade in stocks, you will require setting up an investment brokerage account to sell and buy the stocks. A brokerage is defined as the firm that serves as a middleman between the investor and the stock exchange.
The brokerage account charges the trading fees as a percentage for every trade, and some brokerage accounts might ask for the fixed minimum fee, which you need to pay to the broker on each trade. Brokerage fees might affect the profit, so it's better to compare before choosing the brokerage account.
If you are a beginner looking for a reliable brokerage account, it's recommended to go with SAXO Markets or Phillip Securities (POEMS). This brokerage firm charges low fees and no minimum commission if you purchase on the Singapore exchange.
Besides the brokerage fee, you should also look for the broker's online platform preview since you will be investing through the platform.
However, if you are willing to purchase the Singapore stock under your name, then you will need to set up a Center Depository Account (CDP).
Step 2: Open A CDP Account
If you are buying stock or shares in Singapore for the first time, you will need to set up a central depository (CDP) account.
A central depository account is a vault that records all your Singapore exchange stocks you have purchased in the centralized location. In most situations, when you purchase the shares/stocks using the brokerage firm, then the brokerage firm doesn't keep the stocks; instead, it gets reflected your CDP account by your name. The benefit of setting up a Central depository account is that stockholders can conveniently move to other stock brokerage firms to keep on selling and buying the stock without harming the holdings.
Also, remember, not every brokerage firm quickly reflects the stock you bought from the firms to your CDP account. For example, standard charted and FSMOne does not provide the facility of reflecting the stock you bought directly to your CDP account; instead, they hold the stock and act as a custodian on your behalf. However, those brokerage firms that give you the CDP Linked account facility also offer separate custodian account.
Custodian accounts provide low brokerage charges because all your securities are retained with them. As a result, you will be considered a customer instead of simply shifting to another brokerage firm. Moreover, there are certain charges for custodian accounts that every individual should know before investing in shares.
How to open a CDP account?
Prior to opening your CDP account, you will require complying with certain eligibility criteria given below:
Applicant should have either a saving or current bank account in any following banks: Citibank, DBS/POSB, HSBC, Maybank, OCBC, Standard Chartered Bank, UOB.
You must be 18 years of age or above.
You must not be considered bankrupt.
While signing up for your CDP account online, you will require to submit the following given things:
You must submit the softcopy for either of your Identity Card or passport or 11B and passport [for NSF]
Any of the following documents dated within the previous three months:
Bank statement from any of the MAS licensed banks;
Central Provident Fund (CPF) statement;
Latest Notice of Assessment of your personal income tax.
Get Fast & Accurate official notarization for ICA, MOM, MFA.
Step 3: Fund your investment brokerage account
Prior to starting trading in Singapore, you will require to deposit money to your account. The brokerage firm has set minimum funding criteria, so you will require to ensure that you have the required amount.
Brokerage firm usually accepts the funding through the following payment methods:
FAST transfer via internet banking
PayNow transfer
Remittance from overseas, such as with services like TransferWise
Step 4: Decide on what stocks to invest in
The above-given steps were very basic steps involved in buying stocks in Singapore. Now from this step, you will learn the actual meaning of investing in Singapore.
Here we have listed some of the popular but relatively
Once you have deposited funds in your account, you are now ready to buy the shares through the broker's desktop or mobile platform.
If you are one of those investors who have never tried investing in the stock market and don't have enough funds, you might be thinking of keeping things simple by spending a fixed amount of money each month on a generic ETF such as the STI ETF. This method is commonly known as the dollar-cost averaging method and also allows you to make investing easier and safe at the same time.
If you have decided to use the dollar-cost averaging method to start investing in the stock market, then in such a method, market timing doesn't matter. In this method, the idea of investing is for the long-term, the ETF will rise, and if you choose to buy a small fixed sum every month, you will be inviting risk through several ups and downs of the market. However, you can also invest a bit more amount whenever you think you are consistent.
In case you have a bit more funds to invest in the stock market, then choosing to purchase three types of security, i.e., Blue-chip stocks, Real estate investment trusts (REITs), exchange-traded funds (ETF), will provide you the quite stable portfolio.
Before deciding to invest in a particular stock, ensure to research the historical share prices through brokerage platforms or even Google and wait for the market for opportunities to purchase at a good price.
Step 6: Chill out and collect dividends
The Singapore stock market is an ideal choice for those investors willing to rest and collect dividends regularly instead of searching for those stocks that give a growth potential.
At the same time, if you are searching for growth stocks like Google and Tesla, then you will require to trade stocks on an overseas exchange, which is also quite an easy task.
The majority of the dividend-providing stock's payout four times a year, which means every quarter. However, there are several exceptions in a stock yielding dividends; certain stocks provide dividends 1 to 12 times a year.
Several brokerage firms allow you to reinvest cash dividends automatically; if you do not choose this option, then there are larger chances you will get the dividends in cash. You can choose either of the options; either quickly reinvest the cash online using the dollar-cost averaging method or keep holding the cash until you find the great deals in the market.
Which Brokerage Firm Should You Choose?
Before choosing the brokerage firm, every investor should consider the commission charged by the stockbroker. If you compare the commissions of all the brokers across Singapore, then you will find that most of the brokerage firm charges all the more similar commission in between 0.08% and 0.28% of trading value, or the minimum fix commission charged by the stockbrokers in between $10 and $28 per transaction. The charges might also differ based on the kind of trading account, i.e., CDP-linked or custodian, which you prefer to open.
Besides brokerage commission, investors also require to consider other factors when choosing the firms.
Fund Transfer
When you decide to purchase the stock, you need to think about which payment method you will choose to pay. For most investors, opening a brokerage account with their existing savings bank account is more convenient.
For example, suppose you already have an OCBC savings account, you may choose to open a brokerage account with OCBC Securities. If you do so, it will make the stock-buying process and payment of the stock easier. If you are buying the shares, the stock price will be automatically deducted from your designated OCBC savings account. Likewise, the received money will be automatically transferred to the same account when you sell the stocks.
It's a very straightforward process to link your bank account with any of the brokerage accounts you set up in Singapore to buy and sell stocks. After that, you can simply make the payment to electronic payment for shares online or by visiting the automatic teller machine. However, you also have the option to make payment through GIRO.
Overseas Investments
You might be beginning your investment journey with stocks listed on the Singapore exchange. After you become more confident and experience, you can also deal with overseas investment. Several top brokerage firms grant you to invest in some of the major overseas stock markets like the United States, Hong Kong, Thailand, China, Malaysia, and others.
Also note that buying and holding the overseas stocks might come with additional commission, including currency conversion rates and charges link with your custodian accounts.
Platform 
All the brokerage firms are different from each other. That is why it is suggested to the first try using a demo account with the brokerage platform (if possible) that you are choosing to experience the service and platform. If the brokerage platform you are using doesn't grant you to try the demo account, you should take the reference from your friends regarding the platform prior to opening an account with the stock brokerage firm.
Safe stocks for beginners to buy in Singapore
Blue-chip stocks
Bluechips, including Singtel, DBS, and Keppel, is the most popular Singapore stock. Though these stocks don't grow rapidly like several other overseas company shares (like Tesla), this stock is considered one of the most stable stocks of Singapore's exchange. As a result, several investors choose to hold on to these stocks for a longer period and enjoy collecting dividends.
Exchange-Traded Funds (ETFs)
Are you looking for an even safer stock than Singtel? Then going with ETFs like Straits Times Index (STI) ETF and the ABF Singapore Bond Index Fund is an ideal option. As per the reports, the stocks are considered as top best-performing stocks in Singapore. So if due to any reason, Singtel shares fail, your STI ETP will not be affected just like Singtel shares.
Choose our certified translators at an affordable price
We hope after reading the above article you might be aware of the process of Purchasing Singapore Company Shares. So do not miss any step as all the steps are equally important.
If you seek a reliable legal documents translation service, then getting in touch with Singapore translators will be worth your every penny. We have a team of experienced translators who believes in offering you high-quality business translation service Singapore. No matter you are seeking ACRA document transition or any other document translation. You will get everything under one roof.
No 1 Online Translation Services for Document & Legal Translations in Singapore.
---
---