Posted By Singapore Translators | Publised At 10/12/2019
Last Modified: 31
st
Dec 2019
1821
It is important to get professional translation help to submit your Singapore PR application document. This is the final nail to your application status of a permanent resident to stay in Singapore.
So, to get PR application in Singapore, you must take certified translation services of PR supported documents like birth certificates, marriage certificates, etc from expert language translators at SingaporeTranslators.Com.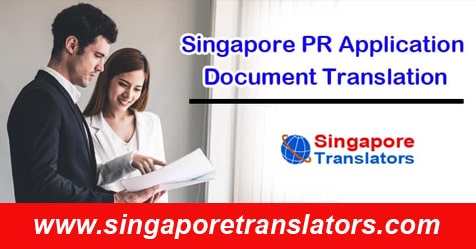 Here, you will get professional translators in this online language translation company which specializes in offering PR application document translation services all over in Singapore. After the professional translators translate your PR application document, it is required to be submitted at the Immigration & Checkpoints Authority.
What Do You Mean By Singapore PR Application Document?
Singapore PR application document or Singapore permanent residence is applied by those peoples in Singapore who wants approval to officially and permanently settle in Singapore. Recently, it has been stated that all the supported Singapore PR application documents will now be received online in the form of scanned copies.
Moreover, applicants can also fill up all the required details into the online PR application form on the official website of ICA. Thus, due to this change in the rule, now the PR applicants will no longer need to make an appointment with the ICA officials in person to submit PR application documents.  Now it can be done online in a hassle-free manner.
The PR application fees charged by ICA are also revised along with this new rule. Now, every applicant of PR is not required to pay any processing fee. The only fees the applicants will have to pay now are just $100 as an entry permit in case their Singapore PR application is processed successfully.
Hire a Language translator for converting your legal & Other Documents.
So, if you want to apply PR application document application translation then you must get Singapore based PR document translators who can provide a translation of PR document.
How To Get Qualified Experts to Get Singapore PR Application Document Translation Services?
You can hire the best Singapore Translators who can translate all types of languages written in documents that are needed for PR application. At SingaporeTranslators.Com you will get translation help from experienced language translators. They are able to offer all kinds of help needed to get top quality PR application translation services. They even have a strong record of history where these translators are never behind in providing the top class translation services to the customers.
Apart from PR, these multilingual translators also offer translation in the areas of law, engineering, finance, marketing, academics, etc. The experienced team of qualified translators also offers custom-designed translation services for your PR application document. It is important to know that any incomplete translated documents are never accepted by ICA.
Thus, after translation by the best translator, you must get the translated copy notarized by a notary public or any certified and qualified legal professionals.
The professional Singapore based translators provide the best quality PR application document translation which is sure to be accepted by the embassy of Singapore.
Moreover, the expert native translators never compromise with the quality of the translation task. All types of legal and official documents meant for Singapore PR application are translated using SSL transcription and the latest technology.
Hire a Language translator for converting your legal & Other Documents
Thus, in this way, you will get all types of legal translation services in Singapore in an easy manner. You will also get the legal translation services Singapore, PR application document translation services, academic translation at affordable prices.
Why Do You Need PR Application Document Translation Services?
Most of the clients prefer our document translation services since we provide an authentic and accurate translation of the PR application document with appropriate certification. After getting the complete translated copy, you must notarize from court, legal professional or from the notary public.  If you are not notarizing the document, ICA will not accept your PR application.
Thus, if you want ICA to accept your application of permanent residency in Singapore then you must take our PR application document translation services online. Another reason for choosing online translation services is to get easy with the immigration process without getting any sort of problems.
All types of appropriate notarized document translation to be submitted at ICA like birth certificates translation services, court documents, passports, PR application, contracts of employment, academic document translation, police clearance certificates, etc.
Moreover, an added type of document translation along with PR application document translation which is necessary to study, work or settle abroad and overseas is also important.
What Are The Types of Documents Needed For PR Application Document Translation?
The essential documents needed for notarized translation are:
Documents stating your health condition and medical report.
Clearance certificate for gaining foreign employment opportunities.
Overseas supported documents of study application.
Supporting documents to apply for Singapore citizenship or Singapore Permanent Residency.
What Are The Reasons To Trust Singapore PR Application Document Translation Services From Online?
At SingaporeTranslators.Com, you will get the following benefits of PR application document translation services which have always attract the customers to get PR application document translation services from us. The benefit includes:
No 1 Online Translation Services for Document & Legal Translations in Singapore
All the documents translated by our expert Singapore translators are officially accepted by the organizations like MOM, ICA, LTA, Business organizations, Educational institutes, and Courts.
Our dedicated project manager takes care of all the translation works right from the beginning to the end.
The translators charge a very less price for document translation especially the PR application document translation. Moreover, we are always transparent about prices and never charge any hidden cost services like handling and administration fees.
Our team of multi-lingual translators is able to translate your documents in many languages.
We are strict about the deadline and we never fail to delay in delivering soft copy translation copies of the PR application document at your email address. Moreover, when we deliver the hard copy of the translated document at your residential address, we never charge extra delivery fees.
Conclusion
Thus, if you want our Singapore PR application document translation services then you must consult our experts at the official website of SingaporeTranslators.Com.
Thus, the expert translators at translation companies such as SingaporeTranslators.Com will go through your order of document translation and provide you with the price quote. After you pay up the prices, our team of translators will immediately start to work to translate your PR application document quickly and precisely so that you can get a successful permanent residency certificate in Singapore.
---
---