Posted By Singapore Translators | Publised At 10/12/2019
Last Modified: 31
st
Dec 2019
1119
Are your official documents and other personal identity documents are in the Spanish language? Are you interested to have translation services of all your Spanish documents into the English language? If yes then you must hire native Spanish translators who are very experienced in offering Spanish document translation of all types.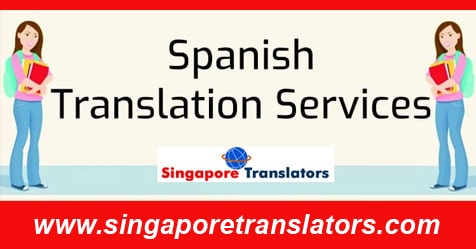 There are various translation companies in Singapore that offer good translation services. But, when you are in need of an accurate Spanish translation, you must put your trust upon one and only SingaporeTranslators.Com. This is the most reliable and genuine service provider offering all kinds of translation services all over Singapore.
Another benefit of taking translation services at SingaporeTranslators.Com is that you will get Spanish translation at just starting at $20 with varied deals, discounts and exclusive discounts.
Accurate, Reliable and Cheap Document Translation Services in the Spanish Language
At SingaporeTranslators.Com, you will get accurate, reliable and cheap document translation services. This is one of the top-rated translation companies in Singapore to offer translation in varied types of documents like marriage certificates, educational documents and other personal and public documents. This is the translation company in Singapore which offers translation services in more than 120 languages including the native language of Spain which is Spanish.
Hire a Language translator for converting your legal & Other Documents
When you book your order of translating your documents at SingaporeTranslators.Com, you can be assured of getting the following benefits which are:
24 hours of assured delivery of the Spanish translated document at your email address without any delay. Moreover, as per your desire, you can also get delivery of your translated Spanish document on the same day. Moreover, it entirely depends upon the accessibility and availability of the right translator and proofreader.
If you want to avail cheap Spanish document translation services from the proficient translators at SingaporeTranslators.Com, you need to contact the project manager of the Spanish translation team. You can contact them by the use of calls, text messages, emails or live chats. When they get in contact with you they will provide you the price quotation and the payment link.
Once you give your nod to the given price quotation and pay for the Spanish translation services online, the project manager will hire the right native Spanish translators, editors and proofreaders for you. These translators, editors, and proofreaders are quite expert in translating your Spanish documents into the English language.
You will be constantly updated and communicated regarding all the translation proceedings.  Once the translation is done, you will also receive the translated documents with the original stamp and authorized signature by a notary or any legal professional.
Thus, this is the most certified and reliable translation services ever provided in the Spanish language by a translation company in Singapore. You can even expect the accuracy level of translation they offer in all types of documents at great prices along with prompt delivery.
Read More:- Find Marriage Certificate Translation Spanish to English 
Why Do You Need To Translate Your Spanish Origin Important Documents?
There are various reasons which require Spanish translation of your important documents into other languages, such as the most popular global language – English. Here are some of the genuine reasons which are:
When peoples in Singapore who have their documents in Spanish look for translation due to the reason for immigration. They are very likely to translate all their documents from Spanish to the English language because most of them are migrating to the UK, USA, etc which are the English speaking countries. Thus, translation is required for immigration.
It is also important to submit only the certified translated documents of your Spanish documents during the process of immigration. This is because of the fact that most of the embassies and government institutes of the English speaking countries only accept English translated documents of the original Spanish documents.
When you are going to submit documents translated in the English language, and then you must follow the right tone otherwise it can get rejected or have any kind of negative effects. This is possible only through professional Spanish language translators who can understand the language of both Spanish and English. Thus, you just need to translate your Spanish origin important documents.
Thus, it is best to hire the best translators from us at SingaporeTranslators.Com who can easily translate your Spanish documents into the English language accurately.
What Are The Reasons To Trust Our Spanish Translation Services?
There are various outstanding reasons to trust our services of Spanish document translation. The translations services are discussed below, which are:
Hire a Language translator for converting your legal & Other Documents.
120+ Language Translation by Native Translators:  At SingaporeTranslators.Com, you will get the services of over 3,000 professional translators who can successfully translate all your important documents. The documents include such as marriage certificates, educational documents, etc into the English language. They can translate from over 120 languages including the Spanish language also to the English language very quickly and accurately.
ISO- Certified Spanish Translation Services:  The Spanish translators at SingaporeTranslators.Com provide top quality and ISO certified translation services. Since the translation company is an active member of ATA, you can trust the quality translation services provided.
Fast Delivery: Our teams of certified Spanish translators always endeavor to deliver the Spanish translated copy of your important documents at your email address within 24 hours.
What Type of Spanish Translation services Offered by Us?
Following are the types of documents translated by our team of professional Spanish translators:
Official document translation in Spanish such as marriage certificates, birth certificates, immigration, documents, legal documents, educational and academic document translation, etc.
Website content translation Spanish to other languages and vice versa.
Spanish video transcription and subtitle translation from Spanish to English.
Spanish to English translation of marketing & business proposal documents, finance documents, insurance documents, etc.
Medical translation of medical reports and prescriptions from Spanish to the English language.
Personal letter translation from Spanish to English.
No 1 Online Translation Services for Document & Legal Translations in Singapore
Conclusion
Therefore, without giving a second thought, you must get authentic and accurate translation services of all your important documents from Spanish to the English language. You can book the services of qualified Spanish translators at the most reliable and popular SingaporeTranslators.Com for getting English translation of Spanish documents.
---
---