Posted By Singapore Translators | Publised At 10/19/2019
Last Modified: 31
st
Dec 2019
233
When you desire to expand your company or business organization's business to foreign countries like Singapore, you need to take permission from the law. Legal permission both countries – i.e. your native place and a foreign country like Singapore is necessary to obtain. For business expansion in Singapore, you need to take permit legally. This is done by submitting legal documents translated in Singapore's official language.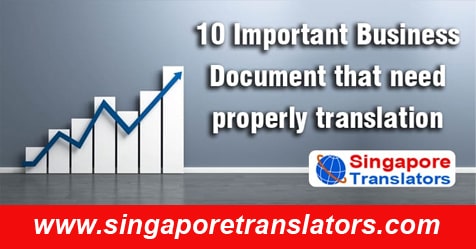 You can translate your important legal documents in Singapore with the help of various online translation companies. These companies offer all types of business documents in translation services.
One of the most renowned translation companies to provide an accurate translation of legal documents is SingaporeTranslators.Com. Here, you will get accurate and top-quality legal document translation for business expansion in Singapore. Now let us discuss it further about the top 10 most important translation services offered by Singapore translators for business expansion in Singapore.
What Are The Top 10 Legal Documents Translated For Singapore Business Expansion?
The most important 10 legal documents need to be translated to establish and expand business in Singapore are:
International Import Certificate (IIC)
Import Certificate and Delivery Verification (ICDV)
Import Permit Certificate
Export Permit Certificate
Receipts & Invoices
Marketing & Advertisement papers for business promotion.
Certified and legal business agreement papers.
Company financial reports.
Promotional papers and videos like broachers, leaflets, flyers, company websites, etc.
Hire a Language translator for converting your legal & Other Documents.
Thus, these are some of the legal documents which need to be translated for business expansion in Singapore. Professional legal and business translators at SingaporeTranslators.Com offers accurate and cheap translation services of the above top 10 important legal document translation services for Singapore business expansion.
Why Legal Documents Are Translated For Singapore Business Establishment?
In Singapore, it is very important to translate legal documents related to the business if you want to do business with Singapore companies and business organizations. Singapore legal documents for the purpose of business expansion are translated with the help of official document translators.  These professional translators are specialized in offering legal document translation which is necessary for business expansion in Singapore.
Legal documents related to the Singapore business establishment are translated due to the following reasons, which are:
Original Business Expansion Related Legal Documents Are Not For Target Audience:  It is important to present your business proposals and other business-related legal documents in the language known to the future business clients, investors as well as the customers in a foreign land like Singapore. If all the legal documents for business expansion are in the language of your native country, you must translate it before you use those documents in Singapore. For example, if your original legal documents for Singapore business are in Spanish, you must get Singapore translators to translate it into the English language.
Appropriate Business Promotion & Marketing of Your Business: Translated legal documents for business expansion will promote your business in Singapore in the most legally approved manner. Your business-related message will be communicated in a planned manner. In this way, the probable customers will get attracted towards your business proposal, and most importantly, will understand your true business intention in their own language.
Hire a Language translator for converting your legal & Other Documents
Localization of Legal Business Expansion Documents:  As mentioned earlier about the 10 most important legal documents for Singapore business expansion, is translated so that it looks localized. This is done to get connected with the local people of Singapore. The translators at translation companies like SingaporeTranslators.Com translates the legal business documents in order to match with the target country like Singapore culture and language tone.
What Are the Best Legal Document Translation Services Provided By Singapore Translators for Business Expansion?
The trend of increasing global business has made legal document translation services the most sought after in Singapore. The best of Singapore translation services are offered at SingaporeTranslators.Com which includes:
Multi-lingual translation from various global languages into the English language and vice versa. The Singapore translators make sure that you can get maximum attention from clients and customers for your business in Singapore.
Accurate and high-quality translation of important legal documents which is greatly required to start a business in Singapore.
Added services of editing, proofreading, and revision.
Timely delivery of the final translated copies of legal documents for Singapore business expansion. 
Conclusion
For setting up a business in Singapore, you must translate important legal documents especially the ten legal documents as discussed earlier. It will help you expand your business in Singapore more smoothly. Thus, hire Singapore translators at SingaporeTranslators.Com for accurate and flawless legal document translation at cheap prices.
---
---