Posted By Singapore Translators | Publised At 16/07/2021
Last Modified: 13
th
Oct 2023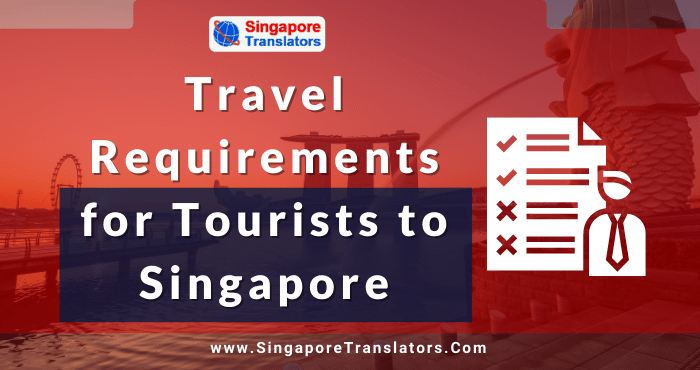 The serious effect of the Corona virus pandemic has made things frustrating for people worldwide. The same is the case with the immigrant or visitor who is willing to visit Singapore. Since Singapore government has introduced several COVID-19 measures in order to prevent the spread of COVID-19 so that travelers can enter Singapore safely and do not get affected by the dangerous COVID-19. If you are also willing to arrive in Singapore during these crucial times, then you will have to follow some health measures and complete several formalities before departing for Singapore. Read step by step about Travel Requirements for Tourists to Singapore during the crucial time of the Coronavirus.
However, the Importance of Taking Singapore Tourism Translation Services is very essential if you are seeking to get foreign language documents translated into English.
Before departing for Singapore
You must make some required safe travel arrangements before departing for Singapore.
All the short-term travellers who are willing to visit Singapore must use any of the following Safe travel lanes:
Air travel pass (ATP)
All the short-term foreign travellers who are willing to travel to Singapore from the eligible country can enter Singapore by applying for an air travel pass prior to 7 and 30 days from their date of entry.
Connect@Singapore (Connect@SG)
Foreign short-term travellers willing to travel to Singapore for business and official purposes can apply through appointed facility operators to sponsor the safe travel pass through Connect@Singapore for the eligible foreign traveller. This process needs to be started 14 days prior to a week of entry.
Reciprocal Green Lane (RGL)
Official government agency or company gets eligible to apply or sponsor safe travel pass through the Reciprocal Green Lane (RGL) to welcome eligible foreign travellers. This process needs to be done 14 to 35 days prior to the week of entry in Singapore.
Get Fast & Accurate official notarization for ICA, MOM, MFA.
Apply for your visa (if applicable)
If you require a visa to arrive in Singapore, it's recommended to request the Visa through the local sponsor, authorized Visa agent, or visiting Singapore overseas mission. In order to get eligible to apply for a Singapore visa, you will have to present an approval letter of the safe travel lane that you are using to arrive in Singapore.
If you already had the Singapore visa that was previously suspended due to the Corona virus pandemic, you do not need to apply for the Visa again.
Also if your visa related documents or visa are not in English, then it's ideal to choose Singapore translators for acquiring quality Visa Translation Services Singapore.
Go for pre-departure checks
After 7 May 2021, it has been said that all the short-term travelers who are using safe travel lanes like Air travel pass and connect@Singapore need to stay in their provided departure point subsequently for 21 days prior to departing for Singapore.
On the other hand, eligible foreign travelers arriving in Singapore through the reciprocal Green lane need to stay in the provided departure point for 14 days before their departure for Singapore.
Who are granted to enter in Singapore?
All Singapore citizens and permanent residents do not require any entry approval to arrive in Singapore.
Few other rules for the travelers who are visiting Singapore are listed below:
Mandatory quarantine for 21 days upon arrival in Singapore.
Travelers should get the on-arrival COVID-19 test. The expenses of the test are to be borne by the travelers.
Those travelers who are arriving from unapproved countries need to provide the PCR test certificate.
It is suggested for all international travelers to download the TraceTogether application on their mobile device, which they will carry all the time.
All travelers must have the SG arrival card with electronic health declaration form.
Those visitors who hold long-term visit pass issued by the immigration and checkpoints Authority (ICA) need to apply for entry approval.
Ensure travel insurance coverage
Air travel passes (ATP) and reciprocal Green lane (RGL) travellers are required to have travel insurance coverage prior to travelling to Singapore.
The taken insurance plans should provide coverage for COVID-19 related medical and hospitalization expenses worth $30,000. To get further information in this regard, you can visit the Immigration and Checkpoints Authority's SafeTravel website.
Upon arrival in Singapore
Once you have arrived in Singapore, you will have to present a few of the following documents:
Approval letter that you have received from any of the concerned safe travel lanes.
Valid Singapore visa if applicable
You will have to show the mobile device on which you have installed TraceTogether App and your registered profile.
Those foreigners who are travelling to Singapore under Safe travel lanes like air travel passes and Reciprocal Green lanes need to show the physical and electronic copy of the obtained insurance policy.
Those foreign travelers arriving in Singapore under connect@Singapore and reciprocal Green Lane need to provide the negative COVID-19 test reports which they have obtained within the last three days before their departure for Singapore.
Apart from this reciprocal Green lane foreign traveler also needs to provide:
14 days itinerary
Evidence of their departure from Singapore
Undergo COVID-19 PCR Test
All the short-term foreign travelers need to go for the on-arrival COVID-19 PCR test.
Once the COVID-19 PCR test has been completed, the air travel pass and reciprocal Green Lane foreign travelers have to make further arrangements (including booking a private cab or private transportation) to travel to the provided non-residential accommodation.
Connect@Singapore foreign travelers need to follow the travel arrangements done by their hired facility operator.
You will have to stay in isolation or quarantine (for a minimum of 48 hours) until your COVID-19 PCR test result is negative.
Once you are notified that your COVID-19 PCR test is negative, you can continue moving to Singapore attractions and enjoying extraordinary offerings.
All those foreign travelers undergoing the COVID-19 PCR test will be solely responsible for their medical treatment bills. However, foreign travelers who have acquired the COVID-19 insurance policy before arriving in Singapore will forward all medical treatment expenses to the relevant insurance provider.
Stay safe with contact tracing.
Install the TraceTogether application and successfully register your profile.
Keep the application turned on while you are in Singapore to ease the contact tracing.
Only use the SafeEntry option given in the TravelTogether application for checking in and out of the spaces.
Even after when you depart from Singapore, you should keep the application with the data for the next 14 days.
Reciprocal Green Lane foreign travelers should always follow the preplanned 14-day itinerary throughout their stay.
Those travelers who arrived in Singapore under Connect@Singapore safe travel lanes need to:
Wait in the provided facility.
Be with their pre-declared travel group consisting of only two travelers.
Take up the regular medical checkup as scheduled by their appointed facility operator.
What to do to prevent yourself from COVID-19 when in Singapore?
In order to prevent you from getting affected by Coronavirus while you move to Singapore, here are some of the precautions you should take. These preventive measures will be helpful for you and others as well.
Always wear a mask and use sanitiser while you move in public areas. Only remove masks when you are doing exercise and dining.
Maintain social distancing from the people around you means always keep 1to 2 m distance from the people while moving in the public areas.
Do not interact in a group consisting of more than five people.
Always use the SafeEntry option in the TraceTogether application prior to visiting any stores, shopping malls, and restaurants.
Always go for the temperature check prior to entering any restaurants, stores, or shopping malls, as it will keep you safe and helpful for others.
TraceTogether is the contact tracing mobile application introduced by Singapore. This application is a great initiative taken by the Singapore government to fight against the spread of COVID-19. This application is compatible with both android and iOS devices. When mobile devices are in contact with each other, they exchange information via Bluetooth. Don't worry; your data will not be leaked. It will only be shared with the Ministry of health in case you are tested positive for Corona virus. Also, the data will be automatically deleted within 25 days. This application is completely safe and secure and the only motive of this app is to prevent the spread of Corona virus (COVID-19).
Updated COVID-19 Measures
The below given COVID-19 guidelines have already been taken effect from 14 June 2021:
Pre-event testing is mandatory for events that have more than 50 individuals.
All the indoor and outdoor shows and live performances at the selected locations or any of the business events with 250 or more attendants will require getting a Pre-event testing (PET). As mentioned, no matter what type of event or performance is, if there are more than 50 people present, PET will be required.
Measures for spectator/sports events
All the mass participation and spectator sports event should be limited to 50 participants. If more than 50 participants are attending the event, pre-event testing will be required.
All organized sports events where the participants are exceeding 50 will be categorized into different sessions or zones in order to prevent overcrowding.
What to do if you are not feeling well in Singapore?
If you are not feeling well while in Singapore, it is recommended to consult public health preparedness clinics (PHPC) quickly. Also, remember while visiting the clinic only take up the private transport or taxi but not the public transport.
Keep yourself updated
All the travel restrictions and advisories might change from time to time on short notice by the government. That's why it is highly recommended to keep you updated with the latest guidelines of the relevant authorities.
For relevant updates regarding the COVID-19 situation in the country, you can refer to the https://www.gov.sg/features/covid-19
Or, for any further updates related to border measures for foreign travellers (short-term and long-term visits) looking to arrive in Singapore, you can visit the immigration and checkpoints Authority (ICA) website.
Do I need to get a health screening test on arrival at Airports and Ports?
Absolutely yes, all the travellers who are arriving in Singapore need to undergo a health screening process like visual examination of an individual's health and temperature check.
Is it Mandatory for travellers to undergo the COVID-19 test on arrival?
Yes, all visitors arriving in Singapore have to get a mandatory COVID-19 test done upon arrival.
What to do if I feel any symptoms of COVID-19 on arrival?
Singapore authorities have made it mandatory for all travellers visiting Singapore to get a COVID-19 PCR test. If any of the travelers tested positive, they would be required to undergo a quarantine period and consult a doctor whenever needed.
Do I have to present a negative COVID-19 test certificate on arrival?
Yes, it is mandatory to submit a negative PCR certificate on arrival.
Is it mandatory to obtain travel insurance before travelling to Singapore?
No, it is not mandatory for travelers to take the health insurance policy before visiting Singapore. Moreover, it's better to take up the health insurance policy that covers COVID-19.
Do I have to provide any other medical certificate on arrival?
No, travelers do not require to provide any additional medical certificates.
Do I have to download any mobile apps on arrival?
It is recommended for every traveler to install the TraceTogether mobile application. This mobile application notifies the user if they come in contact with any COVID-19 positive user.
Are there any other travelling rules and restrictions for international travelers?
Some of the additional rules and restrictions for international travelers are as follows:
Every international traveler and citizen must wear a face mask wherever they go in Singapore. If any travelers are found moving in Singapore without a mask, a heavy penalty will be imposed.
Every traveler should wash their hands for a minimum of 20 seconds. Always keep an alcohol-based hand sanitizer with them.
Maintains the social distancing of 1 to 2 meter and avoid handshake or hug with the people you meet.
Hire our certified translator for all document translation
So now, when you have reached the end of this article, you must be clear about how tourists can travel to Singapore and the requirements they need to fulfil before departing. To properly read the article and meet all the requirements if you are also one of the travellers willing to travel to Singapore.
If you seek a reliable document translation agency to get top-quality translation service, we have got you covered. Singapore translators, we have an experienced team of certified translators who always put their best efforts into providing translation service for all the immigration documents. So now, without waiting for long, book order and get access to the best translation services.
---
---