Posted By Singapore Translators | Publised At 16/08/2021
Last Modified: 2
nd
Jun 2022
764
How to Establish Translation Business in Singapore
Over the years, Singapore's population keeps on growing as a large number of foreign individuals start to immigrate to Singapore to get employed and set up their own businesses. However, English is one of the most common languages in Singapore. Still, many individuals face language barriers while submitting documents for company registration or work permits. Here is the time where the need for translation service arises.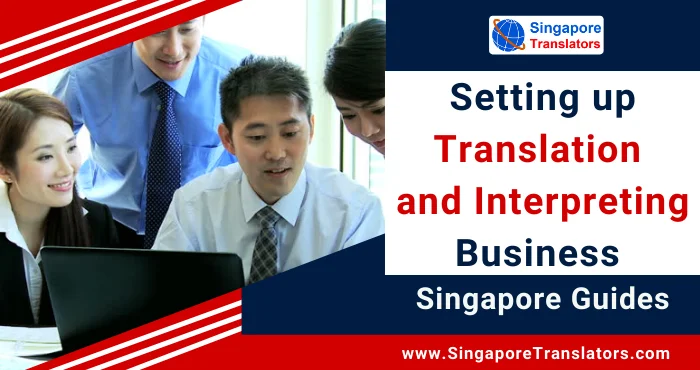 The translation business in Singapore is a backbone for all the foreign individuals facing language barriers while submitting their immigration or Company registration documents in English.
Foreign individuals also have the opportunity to set up their own translation agency in Singapore. A translation agency offers several document translation services and also has the responsibility to maintain the confidentiality of the clients. One of the most prominent qualities of a translation agency is that even after document translation, the meaning and context of the document remain the same. The thing that will change is the language of the document.
Services types offer Singapore translation and interpreting company
In Singapore, a large number of companies are owned by foreign individuals, due to which the requirement for a translator is significantly increasing. Planning to open a translation company is not limited to just setting up a translation agency and providing translation service to the respective clients. Instead, there are several other niches in which every translation agency needs to excel in. Therefore, every translation agency should be able to satisfy the client's requirements in order to become successful. Translation Company should offer the following services:
Translation agency needs to organize several language courses which the Singapore foreign-owned companies mostly demand.
A reliable translation business needs to include a web design translation service in their translation service package and develop a website in several foreign languages as requested by clients.
A translation company should also offer Voice Over translation service.
Every translation agency willing to succeed in this industry needs to provide several document proofreading services in multiple languages.
Besides this, there is several other most demanded translation services in Singapore are listed below:
Document translation services
Document translation services is the most demanded translation services demanded by foreign individuals willing to immigrate to Singapore either permanently or temporarily. Some document translation falls under this service, including marriage certificates, divorce certificates, birth certificates, driving licenses, degrees and diplomas certificates, academic transcripts, death certificates, bank statements, and several other document translations.
Business translation services
Business translation service is one of the essential and most demanded translation services by foreign individuals. This translation service mainly translates corporate documents like tender documents, business valuation, audit reports and many more.
Financial translation services
In order to become successful in the translation industry, a translation agency should also offer financial document translation, including budgeting reports, investment proposals, bank statements, valuation reports, loan applications, financial reports and many more.
Requirements to register a translation agency in Singapore
Setting up in Singapore translation business is an ideal option for both freelancers who are willing to establish their own small home business or for all the people who are into this field offering multiple translation services for all types of documents and now deciding to setup translation company. Irrespective of the choice of business, every owner is needed to register sole proprietorship business.
Translation business aspirants don't need to get any certifications while incorporating a translation company in Singapore. Still, if you hold a certification in translation, it can significantly expand the customer base and credibility of the company.
If you are willing to set up a translation company in Singapore, its procedure is the same as setting up another company in Singapore. You can also refer to our company registration guide to get complete details regarding the registration process.
Skills and experiences for building a successful translation agency
Some of the skills that are required for setting up a successful translation agency in Singapore are given below:
Translators should have a great understanding of multiple foreign languages.
Your team of translators should have extensive time management skills for satisfying deadlines given by the clients.
Must have cultural awareness
The translator must have excellent translation skills acquired from the certification program.
You must also have superior interpersonal communication for negotiating contracts with clients and meeting their expectations.
Obtain certification to determine the proven translation skills
What happens during a typical day at a translation agency?
The everyday operations of the translation business owner include:
Translating documents
Negotiating contracts with clients and other translators
Maintaining business records
Preparing invoices
Bookkeeping and accounting
Utilizing reference materials
Looking for potential clients and connecting with them
What is the growth potential for a translation agency?
With the increase in globalization, the translation business also grows with greater speed. The demand for interpreters and translators in Singapore will increase more than 29% compared to several other occupations. Multinational businesses, growing immigration opportunities and the internet have contributed a lot for increase awareness of translation business. However, several reliable translation agencies run their offices all over the world and provide several employment opportunities to potential translators worldwide.
How and when to build a team?
It is essential to create a team prior to entirely set up your translation business in Singapore. However, you also have the option to become a part of the several professional trades Organisation to keep yourself updated with the several new developments that are taking place in the translation industry. In addition, several professional trade organizations offer several professional development opportunities and other helpful resources.
Choose Singapore translators for affordable translation services for business
In the above article, we have covered all the necessary details related to setting up a translation business in Singapore. To properly read all the points to prevent any mistakes.
For rapid and high-quality documents translation service, connect with a Singapore translator i.e. translation agency in Singapore. We have a team of experienced translators who are skilful enough in delivering you high-quality legal document translation service at a reasonable price. As of now, our translation agency has covered all types of translation services. Even at a reasonable rate, our translator never compromises with the translation quality.
---
---