Posted By Isabelle | Publised At 01/15/2021
Last Modified: 9
th
Jul 2021
702
There are many Indonesians who want to settle in a developed place like Singapore. So, every year hundreds of people are applying for Permanent Residency (PR) in Singapore. So, for PR application they need to submit various documents. One of the essential documents among them is Indonesia Family Card. The Government of Indonesia issues this family card in the native Bahasa language of the Indonesians. So, while applying for PR in Singapore you need to get an ICA official translation of documents. One such document is the Indonesia Family Card which you need to translate from Bahasa to the English language for Singapore PR.
Now let us discuss Family Card in Indonesia, and its translation needs for applying PR in Singapore.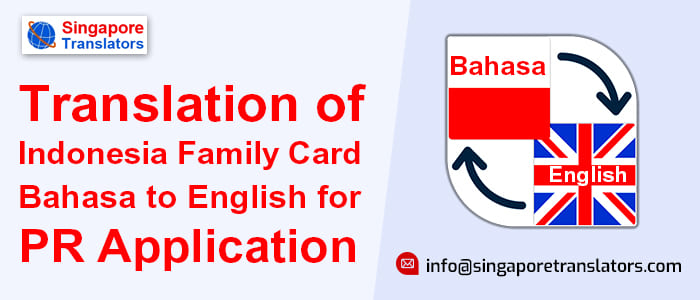 What Do You Mean by a Family Card in Indonesia?
The family card in Indonesia is called 'Kartu Keluarga' in the native Bahasa language of Indonesia. This card is proof of your permanent residency in Indonesia and it looks larger in size. It is an important document holding details about your family members and your relationship with them. Every family head in Indonesian families keeps this document safely with them.
Get Fast & Accurate official notarization for ICA, MOM, MFA.
Significance of Indonesian Bahasa Family Card While Applying Singapore PR
The Bahasa family card (Kartu Keluarga) is an important provincial government document that records detailed information about your family. This document usually stays in possession of your family's head, and the office of Ketua RT (head of neighborhood association). Since the family card is a government document, you cannot make any changes or replace it without informing the village (kelurahan) office. If you want to add any new detail to this card, you need to inform the Ketua RT office. The head of the family will report this within 14 days of changing details like birth, death, or migration of a family member.
As you know that this family card is so important that you should treat this document as crucial in applying for PR in Singapore. If you move from Indonesia to Singapore, this family card will be useful. So, you need to take professional translation services for translating your family card so that you get to activate your PR status in Singapore.
Need for Translating Indonesian Family Card for Singapore PR Application
When you are applying for Singapore PR you need to submit an Indonesian family card along with the other relevant documents. Moreover, you need to do a family card translation of Bhasha to English for PR application in Singapore. This is because the document of the family card is in your native Bahasa language. So, the English translation of this government document is important. The reason behind this translation is that the Immigration and Checkpoints Authority (ICA) of Singapore will accept only English documents.
The family card holds the most vital information about you and your origin. So, naturally, whatever information the ICA official needs about you, they can extract this from your family card. So, it is very crucial that the ICA officials be able to read and understand the details engraved in the family card. So, translating Indonesian family cards from Bahasa to English for PR applications can help the ICA officials read and understand your family card information. If you do this, your PR application will immediately process without any hassle or fear.
You will find many native Bahasa translators who can offer PR application translation services by translating your family card. Moreover, you must make sure that the family card translation you are opting for is certified and accurate.
Conclusion
Indonesian Family Card is a vital document of your identity and origin. You need to submit this document at ICA while applying for PR in Singapore. Besides, you need to translate this document into English if the original copy is in the native Bahasa language. If you hire some professional translators to translate the family cards, ICA will accept this document.
In addition to this, you should also notarize all the relevant documents including the family card by taking notary public translation for pr documents.  As a result, you will get your PR quickly. This is only possible if you accurately follow the translation guideline for translating the document of the Indonesian Family Card.
Pay for Family Card Translation from Indonesian Bahasa to English for Singapore PR
If you are keen to move your base from Indonesia to Singapore, you can just simply apply for a PR certificate in Singapore.  All you have to do is translating and submitting the relevant PR documents including your family card. You can translate your Bahasa family card into the English language by paying for online family card translation services.
If you desire to seek services of the official translation of documents in Singapore, you can hire professional translators through us. We, at Singapore Translators, offer you a one-stop solution of certified translation of all the official documents by native Bahasa translators. Our translators are very experienced to provide a fast response to all your translation queries and requests within the deadline. Moreover, they can translate all types of Bahasa documents into multiple languages at an affordable price. Whatever documents they translate gains full acceptance for MOM, ICA, Courts, and other reputed organizations.
So, to proceed further with our services, submit your translation order with us at www.singaporetranslators.com.
No 1 Online Translation Services for Document & Legal Translations in Singapore.
---
---